Wanted: The Missing Issue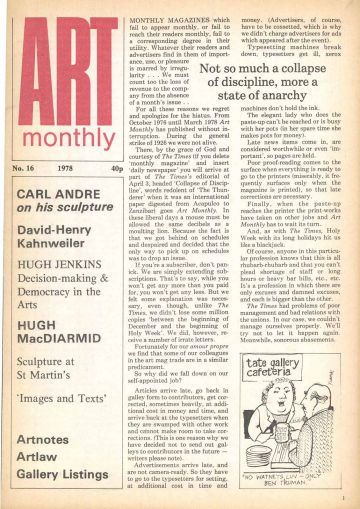 Issue 16 from May 1978
Issue 15 was dated March 1978
Where is the issue from April 1978?
Help Find the April 1978 Issue
Readers with very long memories may remember – and the sharp-eyed among those who have accessed AM's back catalogue online may have noticed – that something is missing from the year 1978. A quick count would soon reveal that only nine issues were published that year instead of ten.
The missing magazine is for the month of April, which would have been issue 16. Instead, the number was carried over seamlessly to the May issue, which ran a fulsome apology and explanation from Peter Townsend and his co-editor and publisher, Jack Wendler: 'The fact is that we got behind on schedules and despaired and decided that the only way to pick up on schedules was to drop an issue.' The apology concludes with the words, 'We'll try not to let it happen again' – and it didn't.
To celebrate 40 years of continuous publication, AM is inviting readers to help create a virtual issue for April 1978 to complete the set, which will be published online in April next year. Contributors are invited to research or simply to imagine what might have been in the issue (for reference, the May 1978 issue can be viewed online).
Suggestions and contributions can be in the form of texts or images or both. The maximum word length for texts is 1,250 words; there is no minimum. All contributions will be edited and laid out in black and white; proofs will be sent out where appropriate. While the editors will make every effort to include all submissions, publication cannot be guaranteed. Anyone wishing to may submit a proposal for consideration ahead of the final version. All contributions should be by sent by 28 February 2017 to missingissue@artmonthly.co.uk