Contents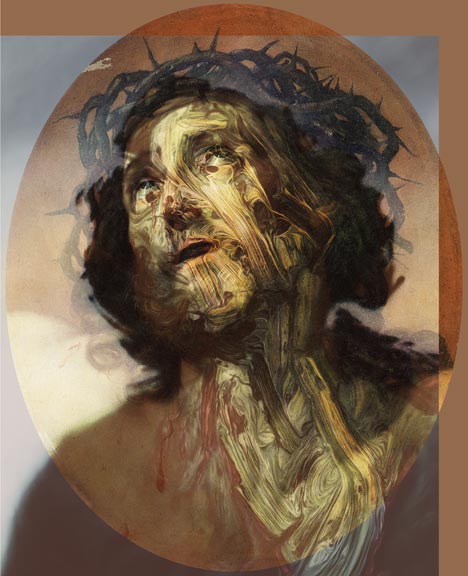 Interview
Interview
Painting Paintings
Glenn Brown interviewed by David Trigg
Glenn Brown's meticulous reworking of historical paintings focuses on reproduction and translation as a form of decay. His current exhibition at Tate Liverpool makes clear this long obsession with the very act of painting as a method of corruption.
'We are obsessed with the grotesque and things that we find fundamentally debasing and uncomfortable. With Willem De Kooning you always feel like you shouldn't be seeing these paintings, they're embarrassing and you don't know whether he was in his right mind when he painted them. There is a certain point at which paintings do become enlivened with a sense of embarrassment because they are overly intense, overly emotional or just slightly wrong in a way that becomes very intriguing.'
Feature
Feature
Reel Time
Mark Prince on the illusion of presentness in real-time film
Taking Andy Warhol's early films as a starting point, Mark Prince explores how artists such as Runa Islam, Hilary Lloyd and Darren Almond have used real-time in film to lessen the influence of narrative, producing films that are paradoxically 'both more truthful and deceptive'.
'The artificial running speed of all Warhol's silent films is a clue to the way that filmic truth is always hedged by inverted commas.'
Feature
Feature
Gaza
Francis Frascina revisits Lament of the Images
Alfredo Jaar's 2002 installation Lament of the Images mourned the loss of images that were erased by political forces. Francis Frascina re-examines the issues that arise from the idea that visual communication is a 'regime to be managed', with particular focus on the Israeli government's handling of images during its recent attacks on Gaza.
'Who has access to information and images? What are the contexts of access, mediation and the editorial agendas of suppliers? What are the ethical and political dilemmas of looking at images of dead or mutilated bodies? What are the consequences of looking away?'
Comment
Editorial
Vis à Vis Visas
The government has recently implemented new restrictions on visa applications from visiting non-EU artists and academics. This is particularly problematic for short-term visits and is causing a number of arts events to be cancelled. At a time when Barack Obama is loosening visa restrictions, is the UK in danger of reinforcing its island status?
'The UK was a major beneficiary of the US's restrictive visa requirements. Now the situation is about to be reversed with disastrous long-term consequences for the cultural life of the UK.'
Letters
Students at Byam Shaw School of Art, part of Central St Martins and its umbrella institution the University of the Arts London, recently occupied the college building in protest against changes to the school - in their letters they explain why they did it and describe the positive outcomes of their action.
Artnotes
More on the Byam Shaw occupation; funding cuts that are devastating adult arts education; petitions against visa restrictions; all the latest news on galleries, appointments, events, commissions and more.
Submissions: Send Artnotes info to artnotes@artmonthly.co.uk
Profile
Profile
Elizabeth McAlpine
Chris Townsend profiles the neo-formalist film artist
Elizabeth McAlpine's film-based artworks rely overtly on the physicality of the medium: her 2005 film Campanile, for example, documents the Venetian tower with a filmstrip that is as long as the tower is high. Chris Townsend examines a number of her works in relation to a wider tradition of experimental film production.
'McAlpine's project engages with the more physical, dimensional experiments of both Expanded Cinema and of high modernism, a central condition of which is, as the American scholar George Baker put it, that "film accedes to the condition of sculpture".'
Reviews
Exhibitions
Emily Jacir
Guggenheim Museum, New York
Morgan Falconer
Mark Wallinger curates: The Russian Linesman
The Hayward, London
Lucy Steeds
Subversive Spaces
Whitworth Art Gallery, Manchester
David Briers
Rank: picturing the social order 1516-2009
Leeds Art Gallery
Michelle Cotton
Ray Johnson: Please Add to & Return
Raven Row, London
Martin Herbert
Sean Snyder
ICA, London
Laura McLean-Ferris
The Otolith Group: A Long Time Between Suns Part I
Gasworks, London
Stephen Lee
Michael Dean
Works/Projects, Bristol
Colin Glen
Renee Green: Endless Dreams and Water Between
National Maritime Museum, London
Coline Milliard
Matt Stokes
176, London
Paul Usherwood
George Shaw: Woodsman
Wilkinson, London
Michael Bracewell
Reviews
Books
Alternative Economics, Alternative Societies
Dave Beech on Oliver Ressler's collection of radical politics interviews
'I don't know about you, but I want to read these texts. It is not so much that they are correct or that they express opinions we have already formed, it is just that they are vital and urgent. Simply, these are the debates we need to have. So, this is not simply a book for people who follow Ressler's work, or for those of us who are interested in the development of contemporary art practices. This is a book for anyone who knows the current social system isn't working and who wants to think more clearly about how to change things.'
Reviews
Film
Jane & Louise Wilson: Unfolding the Aryan Papers
Maxa Zoller on the artists' response to Stanley Kubrick's archive
'One of the most famous tracking shots in cinema history is the tricycle scene in Stanley Kubrick's The Shining, 1980, in which a very low camera follows little Danny on his tricycle ride around the empty hallways of the Overlook hotel. This view represents the disembodied eye of the ghost, which is simultaneously distant and observational but also uncomfortably close and menacing. Literally pushing the tracking shot onto a new level, the film installations of Jane & Louise Wilson physically evoke what Anthony Vidler has called the "architectural uncanny".'
Report
Symposium
Undoing the Aesthetic Image
Whitechapel director Iwona Blazwick on Tate's philosophy conference
'Jacques Rancière generated intense debate around the role of the viewer within the aesthetic encounter; the intention of the artist; the blurring of fact and fiction; the place of abstraction; and the question of whether his concept of indeterminacy might defend incoherence and incomprehensibility.'
Salerooms
London
Signs of the Times
Colin Gleadell on the recent contemporary art sales
'It is a measure of how far the auctioneers have adapted to the new market that the average unsold rate throughout the February sales was just 20%. And it was perhaps a sign of the times that the lower end of the market seemed the most stable.'
Artlaw
Copyright
Leibovitz Futures
Henry Lydiate on one artist's novel use of copyright as collateral
'The radical effect of an artist's death in "fixing" the amount of available work, and kick-starting the escalation of prices, is long-established. By adopting practices developed in the financial futures marketplace, Annie Leibovitz's action is moving the bar.'
Listings
Exhibitions
April exhibition listings
Art Monthly's exhibition listings can also be viewed online.