Contents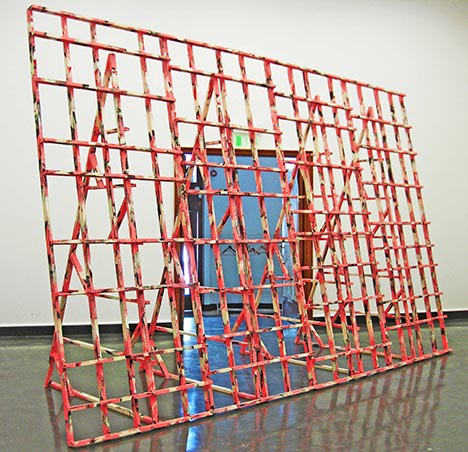 Interview
Why Things Are The Way Things Are
Phyllida Barlow interviewed by Colin Perry
Sculptor Phyllida Barlow studied in London during the early 1960s when the nature of sculpture, and the way it was taught, was up for grabs. Her intensely physical artworks grew in scale over the years, as did her reputation as a teacher, whose students include Bill Woodrow, Rachel Whiteread and Angela de la Cruz. Here she talks about changes in the art world, art schools and her artwork.
'Once something is a named thing, we are all at one with it. But remove the thing that gives it its name and I don't know what it becomes, and that, for me, is where the sculptural object is. It becomes an uncertain object.'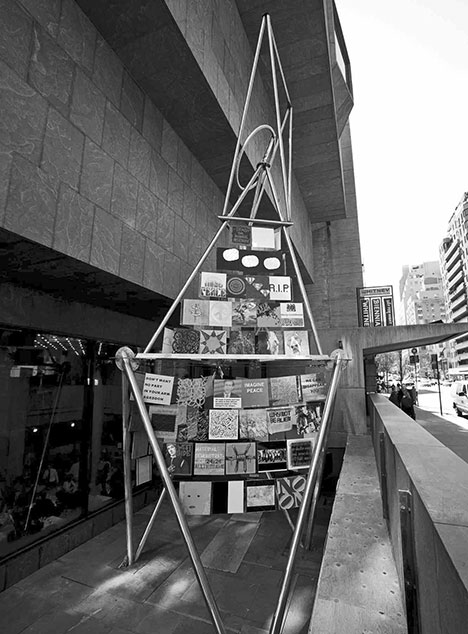 Feature
1965-75 Redux
Francis Frascina on an unevenly remembered decade
Considering his classic Vietnam War film too tame for contemporary audiences in 2001 Francis Ford Coppola re-edited and re-released it as Apocalypse Now Redux. But what happens when the art world remakes its own protest works from that period? And which works are being erased from the art historical canon because of their political content?
'The oppositional critique of the art world produced by the site-specific character of the 1966 Peace Tower was replaced in 2006 by a version pulled deep within an art institution. Displayed at the Whitney Biennial, it was sited in a courtyard well below sidewalk level with only the upper portion visible from Madison Avenue. For Rosler this "antiwar tower" ended up in "the museum's moat".'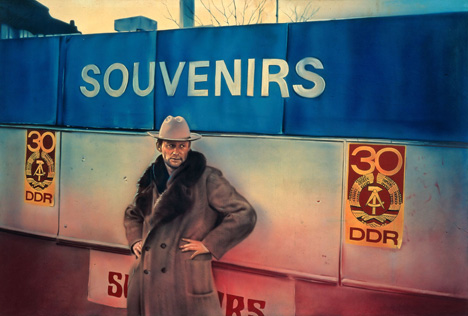 Feature
Remakes
Mark Prince on artists as curators of the self
The self portrait has been a mainstay of art for centuries, but in an age of Hello! magazine and Twitter streams, and within an art market that favours artists with recognisable signature styles, what is the role of autobiography in art? And what does it mean when artists begin to curate, or even recreate, their early works, as seen in Damien Hirst's gold-plated auction and the Chapman brothers' abject Shitrospective?
'Perhaps the curating of one's own past is as close to the obsessive self-circlings of recent literary autobiographical fiction as visual art comes. If it is a symptom of Postmodernism, it might also be seen as its potential remedy.'
Comment
Editorial
Those Who Can, Teach
The two most important factors in an art school are the staff and the students. While the rise in student fees might scare off the latter, the increasing academicisation of art schools might do for the former. What has the last half century told us about the best kind of teaching in art schools, and what does the future promise?
'Bureaucrats who think students are attracted by corporate-style buildings with glass and steel atria and a glamorous brand identity should remember the inconvenient location and unprepossessing facilities that clearly didn't deter students from applying to Goldsmiths. As for academic commissars who think that art can be taught according to rigidly imposed academic criteria, they should be reminded that much of the best in art education has emerged from challenging the very idea of imposing fixed criteria.'
Letters
Michael Hampton reiterates what will be lost if Peacock Visual Arts' plans are overlooked in Aberdeen.
Artnotes
The ICA limps on without its director of exhibitions, but not on Mondays and Tuesdays; quango Audiences UK wants the views of the public to be taken into account when arts funding resources are allocated; a Tory thinktank wants to scrap Arts Council England and give everyone £11 culture vouchers instead; Tate loses another director but gains a trustee; UAL staff plan a strike ballot; and all the latest news on art world appointments, events, commissions and more.
Submissions: Send Artnotes info to artnotes@artmonthly.co.uk
Reviews
Exhibitions
From Floor to Sky
P3, London
Colin Perry
Christian Boltanski
Grand Palais, Paris
Deke Dusinberre
Whitney Biennial: 2010
Whitney Museum of American Art, New York
Morgan Falconer
Star City
Nottingham Contemporary
Jennifer Thatcher
Journeys With No Return
A Foundation, London
Klara Kemp-Welch
Eija-Liisa Ahtila
Parasol unit, London
Maria Walsh
Swedenborg House: fourteen interventions
Swedenborg House, London
Peter Suchin
Magic Show
Grundy Art Gallery, Blackpool
Martin Herbert
Crash
Gagosian Gallery, London
Peeping Tom
Vegas Gallery, London
David Barrett
John Smith: Solo Show
Royal College of Art
Sally O'Reilly
Ian Breakwell
QUAD, Derby
David Briers
Kathy Prendergast
Peer, London
David Trigg
Reviews
Books
Ch-ch-ch-changes: Artists Talk About Teaching
Kathy Battista on David Mollin and John Reardon's interviews with artists who teach
'Reardon acknowledges the difficulty in according any objective value in the teaching of art in fine art departments. He writes that the interviews "left me more sure that a lot of good work is done by people not so convinced by things".'
Art School
Morgan Falconer on Steven Henry Madoff's attempt to define guiding principles for future art schools
'The problem many schools face is that those in power aren't so keen on the free-and-easy approach, and insist on imposing targets and assessments that are more appropriate to academic humanities such as literature or history. For Michael Craig-Martin, Margaret Thatcher was the root of this evil in the UK, when she set out to transform lowly "colleges" into "universities".'
Seeing Witness
Francis Frascina on Jane Blocker's examination of the ethics of testimony
'For Blocker the figure of the "invisible witness" pervades contemporary culture, including the academy: the irony is that, in the lecture theatre at the UN in 2003, US Secretary of State Colin Powell acted like an art historian, an "imagery specialist", pointing out the salient features of displayed images.'
Reviews
A/V
Aura Satz
Paul Usherwood on a film and sound installation at the AV Festival
'You enter a semi-lit space where a film is projected on one wall. So far, so familiar. But the room is furnished with a row of old-fashioned Joshua Reynolds-type ear trumpets and an array of early 20th-century gramophone and phonograph horns suspended from the ceiling, some of them bigger than the biggest sousaphone.'
Report
Letter from LA
Past and Present
Kathy Battista on the major changes in the Los Angeles art scene
'The most significant project to take place, and certainly a litmus test for the entrepreneurial spirit and renewed energy in LA at the moment, was the restaging of the legendary Ferus Gallery in its original site at 736 N La Cienega Boulevard.'
Salerooms
London
Vendors Return
Colin Gleadell on what a difference a year makes in the art market
'After the abysmal £42.7m the London salerooms took for contemporary art in February 2009, they bounced back this year with a £124.3m series in February. Experts attributed a much healthier level of supply in London to the positive results achieved in New York last November, which gave potential vendors the confidence to sell.'
Artlaw
Contracts
Polaroid: The Gift That Doesn't Keep Giving
Henry Lydiate on whether the works in the Polaroid Collection are gifts
'Artists have always donated their artworks to worthy recipients: family, friends, fellow practitioners, potential buyers and collectors, or charitable and other good causes. Motives for their doing so vary widely from, say, altruism or love and kindness at one extreme to bribery and corruption at the other. Clear and unambiguous documentary evidence of such gifts is needed for the recipient to be sure that the object received was a gift after all – and the reason it was given.'
Listings
Exhibitions
Exhibition listings
Art Monthly's exhibition listings can also be viewed online.