Contents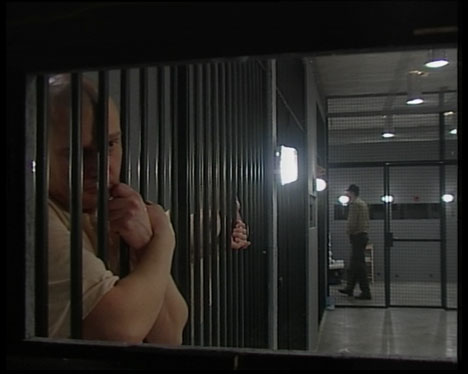 Interview
The Politics of Fear
Artur Zmijewski interviewed by Daniel Miller
Artur Zmijewski came to international prominence when his film Repetition, which restaged an infamous psychological experiment, was shown at the Venice Biennale. Here he talks about protests, the artist as a provocateur, and the use of artists' privileges for political ends.
'What do we need to live successfully in society? Empathy? No, we need indifference and distance. We are trained to keep our distance. That's why it is easy to be passive when you see people suffer. The ethical challenge is to activate your empathy. Repetition was an investigation as to where in this social hell is the proper moment to activate empathy.'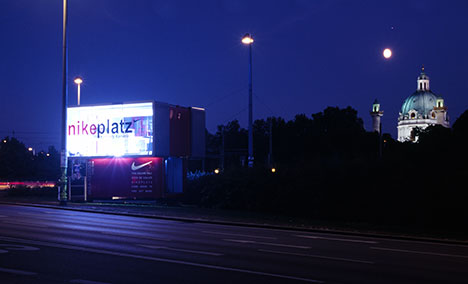 Feature
Art v the Law
Colin Perry discusses art that uses the law as an artistic medium
As the state tightens its control over society through the misuse of anti-terror legislation, many artists are using the law itself as a medium for their art. But is this a serious challenge to the state or an exercise in conscience salving?
'Most effective activist groups work through multi-pronged channels of official, semi-official and illicit activity, to negotiate specific ends. By contrast, theoretical radicalism today often seems more self-directed, as if designed primarily to give participants a sense of self-worth.'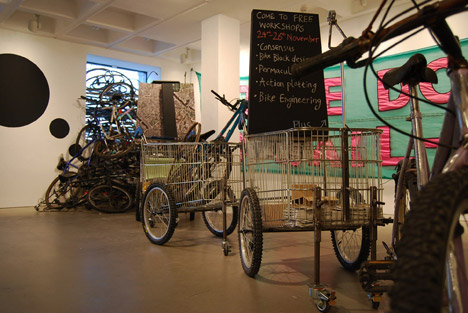 Feature
Art & Activism
Gavin Grindon reports on the crisis in Copenhagen
Activist art at the Copenhagen climate summit revealed a chasm between grassroots activities and official gallery presentations. But could the art world incubate a genuinely radical and effective protest art?
'At the same time that "activism" is being received with unprecedented enthusiasm by liberal art institutions, it is being criminalised. In the UK, organisations such as the sinisterly named National Extremism Tactical Coordination Unit have turned their attention to non-violent climate activists, and new anti-terrorist police powers are now regularly used to discipline and interfere with social movements.'
Comment
Editorial
Catch 44
The spate of recent cases where artists and amateur photographers have been arrested for innocently photographing 'iconic' buildings in London has raised the troubling issue that we could all be breaking the law without knowing it.
'The real problem with Section 44 is that, if a person is in a so-called "authorised area", the police don't need to have any grounds - reasonable or otherwise - to stop and search them. In effect, the whole of the Metropolitan Police district has been an "authorised area" since 2001 when the law came into force. It's Catch 22.'
Artnotes
The ICA gets an emergency injection of cash to keep it afloat; the Tate gambles on hedge funds and loses; the University of the Arts goes to court against its own students and loses; Pompidou staff strike; art is destroyed, stolen and deleted; and all the latest news on art world appointments, events, commissions and more.
Submissions: Send Artnotes info to artnotes@artmonthly.co.uk
Obituaries
Kenneth Noland 1924-2010
Michael Gibbs 1949-2009
Jeanne-Claude Javacheff 1935-2009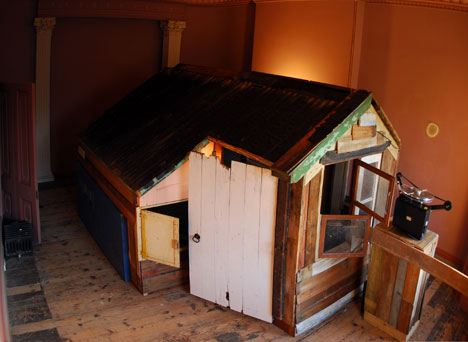 Profile
Ben Rivers
David Trigg profiles the young British film artist
Ben Rivers is now a mainstay of short film festivals and has recently presented his work in numerous group and solo exhibitions. His enigmatic, hand-developed films touch on a growing social desire to follow lives lived outside of the mainstream.
'Inspired by characters from the novels of renowned Norwegian author Knut Hamsun, this young filmmaker harbours a romantic notion of one day turning his back on modern life and settling down in a far-flung backwoods. For now, though, he is content making short films about those who have already made that daydream a reality.'
Reviews
Exhibitions
Harun Farocki
Tate Modern and Raven Row, London
Sophia Phoca
Terry Atkinson: Ongoing Work from the 1990s to the Present
Lanchester Gallery, Coventry
Peter Suchin
Kimsooja
Baltic Gateshead
Paul Usherwood
1969
PS1 New York
Morgan Falconer
Tim Head: Raw Material
Huddersfield Art Gallery
David Briers
New Contemporaries
A Foundation, London
Martin Herbert
Seb Patane
Maureen Paley, London
Coline Milliard
Emily Wardill: Game Keepers Without Game
Spacex, Exeter
David Trigg
Martin Boyce: No Reflections
Dundee Contemporary Arts
Rosie Lesso
Ian Kiaer/Dorothy Cross
Bloomberg Space, London
Eliza Williams
Reviews
Books
Capitalist Realism: Is There No Alternative?
Dean Kenning on Mark Fisher's attempt to move beyond capitalism
'Neoliberal apologists can hardly claim that free market capitalism promotes equality; but our consumerist economy does promise pleasure and happiness, above all else. Why, then, are we in the UK suffering from epidemic levels of depression?'
Cracked Media
David Ryan on Caleb Kelly's analysis of malfunction as creativity
'Pianos and violins destroyed, vinyl records drilled, shattered or covered in glue, turntables mangled, and CDs glitched, scratched, skipped. This is the territory of Caleb Kelly's Cracked Media - The Sound of Malfunction, often, but not solely, a tale of destruction and reconstruction, of the redemption of "old" technology through its death and resurrection.'
Reviews
TV
School of Saatchi
Andrew J Stooke on the BBC's art talent show
'The clutter of studio detritus, often glimpsed in the background, was treated as inexplicable and troubling material in the nurturing nest provided for the collaborators. The panellists and contestants were as vulnerable as fledglings; the lone parent absent.'
Salerooms
New York
Up and Down in New York
Colin Gleadell on the autumn sales
'New York's autumn sales began with a $74.2m sale at Christie's that was its lowest for an evening sale of contemporary art in New York since 2003. But at least it fell within the estimated range of $61.5/88m. Leading the field was Peter Doig's Reflection (What does your soul look like), a large canvas from the artist's sought after mid-1990s period. The work had been acquired by Puerto Rican collector Cesar Reyes from Gavin Brown in 1996 for $24,000, and was estimated in line with recent prices for Doig at $4/6m. After competition from at least five bidders, it sold to an anonymous phone buyer for $10.2m.'
Artlaw
Artist's Resale Right
Fourth Year Report
Henry Lydiate on how droit de suite legislation is performing
'The good news is that in December 2009 Parliament amended UK law so as to apply ARR to deceased artists from 1 January 2012. This means that the estates of UK artists who died after 1941 will also be entitled to receive a royalty on each resale of their works (involving an art market professional) from 1 January 2012.'
Listings
Exhibitions
Exhibition listings
Art Monthly's exhibition listings can also be viewed online.
Submissions: Send Listings info to listings@artmonthly.co.uk