Contents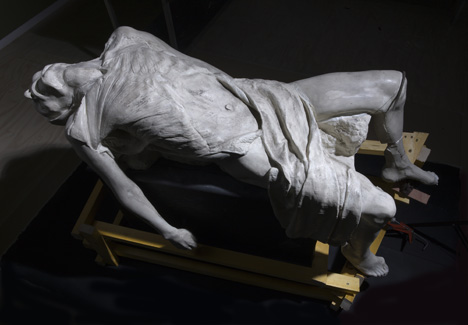 Interview
Ghosts
Christine Borland interviewed by Rosie Lesso
Christine Borland rose to prominence during the early 1990s, becoming one of Scotland's most influential young artists. Her research-led practice adopts forensic and medical techniques to test humanist notions of identity. Here she talks about the processes that led to the work in her current exhibition at Camden Arts Centre.
'Behind a creaky wooden door was a dingy basement full of cobwebs and corridor after corridor filled with body fragments preserved in all kinds of ways – an amazing sight.'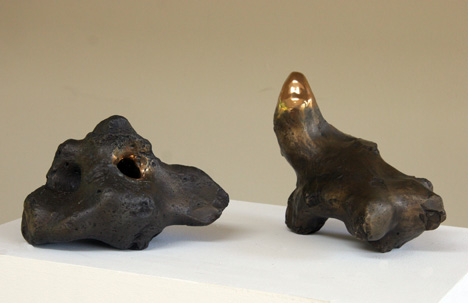 Feature
Future Past
Christopher Townsend on a very British modernism
Wakefield's new Barbara Hepworth museum gives visitors a slice of mid-century British modernism, but how can we comprehend this historical period when it is refracted – via contemporary culture – through late capitalism's self mythologising?
'The era of mid-century modernism and modernity is lost to us now, its Utopias are as unattainable as the archaic ages of Knossos and Troy, and presented to us in fragments gathered from the archaeological excavation of what was to come rather than the digging up of what really happened.'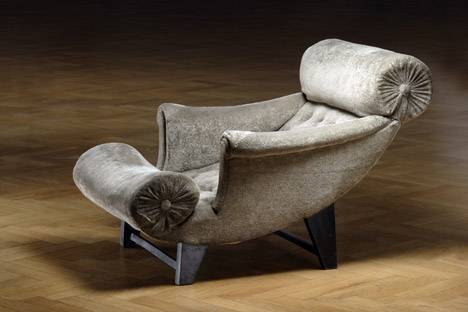 Feature
The Anti-Architect
Just how artless was Adolf Loos asks Joseph Masheck
Adolf Loos is popularly characterised as a strict ascetic, easily understood through the title of his famous essay 'Ornament and Crime'. But doesn't his lesser-known interiors work reveal a more complex sensibility – one that indulges in, for example, vernacular brick laying and far-fetched furniture?
'Whatever the pretext, it is always worthwhile to confront particular works of this figure who proves much more than an anti-architect in the event than we are often led to think.'
Comment
Editorial
Homage to the Square
Even as commentators contest the idea of public space and the effectiveness of protest, aren't populations across the world actually contesting the spaces themselves and demonstrating the effectiveness of courageous and determined, mass protest?
'Theoretical discussions – not least in these pages – about the efficacy of protest, or about what constitutes public space, have been overtaken by events. If protest were ineffective, governments would not be so keen to enact legislation to prevent it. Public spaces are, by definition, contested spaces.'
Letters
Victor Burgin clarifies his stance on fine art PhDs in response to Peter Suchin's 'Rebel Without a Course' feature, and Peter Suchin replies. Virginia Whiles responds to Kathy Noble and Laura McLean-Ferris's reviews of the Sharjah Biennale.
Artnotes
Ai Weiwei is released on bail, coincidentally three days before Chinese Premier Wen Jiabao visited the UK to announce £1.4bn in trade deals; the Arts and Humanities Research Council releases a report which finds that government methods of measuring the economic effectiveness of university research is skewed against the arts; the Dutch coalition government embarks upon a round of arts cuts more savage even than the UK's; the Azerbaijan pavilion censors its own work in Venice; the UK Public Catalogue Foundation launches an online database of publicly owned paintings; Frieze Art Fair announces two new fairs; all the latest news on galleries, art world prizes and more.
Submissions: Send Artnotes info to artnotes@artmonthly.co.uk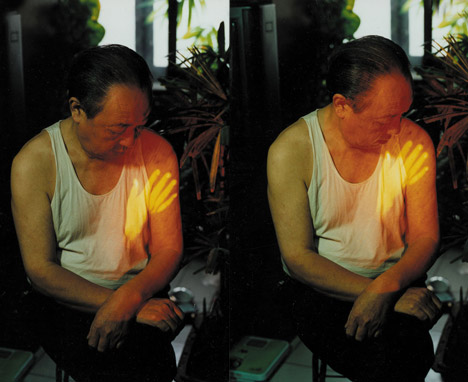 Profile
Song Dong
Andrew Hunt Profiles the Chinese artist
Song Dong's contemplative work examines the artist's personal family history, and through this intimate lens he reveals the human cost of China's complex recent history.
'The circle is key to Song's practice; with no beginning or end, its lack of hierarchical arrangement is a clear alternative to the tradtional architectural power of the square, which has obvious connotations through the relationships to the politically loaded Tiananmen Square.'
Reviews
Exhibitions
54th Venice Biennale
various venues, Venice
Anna Dezeuze
54th Venice Biennale
various venues, Venice
Klara Kemp-Welch
Antiphotojournalism
FOAM, Amsterdam
Chris Clarke
Amen Brother
Grand Union, Birmingham
David Briers
Time Again
SculptureCenter, New York
Katie Kitamura
In the Belly of the Whale
Cartel Gallery, London
Morgan Quaintance
Andy Holden: Chewy Cosmos Thingly Time
Kettle's Yard, Cambridge
David Ryam
Still Life
Lismore Castle Arts, Co Waterford
Martin Herbert
David Lamelas
Bloomberg SPACE, London
Martin Herbert
Imogen Stidworthy: (.)
Matt's Gallery, London
Laura McLean-Ferris
Josephine Pryde
Chisenhale Gallery, London
Kathy Noble
Reviews
Artists' Books
Brocade
Stephen Bury rounds up some recent releases
'I have maintained in the past that the artist should choose the artist's book format when it is the medium most suited to the particular idea. Aleksandra Mir manifests her projects both as books and as installations concurrently.'
Reviews
Books
Junk: Art and the Politics of Trash
Paul O'Kane on Gillian Whiteley's examination of assemblage
'The theme of the book is clearly current; towards the end Whiteley jolts us into consideration of "spam", the latest form of virtual rubbish.'
Maria Lind
Alex Coles on the curator's selected writings
'While the rise of the curator has generally come at the cost of the critic, Lind has continually worked to demonstrate that a more complex relationship between criticism and curating is possible by developing both symbiotically.'
Summer Reading
David Barrett rounds up some recent releases
'There are some books that everybody knows about but few have actually read. Ulysses, for example. In the art world, me might consider Andy Warhol's endurance-test diaries or, if we're honest, the oeuvres of several French philosophers.'
Report
Bosnia and Herzegovina
Time Machine Biennial: No Network
Bob Dickinson on the new, nuclear bunker-based biennale
'When the British industrial noise duo SZ Berlin performed at the end of the opening night a set that included 25kt, their sonic simulation of an atomic detonation, in the vicinity of the bunker, there were squabbles between the organisers and soldiers.'
Salerooms
New York
Up and Down
Colin Gleadell on artists' prices that have bounced back – or not
'An up and down week of sales held in New York in May saw the ups outweight the downs as 85% of lots offered sold for $718m, the fifth highest total on record for a series in New York.'
Artlaw
Public Policies
Deaccessioning Public Collections
Henry Lydiate on constraints proscribing the sale of publicly owned art
'Does the British Museum have the legal power to deaccession the Parthenon Marbles, or Tate Modern its Rothkos and Warhols? Both are public collections constituted and governed by UK statute law, as are most other national museums and galleries, and their deaccessioning powers are specified by the law.'
Listings
Exhibitions
Exhibition listings
Art Monthly's exhibition listings can also be viewed online.