Contents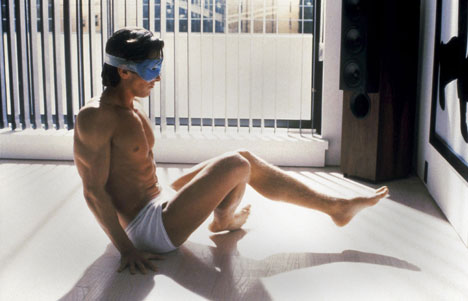 Feature
Art as Commodity as Art
Christopher Townsend on the legacy of the Pictures Generation and MTV
The Pictures Generation artists of the early 1980s – Robert Longo, Richard Prince, Cindy Sherman et al – who emerged just as MTV muscled up alongside the young field of video art, set about dissolving the boundaries between art and the techniques of mass culture. But by adopting forms that had been thoroughly co-opted by the engine of commercial production, was the space for critical subjectivity fatally compromised?
'While Walter Benjamin and Theodor Adorno, inter alia, provide critiques of the desubjectivising effects of modernity through the individual's separation from both culture and history as far back as the 1840s, I suggest that these effects achieve a particular specificity in the historical time and geographical space of the Pictures Generation and MTV.'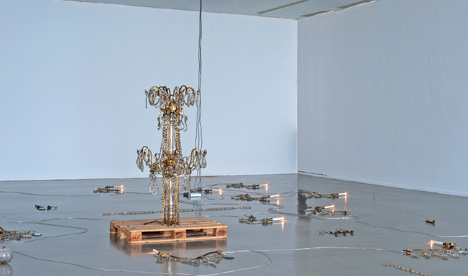 Feature
Indifferent Objects
In our obsession with objects what has happened to the subject asks Laura McLean-Ferris
Artists such as Danh Vo and Henrik Olesen have recently been using objects in their art in a way which implies that the objects themselves carry some embodied essence or agency. But where does such object-oriented thinking leave the human subject?
'Everything is thought of on the same level as everything else and subjectivity is discarded in favour of a form of "new realism". Human beings, this thinking suggests, are no more special than any other kind of object.'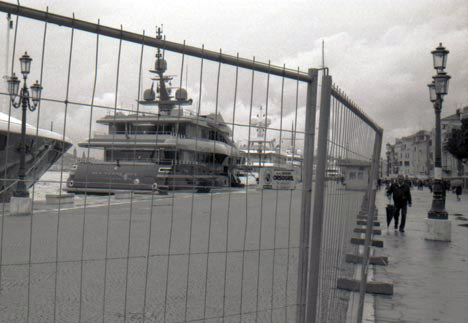 Feature
Venice Inside Out
Patricia Bickers on the real lines that divide insiders from outsiders
At the Venice Biennale, as elsewhere, curators are marshalling 'outsiders' and 'real people' for the benefit of curious spectacle-seekers. But isn't such apparent inclusiveness simply a curtain that hides the persistent asymmetry of power?
'Massimiliano Gioni's aim of blurring "the line between professional artists and amateurs, outsiders and insiders", wilfully ignores the real dividing lines between insiders and outsiders demonstrated everywhere in Venice: money, power and the right to self-determination.'
Comment
Editorial
Signs and Wonders
The current curatorial obsession with the wunderkammer, or cabinet of curiosities, abandons centuries-old traditions of rational thought. What have we been left with now that the materialism of the 1980s has been reignited by the connectedness of the internet age?
'By the 18th century such wunderkammer displays had come to be despised as both vulgar and anti-rational. In the Age of Reason such fabulous collections of artefacts appeared to hark back to the medieval world of religious superstition, to the realm of signs and wonders and their false prophets. Is this turning back of the clock some 400 years indicative of a genuine reappraisal on the part of these curators of a despised model or merely of a lack of new ideas? Or is it, perhaps, indicative of a wider 21st-century cultural malaise?'
Artnotes
Chancellor George Osborne's latest spending review outlines further cuts to the arts, bringing ACE's total cuts under the coalition government to 40%; Yoko Ono's Meltdown festival finds itself with a fracking corporate sponsorship conundrum; Swiss riot police clear out an unofficial party outside Art Basel with the use of pepper spray and rubber bullets; dealer Marc Jancou fails in his bid to sue artist Cady Noland for $20m after she disowned a work he had purchased; artist Orlan accuses Lady Gaga of forgery and sues for $31.5m; galleries open, move and expand; the latest news on events, appointments, prizes and more.
Submissions: Send news items to artnotes@artmonthly.co.uk
Seth Siegelaub
Remembered by Lawrence Weiner
Curator Seth Siegelaub, one of the playmakers behind the rise of Conceptual Art in the US, died in June 2013. A two-part interview with Siegelaub was published in AM327 and AM328, the first part of which can be found on AM's website. Artist Lawrence Weiner was invited by AM to contribute some thoughts on his former collaborator – his response is published on p21 of AM368 Jul-Aug 2013.
Reviews
Exhibitions
55th Venice Biennale: The Encyclopedic Palace
various venues
Chris Clarke
The Alternative Guide to the Universe
Hayward Gallery, London
Daniella Rose King
Resolution 978 HD
Gasworks, London
Omar Kholeif
KP Brehmer
Vilma Gold, London
Mark Prince
Geoffrey Farmer: The Surgeon and the Photographer
Barbican, London
Curt Riegelnegg
Jonathon Baldock: A strange cross between a butcher's shop and a nightclub
Wysing Arts Centre
Nick Warner
Layla Curtis: Antipodes
Spacex, Exeter
David Trigg
Jordan Baseman: Deadness
Matt's Gallery, London
David Barrett
North-West Round-up
Harris Museum & Art Gallery • Bluecoat • Open Eye • Tate Liverpool
Bob Dickinson
London Round-up
White Cube • Ceri Hand • Kate MacGarry • Freud Museum
Martin Herbert
Reviews
Books
Summer Reading
Sally O'Reilly dives into some recent releases
'So far, the majority of texts and seminars produced under such banners as Object Oriented Ontology and Speculative Realism have been written and conducted by theorists with little recourse to visual art, their abstractions seldom placed in gainful relation to authored artworks without committing serious generalisations.'
Curating Contemporary Art
Teresa Gleadowe reviews the curators
'Paul O'Neill's The Culture of Curating and the Curating of Culture focuses especially on the emergence of a discourse around independent curatorial practice and on the figure of the curator as a creative agent, while Terry Smith's five essays in Thinking Contemporary Curating set out to survey key developments in contemporary curating and exhibition-making, concentrating especially on an exposition of the term "contemporary art" and on the notion of contemporaneity in relation to curatorial practice.'
Reviews
Sound
a.a.s: Circle of Fifths
Mark Harris experiences an evening of drone at Reactor Halls
'With transitions barely discernible, the five sections accumulated into a cohesive minimalist work using the spatial properties of the large studio room to sustain reverberation and sonic envelopment, creating an omnidirectional and object-like sound.'
Artlaw
Ways of Working
Why Are Artists Poor?
Henry Lydiate examines the artist/dealer relationship
'In today's highly developed world market economy, goods are manufactured in response to consumers' needs. Artists live in a different economy (which Hans Abbing demonstrates is exceptional), chiefly operating from a starting point of total freedom and autonomy: works are produced, then a market is sought.'
Listings
Exhibitions
Exhibition Listings
Art Monthly's exhibition listings can also be viewed online.