Contents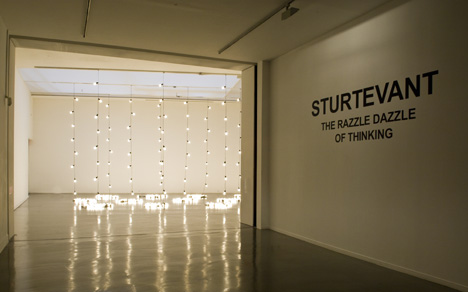 Interview
The Power of Repetition
Sturtevant interviewed by Coline Milliard
Sturtevant began her career in New York in the 1960s, remaking paintings by Andy Warhol and Jasper Johns, and rose to prominence during the 1980s when appropriation artists came to the fore. In advance of her forthcoming shows in Paris, Berlin and London, she talks about 'triggering thinking', tactics for changing viewers' perceptions, and repetition in the cybernetic age.
'The initial work was about the extreme power of repetition. People began to realise what I was talking about even though they didn't really understand the dynamics of repetition - we still have people who call my works "copies", but I suppose that will forever be the case.'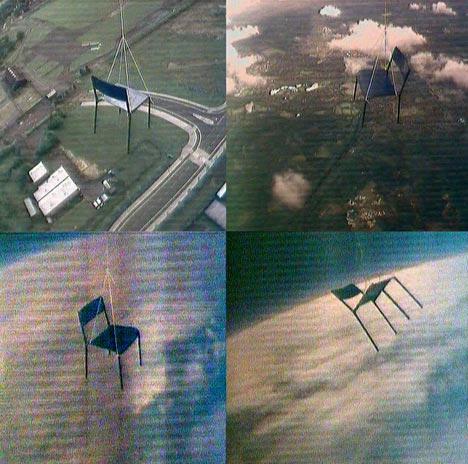 Feature
Ad Men
Anna Dezeuze on the appropriation of art by advertising
Another day, another example of an ad agency ripping off an artist; this time it is Simon Faithfull who has seen his work remade by the ad men. But what is it about conceptual art that makes it so appealing to advertisers?
'It is because their works are reducible to simple ideas, it has been suggested, that conceptual artists are so easy to "rip off" - indeed, by protecting "expression" rather than "ideas", copyright laws seem to privilege visual appearance over concept.'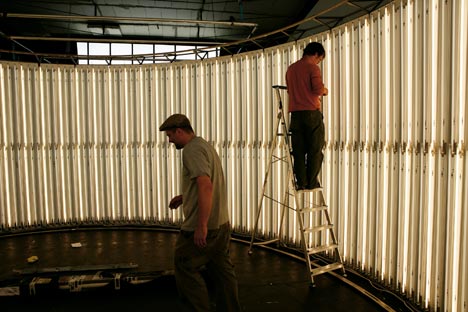 Feature
Designart
A symptom of noughties excess or a model of dynamic interdisciplinary practice asks Alex Coles
In the bullish pre-crash market, the term designart was co-opted to bring art-world prices to fantastical design objects. As the backlash against designart gets into full swing, is it possible to rescue the critical aspects of the design-art interface, as exemplified by Olafur Eliasson?
'Designers now feel that there is a suitable alternative to working purely with industrial clients. In the wrong hands, this new freedom for designers can lead to a dead end of fetish objects that appear like so many mangled and morphed chairs and tables whose true home is either a penthouse suite in Mayfair or a trimmed lawn in Cap Ferrat.'
Comment
Editorial
In Advance of a Broken Arm
The insistence that public art institutions bring in funding from the private sector is looking less clever now. Post crash, sponsorship has evaporated, threatening the survival of those, like the Institute of Contemporary Arts, that came to rely on it. Even the most powerful institutions, such as Tate Modern, are now so timid when it comes to their sponsors that it affects their programming. What, then, might another model of funding look like?
'The pity of it is that the UK's flagship museum of modern and contemporary art should feel so exposed and vulnerable to the vagaries of sponsors that it engages in this form of self-censorship - in advance of a broken arm, so to speak.'
Artnotes
Arts Council England ends its Sustain initiative, handing out almost £40m in emergency grants - find out who received funds and who didn't; National Gallery staff strike because they are paid less than the London Mayor's recommended minimum wage; speculative commercial development threatens proposals for a new Centre for Contemporary Arts in Aberdeen and the historic Union Terrace Gardens that it would be situated in; galleries close, open, move and rebuild; big art is outside and live art is online; and all the latest news on art world appointments, events, commissions and more.
Submissions: Send Artnotes info to artnotes@artmonthly.co.uk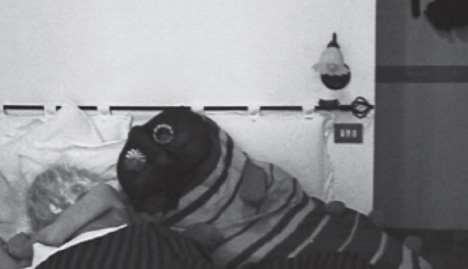 Profile
Edwina Ashton
Marcus Verhagen profiles the young British animator
Edwina Ashton uses film and animation to bring a number of dreamlike creatures to life in Kafkaesque scenarios of longing and unreciprocated desire.
'Ashton's work wears its pessimism lightly. In fact, the alienation of her creatures is the very basis of her humour, which draws on the doubts and compulsions of beings who are divided from one another.'
Reviews
Exhibitions
Art & Language
Lisson Gallery, London
Peter Suchin
Afro Modern
Tate Liverpool
Jonathan Harris
Dexter Dalwood
Tate St Ives
Cherry Smyth
KwieKulik
Galeria Awangarda BWA, Wroclaw, Poland
Klara Kemp-Welch
Gabriel Orozco
MoMA, New York
Anna Dezeuze
Film & Video
The Russian Club Gallery, London
Sally O'Reilly
Uriel Orlow
Laure Genillard, London
Richard Thomas
Richard Grayson
De La Warr Pavilion, Bexhill-on-Sea
Pryle Behrman
Bernard Frize
Simon Lee, London
David Barrett
Reviews
Artists' Books
Heath Bunting
Colin Perry on the net artist's new book
'For those unfamiliar with Heath Bunting's work, it is not immediately obvious what he intends by The System. Its pages, consisting of stark black-and-white spider diagrams, give the impression of an austere post-conceptual practice, but technocratic as this aesthetic may seem, it camouflages a more wayward disposition.'
Reviews
Books
Art and the End of Apartheid
Kristian Romare on John Peffer's new history of South African art
'Apartheid meant geographical segregation into white and black zones. As part of a tactical retreat in the 1980s, Pretoria coined the term "grey areas". Peffer reinterprets this term symbolically and makes it the comprehensive argument of his study, suggesting that artistic practice during the time of apartheid constituted the grey areas where black and white could meet and collaborate and where a more progressive black South African art could be produced in anticipation of a post-apartheid society.'
Lucky Kunst
Peter Suchin on Gregor Muir's personal history of young British art
'Muir's sense of achievement, like that of the yBa phenomenon itself, is completely tied to marketing and economic gain; no different, then, to that of those institutions against which the artists supposedly rebelled. This parity of interests militates against the idea that the yBas were genuinely disruptive of capitalist culture.'
Reviews
Film
Kutlug Ataman: Journey to the Moon
Rachel Garfield on the Turkish artist's recent feature-length film
'The 20th century is now a historical moment, and gone with it are the claims of modernity, which have been seen by many as a resource for unpicking the contemporary. This film is part of the trend of epochal soul searching through mock documentary, and like many of the best works in this mode it brings with it a reflexivity to time as well as place.'
Reviews
Video
Rewind + Play: An Anthology of Early British Video Art
Colin Perry on Lux's three-DVD box set
'In the context of the decade this box set spans, 1971-82, Lenny's Documentary by Ian Bourn reveals how far British video art had evolved since the structuralist film and video of the early 1970s. By the end of that decade, structuralist filmmaking's methods of deconstructing spectacle had given way to the intimacy of do-it-yourself video making, and modernist formalism had highballed into postmodern narrative impurity and mock-confessional storytelling.'
Polemic
Censorship
On refusing to pretend to do politics in a museum
John Jordan on what happened when Tate programmed a workshop on disobedience
'What is it about the word "disobedience" that the institutional art world doesn't understand? Last autumn the Nikolaj Contemporary Art Centre in Copenhagen dropped the Laboratory of Insurrectionary Imagination's Bike Bloc project when it realised that the "tools of civil disobedience" that we were going to build were not gestures but actual tools and tactics for the protest actions around the UN's COP15 Climate Change Conference. The curator told us that she feared that the museum's funders, the City of Copenhagen, would not support any "illegal" activity. It seemed that she had assumed we would pretend to do politics.'
Report
Letter from New Zealand
Aotearoa
Michael Wilson on artistic developments in New Zealand
'Dane Mitchell garnered a wearisomely predictable trashing from local mainstream media in September by winning the $15,000 Trust Waikato Contemporary Art Award with Collateral, a work made from the collected packing materials of all the other artists' entries.'
Artlaw
Attribution of Authorship
Warhol
Henry Lydiate on legal action being taken against the Andy Warhol Art Authentication Board
'A significant feature of the case is Susan Shaer's allegation that the Board is unlawfully conspiring and colluding with other key players to control the marketplace for Warhol's works: the Andy Warhol Foundation, the Estate of Andy Warhol and Vincent Fremont, who is the current executor and exclusive sales agent for the Foundation - all of whom have been cited as co-defendants.'
Listings
Exhibitions
Exhibition listings
Art Monthly's exhibition listings can also be viewed online.