Contents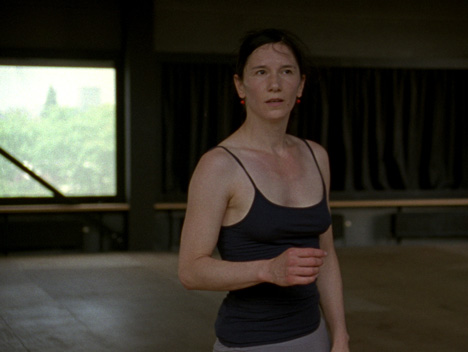 Feature
Private Moments
Morgan Quaintance makes the case for imaginative engagement as a form of participation
Discussion around particpatory art has missed one important category of engagement. Where is the analysis of artists – such as Manon de Boer and Marjolijn Dijkman – who purposefully cue up and then direct the individual viewer's imagination?
'Since the 1960s a real devaluation of the individual subject has seen the position of the communal and societal group as the rightful addressee of participatory art ossify.'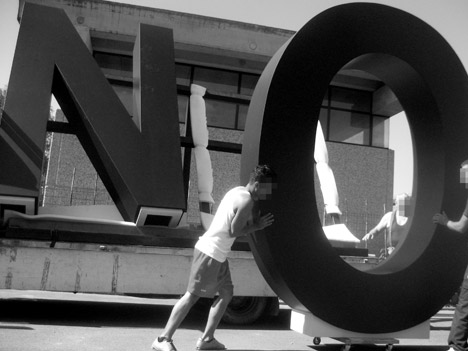 Feature
The Ethics of Discomfort
John Douglas Millar on art and politics according to Simon Critchley
There is increasing crossover between radical political groups and experimental art practices, where aestheticised politics meets politicised aesthetics. Philosopher Simon Critchley shows a route through this slippery terrain, so what kind of work does he call for?
'Simon Critchley looks to the work of the Viennese Actionists as a possible model: "So much of what is produced in the art world is contained and obsessionally ordered and polite. I'd like to argue for an ethics of discomfort that would be immoral in terms of socially established ethics but deeply ethical in another way."'
Comment
Editorial
Location Location
The ruse of utilising temporary art exhibitions as a prelude to up-market development projects has spread from the West to the Middle East. But some economies depend upon a constant torrent of art tourists, so what is to be made of the recent news that Venetian town councils have flogged off historic art venues for superstores and private flats?
'Like Marley's ghost, "captive, bound and double-ironed", dragging his chains behind him – with "cash-boxes, keys, padlocks, ledgers, deeds, and heavy purses wrought in steel" attached – so contemporary art today brings in its train all the trappings of the market.'
Letters
Peter Suchin responds to JJ Charlesworth's comments on fine art PhDs and then also takes issue with Paul O'Kane about outsider art, as does Sarah Gillam. O'Kane points out that art outside an art world is not always outsider art.
Artnotes
Central Saint Martins settles into its new building with the announcement of a new name and a new head of college; free exhibitions in Scotland are under threat with a new licensing arrangement; artists refuse royal honours; Chicago Art Fair is cancelled; artists support the NHS; all the latest news on galleries, people, prizes and more.
Submissions: Send Artnotes info to artnotes@artmonthly.co.uk
Reviews
Exhibitions
No Lone Zone
Tate Modern, London
Colin Perry
Zarina Bhimji
Whitechapel Gallery, London
Stephanie Schwartz
Simon Fujiwara: Since 1982
Tate St Ives
David Trigg
Richard Grayson: The Magpie Index
Matt's Gallery, London
Mark Prince
Jarek Piotrowski: Soft Machine
Galerie8, London
Morgan Quaintance
Elizabeth Price
Baltic, Gateshead
Martin Herbert
Laura Buckley: Fata Morgana
Cell Project Space, London
Cherry Smyth
The Curator's Egg, Altera Pars
Anthony Reynolds Gallery, London
Laura Allsop
A Plea For Tenderness
Seventeen Gallery, London
Laura McLean-Ferris
Reviews
Artists' Books
Material Conditions
Jennifer Thatcher considers the necessary conditions for making art
'It would appear from this sample that the romantic vision of the lone artist has been replaced by the desire for public participation and workshops, and collaboration with colleagues. No one mentions that seemingly dirty word "delegation". Few mention that once-essential premise, the artist's studio.'
Reviews
Books
Rosalind E Krauss: Under Blue Cup
Maria Walsh on the technical supports underpinning each medium
'Under Blue Cup is an extraordinary exercise in art critical writing. As well as being a polemic against the forgetting of the medium in Postmodernism and the installation art much beloved of contemporary art institutions, the book demonstrates art critical writing as an exercise in self-reconstruction, which in turn reinvents the critic's style.'
West of Center: Art and the Counterculture Experiment in America 1965-1977
Colin Perry finds there was more to the counterculture than psychedelia
'The counterculture was far more diverse and, at times, successful than is recognised. This has fundamental implications for the way we read art today, for today's relational or dialogical art is deeply indebted to a set of experimental lifestyle models and cultural iterations.'
Reviews
Performance
Nice Style
David Briers witnesses the reforming of 'the world's first pose band'
Nice Style's earliest motivation was to achieve some sort of essentially sculptural activity that retained its object-based and highly formal nature, but which otherwise stepped decisively out of the orthodox gallery system. Instead they adopted the profile and persona of a glam-rock group.'
Opinion
Helen Frankenthaler
Who loves yer? Remembering Helen Frankenthaler
Griselda Pollock nuances the abstract expressionist's recent obituaries
'The escape into Modernism came at a price. Nothing of what was particular or significant about being a woman or experiencing the world as a woman was allowed to compromise participation in the universal, neutral sphere of art as its own pursuit.'
Artlaw
Contracts
Artwork Liabilities
Henry Lydiate on the UK's adoption of EU legislation
'A publicly sited sculpture falls over, causing personal injuries to spectators and/or their property. Even though such victims do not have contractual business relationships with the artist, product liability laws may nevertheless place legal responsibility on several parties.'
Listings
Exhibitions
Exhibition listings
Art Monthly's exhibition listings can also be viewed online.