Contents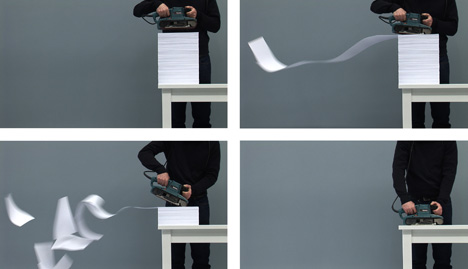 Feature
The Thing
Do you believe in things? asks Paul O'Kane
In a western world dominated by immaterial labour, and where scientists and philosophers have thrown into doubt our understanding of physical objects, how have artists – from John McCracken and John Hilliard to Wood & Harrison and Andrew Dodds – questioned and defended the nature of things?
'Sculpture, of all the arts, must surely be responsible for mapping the various journeys of thinghood. "What is a Thing?" – the question Heidegger asked in the 1920s – turns out to be a question that we have to keep asking.'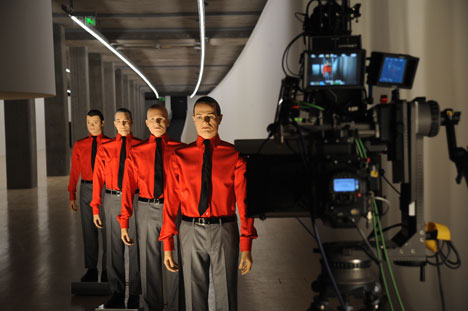 Feature
Man Machine
Omar Kholeif tracks the influences of Kraftwerk
With a recent move into exhibition making, German 'robot pop' group Kraftwerk has crossed disciplines into the visual arts. But which are the artists that the group borrowed from and who are the current artists, such as Jill Magid and Wafaa Bilal, that exemplify Kraftwerk's man-machine ethos?
'Kraftwerk's evocation of the cyborg has been discussed within academic music circles but rarely has its influence been positioned alongside contemporary visual art. For example, the work of infamous Cypriot-Australian performance and media artist Stelarc, who has used medical instruments, prosthetics and robotics to explore and alter how his body interfaces with its surroundings.'
Comment
Editorial
Nothing Like a Dame
When culture secretary Jeremy Hunt sacked Liz Forgan, the first female chair of Arts Council England, he was following a well-worn pattern: when a major institution is in crisis, let a woman have a go at running it. Isn't that the lesson from other high-profile appointments to such diverse organisations as the IMF, now headed by Christine Lagarde, MI5, which appointed Stella Rimington as DG in 1992, and the SOGAT '82 union, which in the 1980s pitted Brenda Dean against Rupert Murdoch in his declared determination to crush the print unions?
'It seems that Liz Forgan was too successful: having skilfully presided over one of the most difficult periods in ACE's history and earned the respect of her peers, the government's response is "thank you and goodbye".'
Artnotes
Liz Forgan is asked to step down as chair of ACE despite being halfway through a historic restructuring of the organisation; embattled culture minister Jeremy Hunt sees his plans for an 'endowments century' threatened by chancellor George Osborne's proposed cap on tax relief for charitable giving; while the UK enters a double-dip recession, galleries close and restructure as funding cuts come into force; Jerwood Foundation plans to auction prize-winning artworks it commissioned for its Jerwood Sculpture Prize; protestors take aim at the National Gallery's entertainment contract with an arms manufacturer; Berlin is filled with protests against gentrification and sponsorship from corporations with Nazi-aligned backgrounds; all the latest news on events, prizes, online resources and more.
Submissions: Send Artnotes info to artnotes@artmonthly.co.uk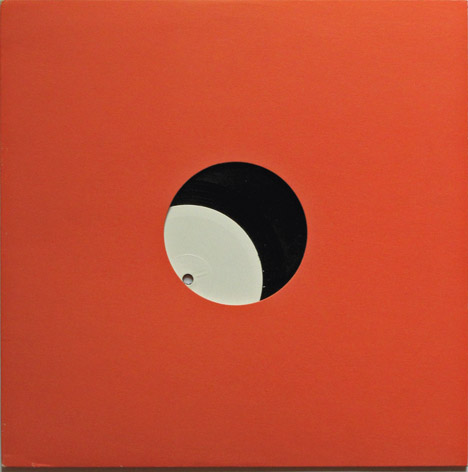 Profile
Sara MacKillop
Duncan Wooldridge on an artist of office equipment
Sara MacKillop's subtle practice reconfigures the tools of the office, that site of immaterial labour, and allows its objects to follow their physical logics through to disquieting conclusions.
'MacKillop says these works come about through a process she describes as a "distracted looking", where the body performs routine actions and interactions but the eye and the mind also wander.'
Reviews
Exhibitions
Hanne Darboven
Camden Arts Centre, London
John Slyce
James Benning
Northern Gallery for Contemporary Art, Sunderland
Platform A, Middlesbrough
Martin Herbert
Zoe Leonard: Observation Point
Camden Arts Centre, London
Laura Allsop
Song Dong: Waste Not
The Curve Barbican, London
Eliza Williams
Amikam Toren: Moving in the Right Direction
Anthony Reynolds Gallery, London
Peter Suchin
Sarah Lucas: Make Love
Situation, London
Colin Glen
Trisha Baga: Rock
Vilma Gold, London
Laura McLean-Ferris
Heather & Ivan Morison, Ben Rivers, David Thorpe
The Hepworth Wakefield
Martin Herbert
Tomorrow Never Knows
Jerwood Space, London
Maria Walsh
On the Edgware Road
Serpentine Gallery, London
Nick Warner
Andrew J Stooke
Reviews
Books
Cutting Across Media
David Ryan negotiates appropriation, collage and copyright law
'What Cutting Across Media attempts to bring home is the current asymmetrical contradiction between growing public access, usage, and the tightening grip of international and intellectual copyright.'
Hal Foster: The Art-Architecture Complex
Alex Coles finds an author reluctant to move beyond his bailiwick
'Rather than an art-architecture complex, it would be more accurate to say that what Hal Foster develops is a discourse on a form of architecture that plays out the conceptual debates pertinent to post-minimalist art – his usual subject.'
Reviews
Film/Animation
Artists' Film International
Adam Pugh views the Whitechapel Gallery's invitational screenings
'The works crystallise some current threads in artists' moving image practice: the documentary and the "social turn"; the abiding importance of the performative; and a rekindled interest in language.'
Max Hattler: Shift
Ajay RS Hothi encounters a modern Ballet mécanique
'The film Shift demonstrates a repositioning in Max Hattler's working practice, replacing overtly computer-generated animation for a traditional stop-motion technique.'
Report
Symposium
Immaterial Production
Larne Abse Gogarty on immaterial labour and its discontents
'The gender politics of this should be essential to how we move forward with an analysis of how the art world is propped up, as Hito Steyerl has stressed, by "loads and loads of hardworking women".'
Report
Letter From LA
Art Capital
Kathy Battista visits a city on the move
'From its rich and varied museum offerings, to a thriving gallery scene and ambitious public art projects, Los Angeles may yet prove to be the most interesting city for art in the US.'
Artlaw
Contracts & Moral Rights
Authentication Revisited
Henry Lydiate on the financial minefield of artwork authentication
'There is growing reluctance among scholars, connoisseurs and experts in the US to undertake such research and writing commissions, and/or to express their professional opinions about authorship of works (publicly or privately). Such fears are realistic, because US law may hold to account the opinion of experts if it can be proved that economic damage has resulted from their opinions that a work is inauthentic (by, say, not including it in their catalogue raisonné of an artist in whose works they specialise).'
Listings
Exhibitions
Exhibition listings
Art Monthly's exhibition listings can also be viewed online.