Contents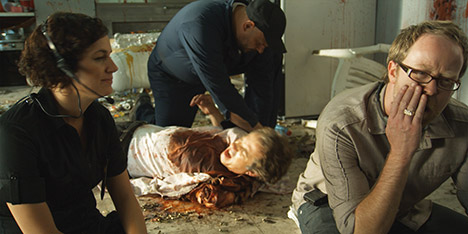 Interview
Pleasure & Pain
Omer Fast interviewed by Marcus Verhagen
Israeli-born, Berlin-based artist Omer Fast is known for video works that deal with personal stories within extreme situations, such as war. His elaborately structured work offers alternative narratives to those presented by the mass media, and here he talks about inflicting pleasure and pain upon actors and audiences, as well as on the artist-editor himself.
'The work is saying, instead of substituting the pathos of the soldier's story with the pathos of actors acting, I'm going to give you the pathos of the body under duress. The director commands the body to freeze, but the body is breathing and twitching and making noises and betraying you at the very moment when you want it to be still.'
Newsflash: Omer Fast wins the National Gallery Prize for Young Art, Germany's €50,000 equivalent of the Turner Prize.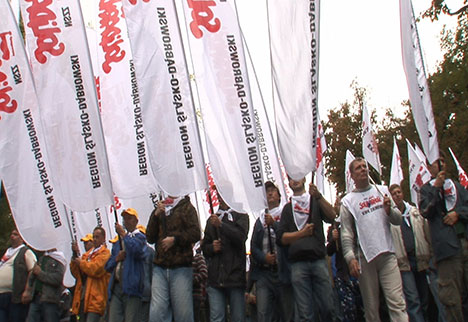 Feature
Art & Politics
Mark Prince on the critical distance between real life and presentation
Why, when many artists - like Steve McQueen, Francis Alÿs and Artur Zmijewski - are taking on explicity political subjects through their activist practices, are they trying to distance their work from the term 'art'?
'Paradoxically, the political rigour of an artwork may have to do with how concentrated is the awareness it embodies of exactly what lies outside its domain, try as it might to surpass those limits.'
Comment
Editorial
Pope Art
The Vatican is once again making moves to connect with modern and contemporary artists, but don't its actions simply highlight the yawning chasm between contemporary art and organised religion?
'To counter "blasphemous" trends in art, the Vatican also announced earlier this year that it will set up its own national pavilion for the 2011 Biennale where it will stage an exhibition of its preferred art.'
Letters
The Dean of Camberwell College of Arts responds to last month's letter from students.
Artnotes
Southampton City Council plans to sell off artworks to pay for a Titanic visitor attraction; Ai Weiwei undergoes brain surgery following an attack by Chinese police; a six-year investigation comes back to haunt French curators following their 'Presumed Innocent: Contemporary Art and Childhood' exhibition; gallery openings and closings; new funding opportunities; and all the latest news on art world appointments, events, commissions and more.
Submissions: Send Artnotes info to artnotes@artmonthly.co.uk
Obituaries
Barry Flanagan 1941-2009
John Edwards 1938-2009
Wojciech Bruszewski 1947-2009
Reviews
Exhibitions
11th International Istanbul Biennial
Teresa Gleadowe
In & Out of Amsterdam: Travels in Conceptual Art 1960-1967
MoMa, New York
Morgan Falconer
Dan Graham
Whitney Museum of American Art, New York
Peter Scott
Joachim Koester
Stills, Edinburgh
Paul Usherwood
Radical Nature
Barbican Art Gallery, London
Colin Perry
Pipilotti Rist
Hauser & Wirth, Zurich
Alex Coles
Richard Tuttle
Modern Art, London
Cherry Smyth
Nasreen Mohamedi
Milton Keynes Gallery
Coline Milliard
Pattern Recognition
The City Gallery, Leicester
Stephen Lee
Raqs Media Collective
Hauser & Wirth, Zurich
Eliza Williams
Generosity is the New Political
Wysing Arts Centre, Cambridge
Laura McLean-Ferris
Lili Reynaud-Dewar
Mary Mary, Glasgow
James Clegg
Reviews
Books
Canvases and Careers Today: Criticism and its Markets
Alex Coles on an attempt to redefine the job of art criticism
'There have been many attempts to update Theodor Adorno and Max Horkeimer's theories and press the results into the service of an interpretation of contemporary art. Most fall painfully short of their goal because as their object of enquiry they conservatively opt for the form of art that is nearest to criticism itself: Conceptual Art.'
All of a Sudden: Things that Matter in Contemporary Art
Rikke Hansen on Jörg Heiser's model of a new art criticism
'Heiser suggests the phrase "affective uncertainty" to explain how viewers may be both immersed and critical within their experience of the same artwork. In this respect, a good work of art is one that extends art's indeterminacy and continues to challenge our aesthetic judgement, instead of becoming an instrument in the service of other arguments.'
Milk and Melancholy
Sally O'Reilly on Kenneth Hayes' extraordinary attempt to view art history through a glass of milk
'If we take the book's core subject to be milk and its subsidiary subject to be art, the question is where to draw a line around the associative ideas that invariably pour in.'
Reviews
Film
Artists' Animation Programme
Sarah Tripp on a screening of artists' animated films
'The struggle with the material challenge of animating 16mm film has, in a sense, been replaced by the economic availability of digital technology and its more cerebral mire of infinite possibilities.'
Artlaw
Copyright
National Portrait Gallery v Wikipedia
Henry Lydiate on a legal wrangle over the online use of digital images
'Key art law issues involved and arising in this dispute are not confined to the particular facts of this case, but are relevant to curators of all virtual collections and their online user communities. They focus on a longstanding art law question that has never been decided by the UK courts: whether making a photographic copy of an out-of-copyright painting creates a new copyright in the photograph.'
Listings
Exhibitions
October exhibition listings
Art Monthly's exhibition listings can also be viewed online.