Contents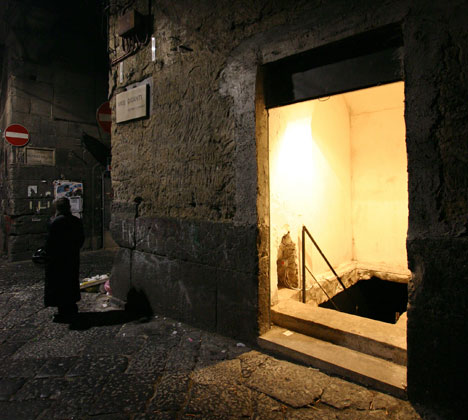 Interview
Doubling
Gregor Schneider interviewed by Gilda Williams
Gregor Schneider's troubling environments displace familiar architectural elements, confounding viewers' expectations and scrambling their memory banks as they struggle to comprehend the space they find themselves in. Following a recent run of international exhibitions, here Schneider describes his working methods, his interest in the 'free-wheeling action' of public spaces, and how to induce psychological terror.
'I'll explain how I work - my work is easy to describe - I place a wall in front of a wall, a room inside a room. It's as if parts of rooms are replayed. While an unsuspecting visitor sits on a sofa before a coffee table, the whole ceiling slowly rises and falls by 5cm well above his head - so slowly as to be unnoticeable.'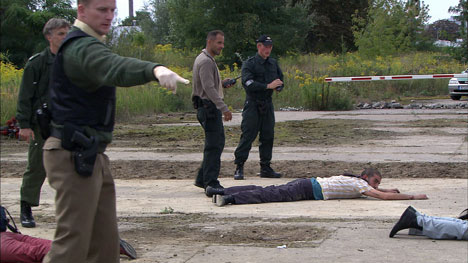 Feature
Watching v Looking
John Douglas Millar on the ethics and aesthetics of docu-art
In an age saturated with news footage of international disasters, artists are questioning the status of journalism that feeds the media machine. John Douglas Millar examines the techniques and implications of work by these artists, such as Renzo Martens, Harun Farocki and Aernout Mik, and asks: does art's subjectivity give it a unique angle on the exploitation of tragedy?
'Artists who critique how we consume images of atrocity pose questions about how we might step beyond the barrier of "looking", to an ethical position with regard to images described by the Israeli philosopher and photography theorist Ariella Azoulay as "watching".'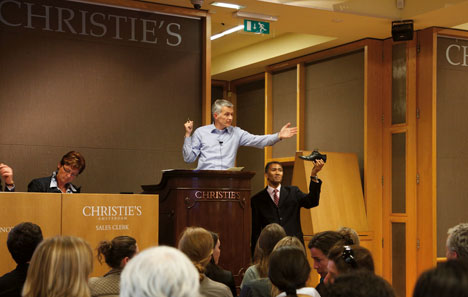 Feature
Humour v Irony
Andrew Hunt suggests that humour is an intelligent alternative to the cynicism of postmodern irony
Artists' use of irony is commonplace, but irony's reliance on a knowing viewer ensures that it cannot reach beyond a closed audience. Andrew Hunt wonders whether an open humour, as employed by Martin Kippenberger, Christian Jankowski and Wolfgang Tillmans, can reach out instead of in.
'One answer to Ludwig Seyfarth's question, "is there an alternative to Postmodern irony?", is "humour". While irony is a knowing critical instrument, humour, by contrast, can be described as a system that questions accepted values and patterns of experience.'
Comment
Editorial
Fire With Fire
With cuts looming, many commentators have been making the case for public funding of the arts. These arguments have, predictably, met opposition from free-market fundamentalists who imagine that corporate sponsors will step in, like latterday Medicis, to replace the state. What such free-marketeers fail to understand is that in their time, the Medici were the de facto state. At the same time, they wilfully ignore the vast government support the so-called 'private sector' receives.
'There is a whole other argument about the role of the arts in contributing to the quality of life, but at present the arts are forced to fight fire with fire, using the language of the market to make their case - hence references to "investment" rather than "subsidy" and discussion of audience figures rather than audience satisfaction.'
Artnotes
The art world mobilises in defence of public funding but is undermined by lazy journalism at the BBC; Ekow Eshun and Alan Yentob leave the good ship ICA; activists target Tate again; the French lead the way in both new fundraising techniques and absurd protests; galleries open, close and move; and all the latest news on art world appointments, events, commissions and more.
Submissions: Send Artnotes info to artnotes@artmonthly.co.uk
Reviews
Exhibitions
Locky Morris: This Then
Golden Thread Gallery, Belfast
Gail Prentice
Robert Barry: Words and Music
The Common Guild, Glasgow
Rosie Lesso
Richard Wright
The Modern Institute, Glasgow
James Clegg
Taking Place
The Temporary Stedelijk at the Stedelijk Museum, Amsterdam
Coline Milliard
Michael Fullerton: Columbia
Chisenhale Gallery, London
Jennifer Thatcher
Claire Barclay: Flat Peach
Stephen Friedman Gallery, London
Colin Perry
Polytechnic
Raven Row, London
Maxa Zoller
Unsettled Objects
Gallery of Modern Art, Glasgow
Omar Kholeif
Cornered Rooms
Waterside Project Space, London
Laura McLean-Ferris
Greater New York
PS1, New York
Kathy Battista
Reviews
Books
Speaking of Art
Mark Prince on William Furlong's collection of artist interviews
'As "anthropological field-worker", Furlong is also the eternal trainspotter with his ever-extended microphone instead of a notebook and camera. This model also appeals because it allows for the radical collision of a plodding actuarial process with the unpredictable face-off of egos and authorities which is the essence of the interview form.'
Net Works
James Coupe: Today, too, I experienced something I hope to understand in a few days
Maria Walsh on the artist's Facebook/YouTube generative film project
'The project is disturbing in the sense that, unlike disciplinary societies in which authority and responsibility are relegated to state bodies such as the school and the prison, in societies of control the place of authority and responsibility is abdicated in favour of the superficially benign democratic "cool" of the corporation, which deludes us into thinking that we make our own choices rather than being subject to the fluctuating modulations of its systems.'
Film
Tacita Dean: Craneway Event
David Ryan on the artist's film of Merce Cunningham at work
'What Dean enables here is for us to pay attention to the multiple occurrences that, as witnesses, allow us to construct the event for ourselves.'
Reports
MAXXI
Letter from Rome
Mike Watson on Rome's National Museum of the XXIst Century Arts
'In London such a space would be impressive, in Rome - where contemporary architectural projects are often stalled by protest - it signals incendiary change that could yet be fanned or extinguished.'
Fluxus Ministry
Letter from Vilnius
Larne Abse Gogarty on a politician's grand art initiative
'Arturas Zuokas declared that he has "no doubt that Vilnius will succeed in its mission of becoming the global centre of Fluxus for the 21st century".'
Artlaw
Copyright
Credit Where It's Due?
Henry Lydiate on the question of where plagiarism meets copyright
'Copyright laws do not apply to the protection of an artist's ideas or concepts; they apply only to their expression in some tangible manifestation or form. There is an inevitable proximity between legal notions of originality or substantial derivation, and moral or academic or artistic notions of plagiarism - and they are often erroneously used as synonyms.'
Listings
Exhibitions
Exhibition listings
Art Monthly's exhibition listings can also be viewed online.