Art Monthly 416: May 2018
Michael Rakowitz
Interviewed by George Vasey
Brinkmanship
Bob Dickinson
Troublemaking
Francis Frascina
Rehana Zaman
Profile by Adam Benmakhlouf
Buy Now – select:
Want to read this right now?
Get instant access to the entire back catalogue via Exact Editions from only £8.99!
Contents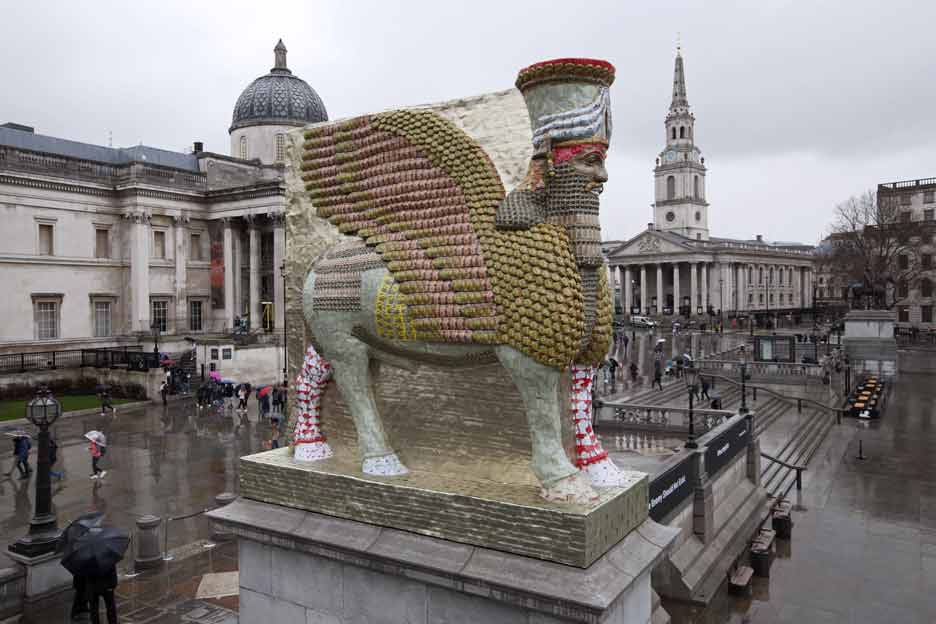 Interview
Cooking with the Enemy
Michael Rakowitz interviewed by George Vasey
The Iraqi-American artist discusses objects as proxies for people, giving shelter, the spoils of war and ghosts.
For me, this was a very angry project in that the outrage about lost artefacts didn't translate into an outrage about lost lives. It is about making the absence of the Lamassu present rather than making the Lamassu present.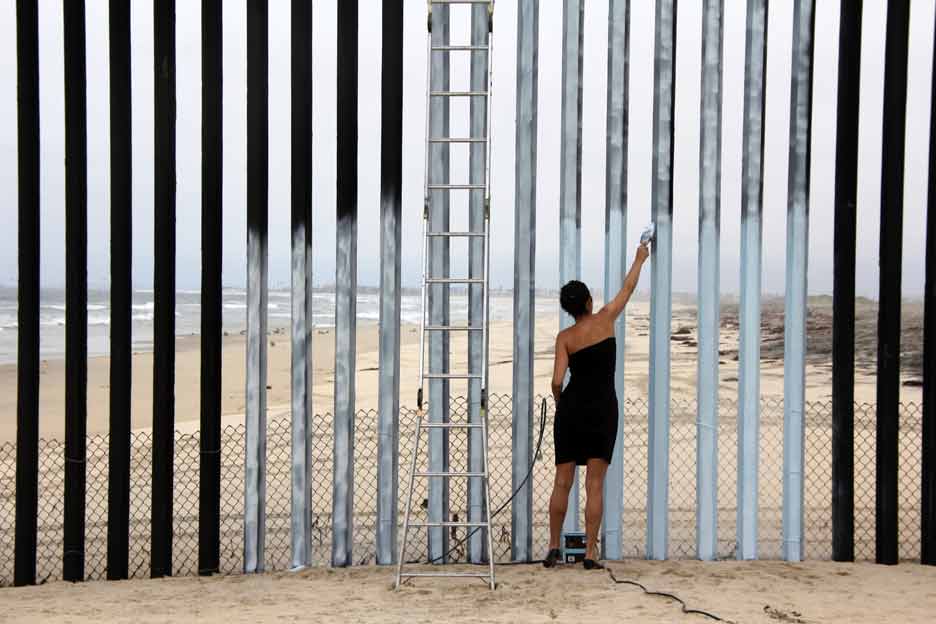 Feature
Brinkmanship
As international border tensions rise, Bob Dickinson sees a return to the politics of paranoia
While artists Christoph Büchel, Marcos RamÍrez and Margarita García Asperas negotiate President Trump's proposed Mexican wall, others like John Byrne, Park Chan Kyong and Sean Snyder tackle existing barriers.
The politics of brinkmanship today is, however, not just limited to threatening your neighbour with Armageddon, it is also about intervening in the immediate and the everyday. Borders are where the pressure is felt most keenly, because they are where the new severity hastens to clamp down on exchange, movement and dialogue.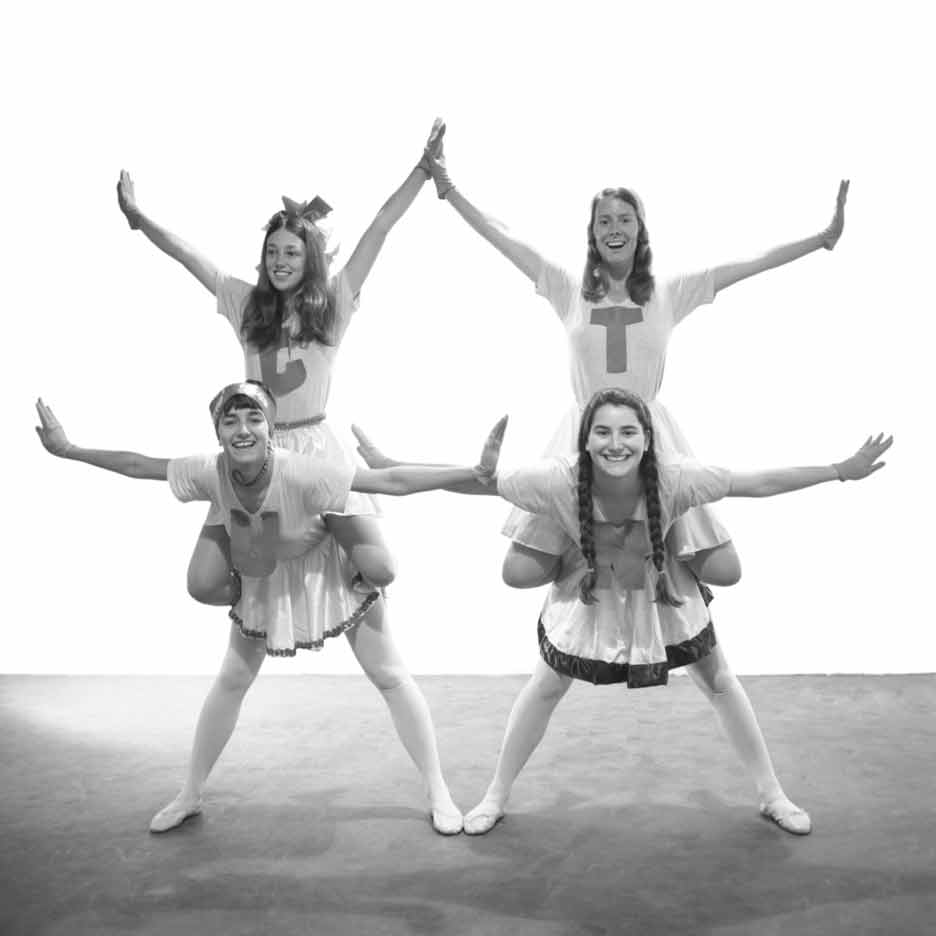 Feature
Troublemaking
Francis Frascina reconsiders conflicting debates about female pleasure and female violation in cultural representation
In the context of the #MeToo movement, the work of writers and artists from Jacqueline Rose, Carole S Vance and Judith Butler to bell hooks, Helen Chadwick and Sonia Boyce take on fresh significance.
Catherine MacKinnon's fear that without bringing sexuality within the remit of the law (directly related to gender inequality) it will 'become a law unto itself'. However, for Jacqueline Rose this very phrase may describe 'what sexuality is', which is consistent with Simone de Beauvoir's existentialist feminism where woman is not 'born' but 'becomes'.
Comment
Editorial
The Terminators
Although the media had a field day with Facebook founder Mark Zuckerberg's reluctant appearance at Senate committee hearings, the circus around the 64 billion dollar man's appearance allowed the shadowy figures (the 'oiligarchs' and kleptocrats) behind the murky misuse of Facebook's user data to remain largely hidden.
Owning your own political party is the ultimate luxury, but if only politics was a movie, it would be so much easier to resolve things if you had a script.
Artnotes
Gender Pay Gap
The new requirement for organisations to publish gender pay gap data has revealed a mixed picture in the arts; ACE has published its review into the Bristol visual art scene, allowing some of its ring-fenced funding for the city to trickle out; the Arts Council of Northern Ireland has cut funding to almost half of its regularly funded organisations; the London mayor, Sadiq Khan, has launched his draft culture strategy; plus the latest news on galleries, appointments, prizes and more.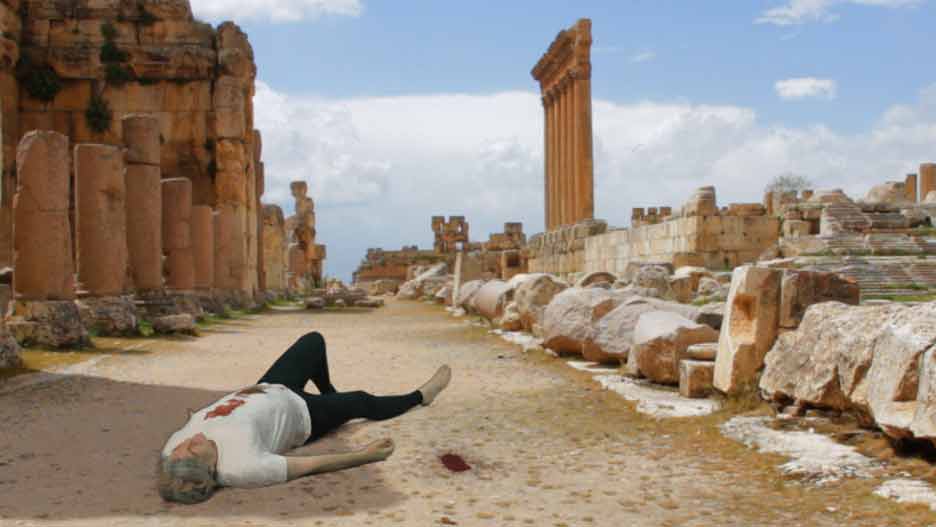 Profile
Rehana Zaman
Adam Benmakhlouf on the Yorkshire-born, London-based artist who explores acts of resistance through subversive speech and group interactions.
Rehana Zaman's surprising subversion of popular forms, and the attention she gives to embodied pleasures, subtly reorganise the field of oppositional politics.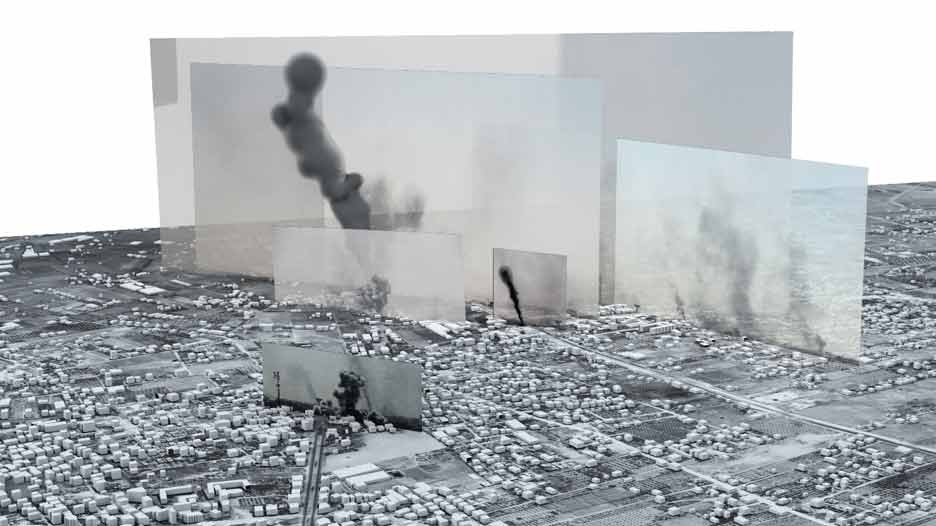 Exhibitions
Forensic Architecture: Counter Investigations
Institute of Contemporary Art, London
Maria Walsh
Langlands & Bell: Internet Giants – Masters of the Universe
Ikon, Birmingham
David Trigg
de-leb: data as currency, the currency of data
Banner Repeater, London
Tom Emery
Adrian Piper: A Synthesis of Intuitions, 1956-2016
MoMA, New York
Lina Dzuverovic
Pakui Hardware: The Return of Sweetness
Tenderpixel, London
Henry Broome
Magali Reus: As Mist, Description
South London Gallery, London
Cherry Smyth
Joan Jonas
Tate Modern, London
Isobel Harbison
Linder: Her GraceLand • The House of Fame
Chatsworth House, Bakewell
Nottingham Contemporary
Ellen Mara De Wachter
Maria Zahle: Trotsky and the Wild Orchids
Arcade, London
Paul Carey-Kent
Fiona Crisp: Material Sight
Northern Gallery for Contemporary Art, Sunderland
Catherine Spencer
Is this Planet Earth?
Ty Pawb, Wrexham
Lizzie Lloyd
Another Kind of Life: Photography on the Margins
Barbican, London
Chris McCormack
Reviews
Books
Is the Living Body the Last Thing Left Alive?
Rob La Frenais
But this book is not just important for underlining these tensions; it also teases out numerous 'institutional irritants' worldwide, international histories which have not been considered together before.
Reports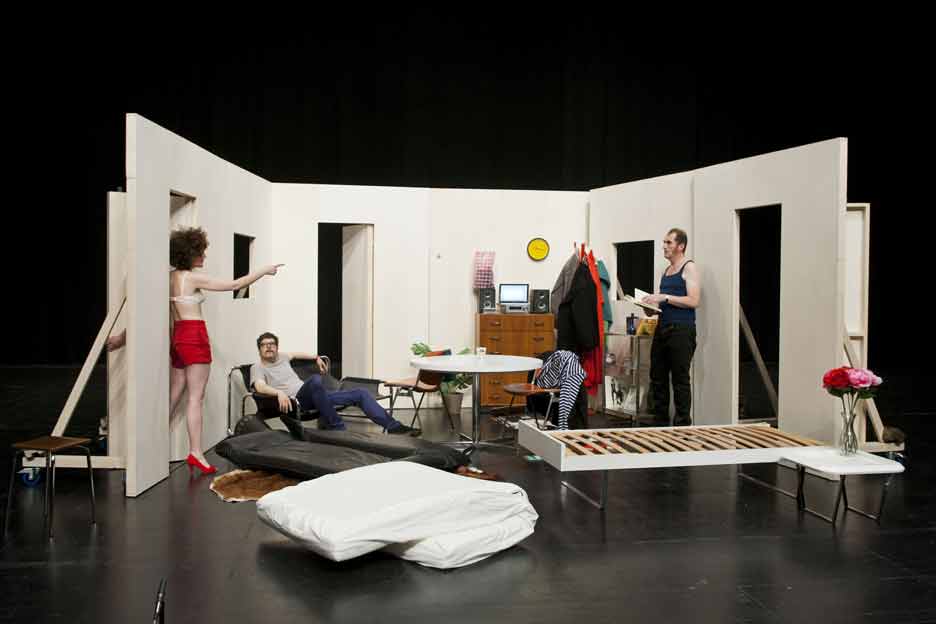 Letter from Paris
Past into Present
Edward C Ball
The much anticipated opening of Lafayette Anticipations further cements the dominance of private foundations in the parisian art scene.
Reports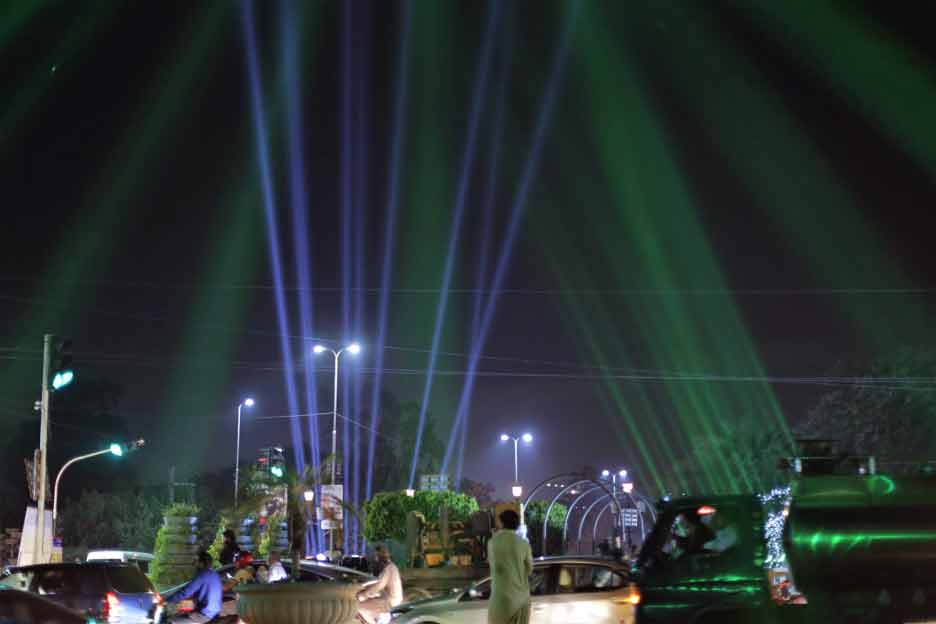 Letter from Lahore
Framing and Light
Virginia Whiles
Under Zia-ul-Haq's dictatorship, constant surveillance and censorship reigned. Women resisted with wit and ingenuity.
Artlaw
Ways of Working
Reputation
Henry Lydiate
Is there legal protection against public accusations that may be false or fake or inaccurate and which may damage reputations before they are proven to be true?
Listings
Events
Calendar
The updated events and exhibitions calendar can be viewed online.
Exhibitions
Exhibition Listings
Art Monthly's exhibition listings can be viewed online.