Art Monthly 421: November 2018
Kerry James Marshall
Interviewed by Larne Abse Gogarty
The Collector
Mark Prince
Lucy Beech
Profile by Maria Walsh
Our Little Fascisms
Skye Arundhati Thomas
Buy Now – select:
Want to read this right now?
Get instant access to the entire back catalogue via Exact Editions from only £8.99!
Contents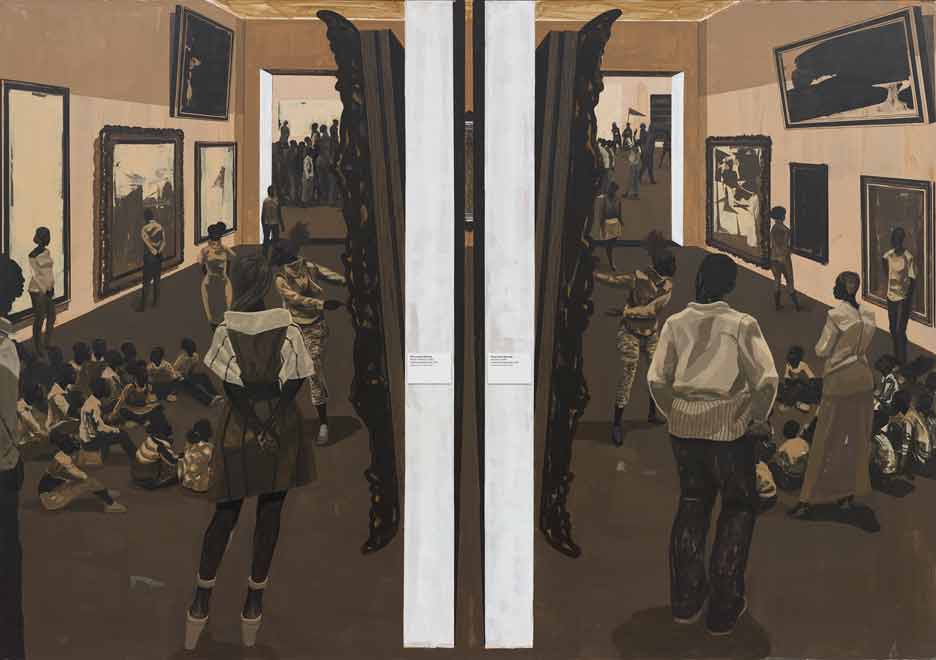 Interview
Check It Out
Kerry James Marshall interviewed by Larne Abse Gogarty
Alabama-born, Chicago-based artist Kerry James Marshall believes that you have to work with the history you start out with before you can change it, but first you need to know everything you can about everything.
In a democratic sense, there is a notion of equality and fairness which sets the bar as if we should all be interested in the same things for the same kind of reasons, but that's just not realistic. So because I don't have another art history to begin from, I begin from what was introduced to me when I started out. That's all I have.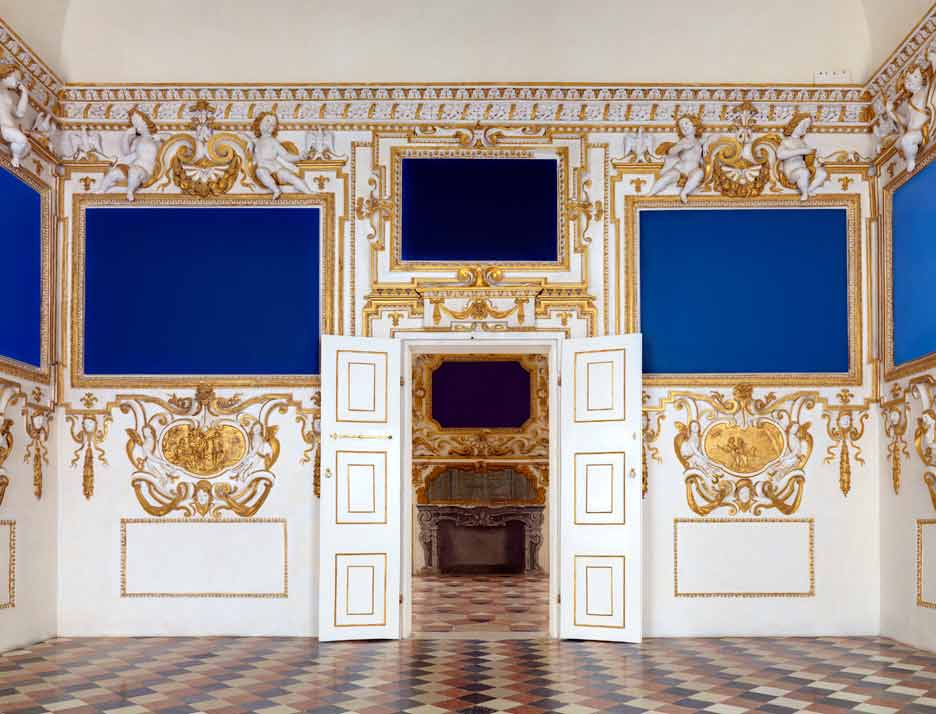 Feature
The Collector
The role of the collector is too often confused with that of the investor, argues Mark Prince
Taking a cue from the collector Count Panza and artists Sol LeWitt, Jorge Pardo and Lawrence Weiner, in the face of the ever-growing investment market for contemporary art, is it possible for artists to have a healthier relationship with the market?
I can't think of a more generous rebuttal of the kind of contemporary art which sells itself on the basis of its disapproval of commerce than Jorge Pardo's experimental promiscuousness with the world of the collector.
Comment
Editorial
Not in My Name
Last month's so-called People's Vote march drew an impressive 670,000 campaigners to the streets of London, but then the 2003 Stop the War march boasted a larger attendence yet it didn't stop the bombs from falling only a month later. So if mass demonstrations don't work, isn't it time that Parliament took some responsibility for the mess, and the breaching by Brexiters of campaign financing laws (not to mention outside interference in the process itself), by voiding the referendum result?
One of the unforeseen legacies of referendums is that, unlike elections, they create wounds that don't heal; whereas it is possible to change governments every five years or so through the ballot, a referendum sticks.
Artnotes
Undignified
The Natural History Museum faces protests over a reception for the Saudi Arabian embassy in the wake of the reported assassination of journalist Jamal Khashoggi; the British Museum launches a series of talks attempting to counter alternative histories presented by Alice Procter's Uncomfortable Art Tours; international museum curators continue to be sacked or resign in controversial circumstances; BBZ London protest the work of Luke Willis Thompson at the Turner Prize; plus the latest news on galleries, appointments, prizes and more.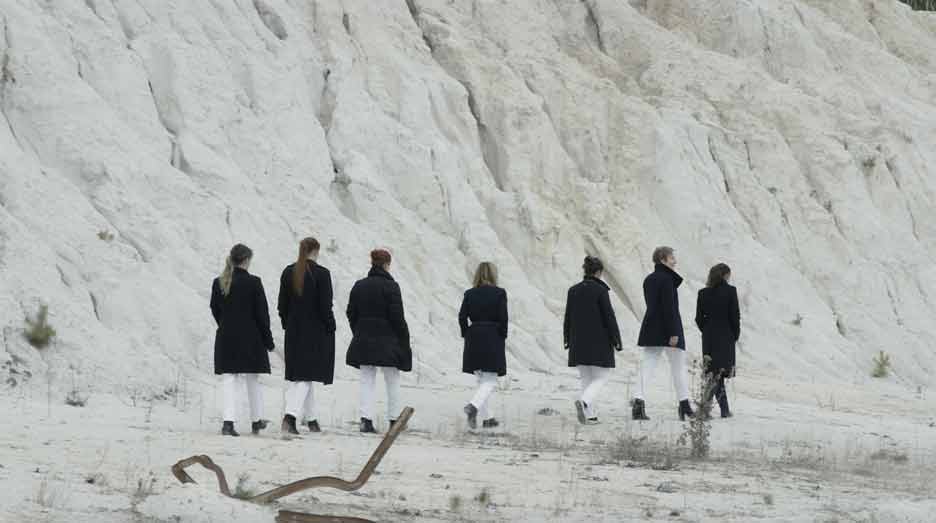 Profile
Lucy Beech
The Hull-born, Berlin-based artist blends documentary and fiction in films which explore all-women contexts from funeral care to fertility tourism.
The film Cannibals lays bare how feminist demands for equality and autonomy in economic and social life are currently marketed as personal lifestyle choices that enmesh individual dis-ease in a cycle of reward and punishment.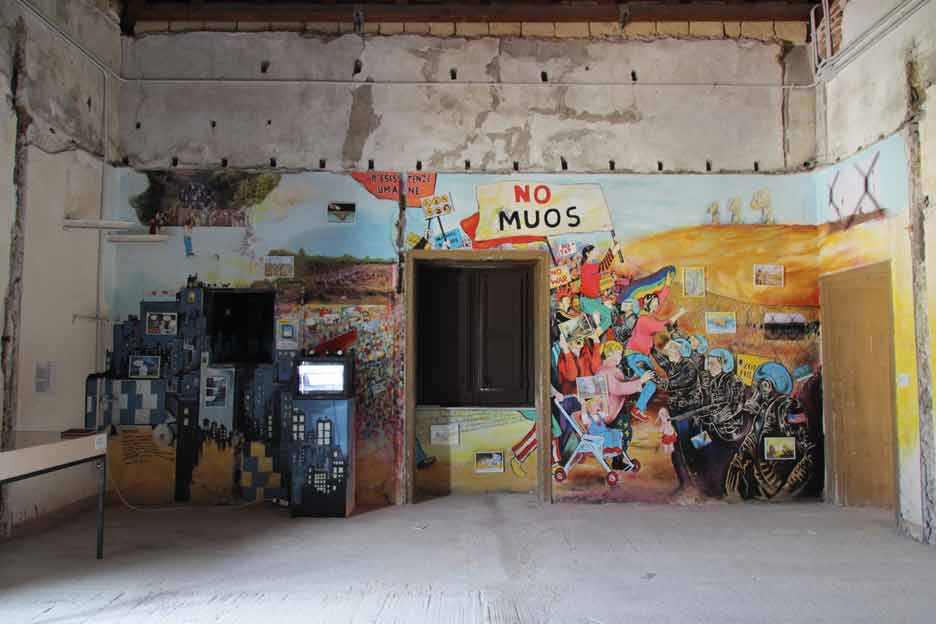 Exhibitions
Manifesta 12: The Planetary Garden – Cultivating Coexistence
various venues, Palermo
Alex Fletcher
Taus Makhacheva: Baida
narrative projects, London
Marcus Verhagen
Raqs Media Collective: Not Yet At Ease
Firstsite, Colchester
Matthew Bowman
Liquid Crystal Display
Site Gallery, Sheffield
Lara Eggleton
Tania Kovats: Troubled Waters
Phoenix, Exeter
Martin Holman
Knock Knock: Humour in Contemporary Art
South London Gallery, London
Martin Herbert
Amy Sillman: Landline
Camden Arts Centre, London
Cherry Smyth
Senga Nengudi
Henry Moore Institute, Leeds
Amy Budd
Survey
Jerwood Space, London
Visions in the Nunnery
Nunnery Gallery, London
Paul Carey-Kent
Marcia Farquhar: Difficuλt
CGP London: The Gallery and Dilston Grove
Dominic Johnson
Dan Graham: Rock 'n' Roll
Rodney Graham: Central Questions of Philosophy
Lisson Gallery, London
Brian Hatton
Reviews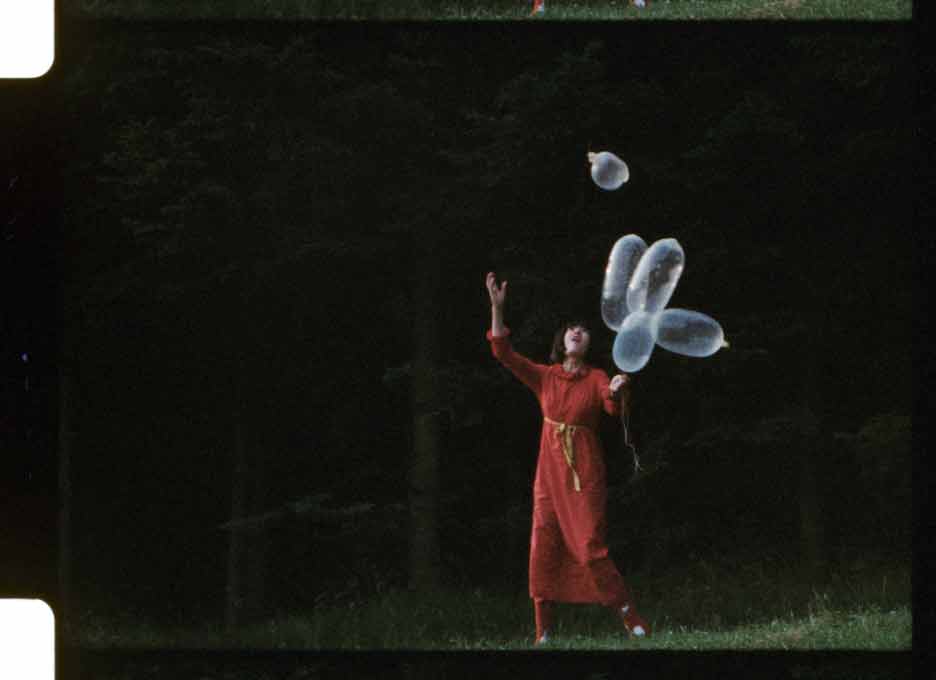 Film
Berwick Film and Media Art Festival
Elena Gorfinkel
Across diverse offerings, the pleasure of the programming at BFMAF lies in its embrace of the feral and the heretical, the intimate and the insurrectionary.
Experimenta
Adam Pugh
It is clear that the London Film Festival doesn't fully know the considerable value Experimenta represents, and it seems to dangle by a thread.
Reviews
Books
Regeneration Songs: Sounds of Investment and Loss from East London
Chris Fite-Wassilak
Although the book has a 'Fighting Back' section, it's limited in what it actually proposes.
Reports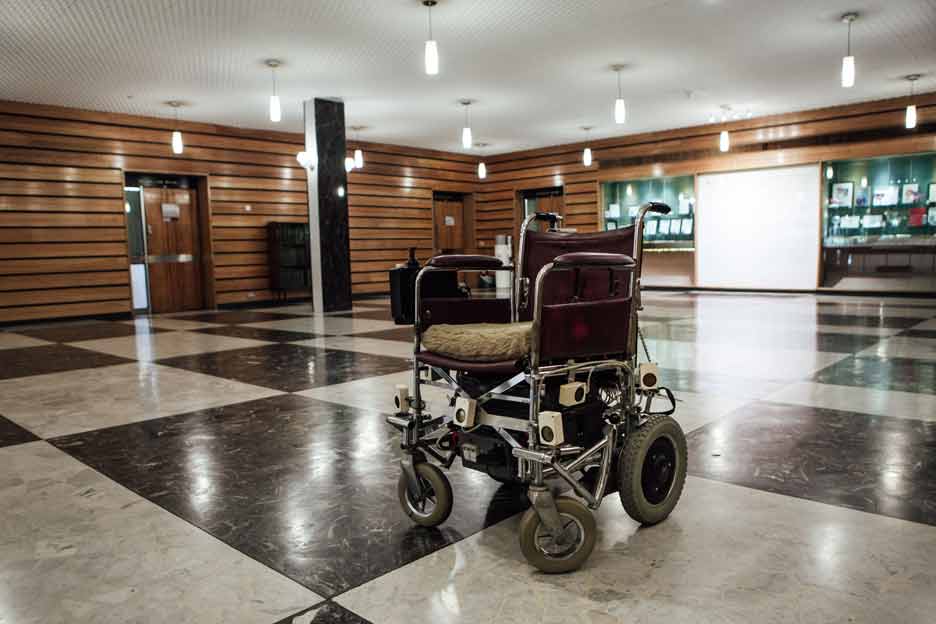 The Atlantic Project
After the Future
Rosalind Hayes
It is a shame that Donald Rodney's earlier piece Visceral Canker, 1990, a radical critique of Britain's first slave trader and celebrated plymouthian, John Hawkins, went unmentioned considering its local connection.
Reports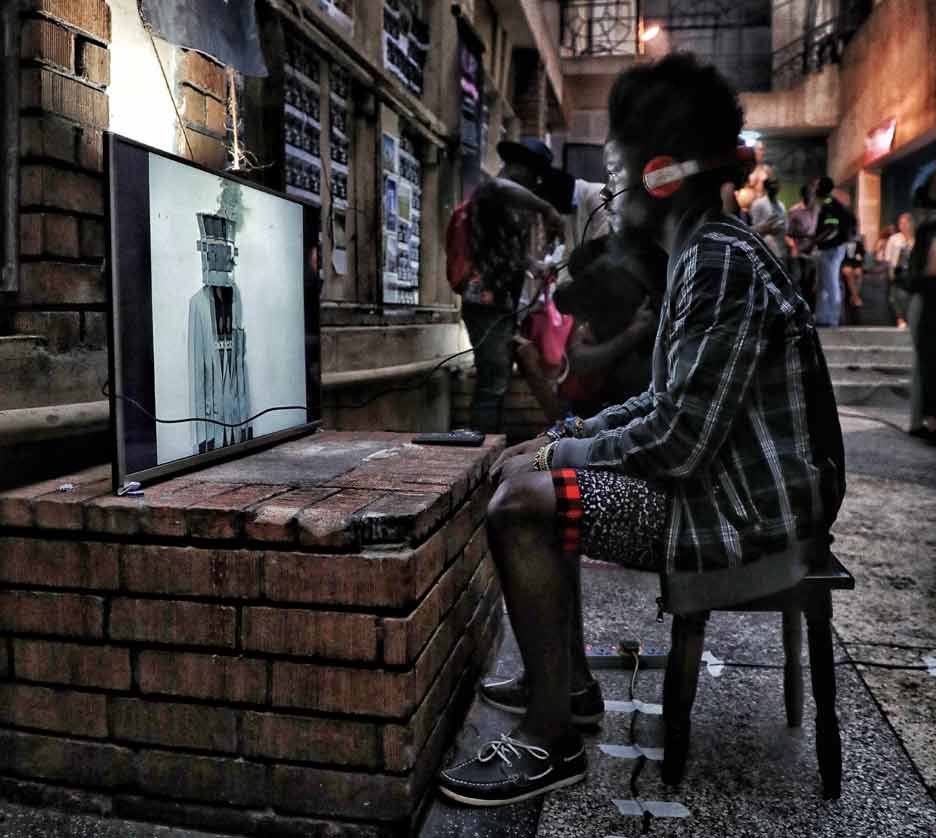 Letter from Kampala
Afriart
George Vasey
Bobi Wine hopes to replace the current autocratic president Yoweri Museveni and, as the self-proclaimed 'ghetto president', he has galvanised a disenfranchised younger generation. Around 77% of Uganda's population is under 30 and there is a call for imminent and much-needed change.
Reports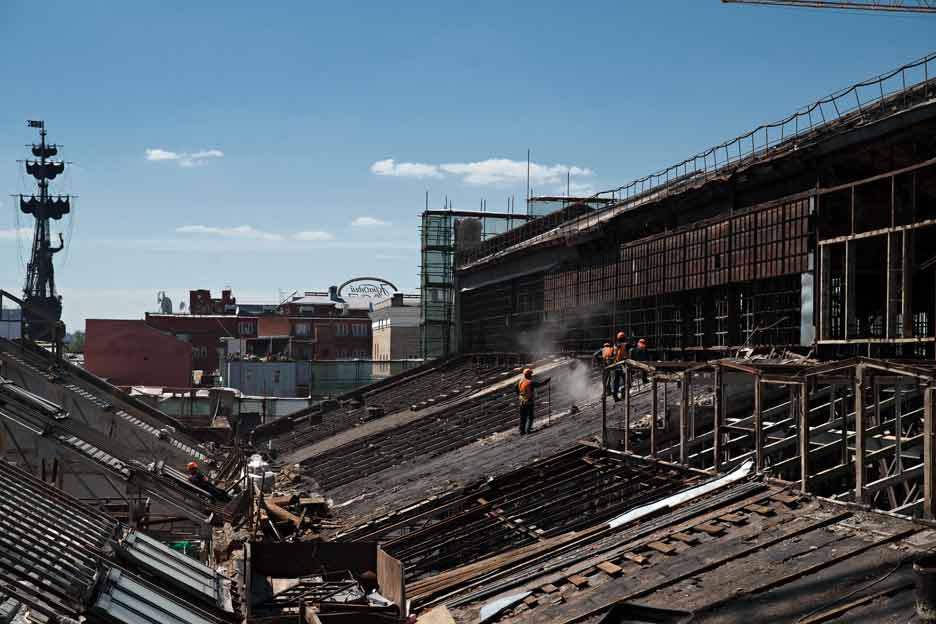 Letter from Moscow
Power Station
Jennifer Thatcher
Moscow's cultural institutions are excavating and augmenting their collections to tell a more expansive account of Russia's 20th-century history, one that, as with the Tretyakov and the Muzeon Park of Arts, includes socialist realist as well as avant-garde and 'unofficial' art like Ilya Kabakov's.
Reports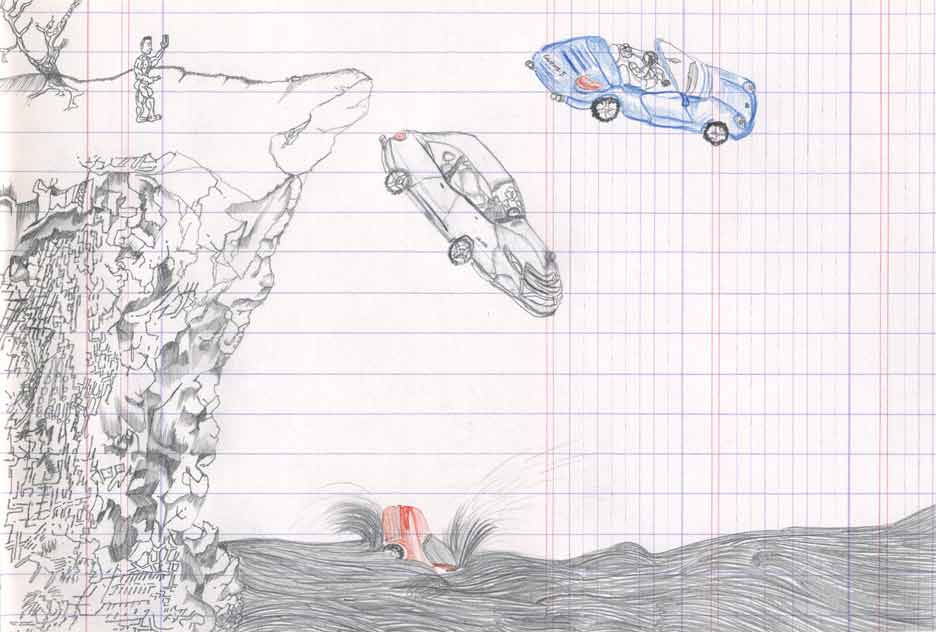 Letter from Berlin
Containerisation
Alexandra Symons Sutcliffe
In an adjacent hanger and outside the disused terminal is a more clearly controversial and troubling architecture of impermanence, the refugee camp where asylum seekers arriving in Berlin have been housed on a rotating basis since 2015.
Reports
Conference
Steirischer Herbst: Our Little Fascisms
Skye Arundhati Thomas
The bin, shaped like the recycling bins that urge us to throw in old clothes or used batteries, asks for old Nazi memorabilia instead.
Artlaw
Ways of Working
Love & Money
Henry Lydiate
There has been an unprecedented amount of media coverage of Banksy's shredding of Girl with Balloon, 2006, since the incident took place at Sotheby's London's evening sale of contemporary art on 5 October 2018. But none of this has addressed a central issue: artists' rights after there has been a transfer of ownership.
Listings
Events
Calendar
The updated events and exhibitions calendar can be viewed online.
Exhibitions
Exhibition Listings
Art Monthly's exhibition listings can be viewed online.