Contents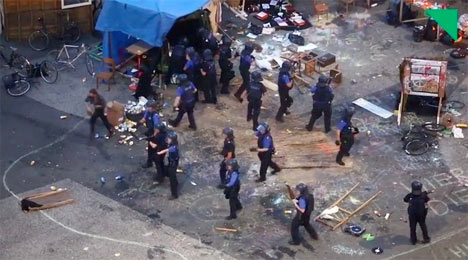 Feature
Art & Politics
Which side is art on ask Dean Kenning and Margareta Kern
In the face of government austerity measures which have squeezed artists and public arts provision more than any other sector, an elite art world has continued to prosper. Isn't it time that, in order to develop political agency in their work, artists begin to acknowledge this glaring dichotomy?
'Can art act in opposition to neoliberal power and manifest values based in equality, commonality and solidarity? Or does art simply manifest and further the interests of a transnational capitalist class?'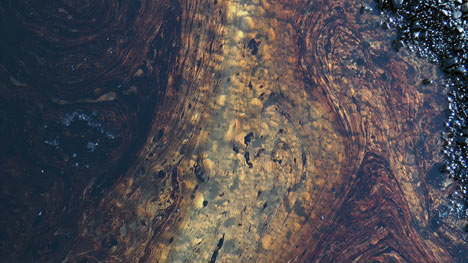 Feature
Art & Oil
Colin Perry on the greasing of the art industry
Today's debates around the sponsorship of art by oil companies would benefit from a historical understanding of the long tradition of arts commissions by industries with pressing PR problems; an analysis of the results of this almost century-long practice reveals the pernicious, compromising effects of such greasing.
'In confronting the corporate "art-wash" enacted by BP and Shell today, we should not be particularly surprised that mass spectacle and art are still conjoined.'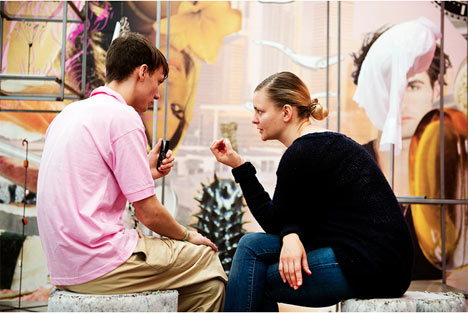 Feature
Prosumerism
Nick Warner on the phenomenon of the producer/consumer in online art
As the rapidly developing social aspects of the internet make producers of us all, how have artists such as Ed Fornieles and Iain Ball developed online projects that mask their status as artworks and undermine the traditional notion of the artist-maker?
'Where the consumer of yesteryear would passively digest the spectacle provided, whether capitalist, political or cultural, the prosumer likes and shares, rates and reviews, remixes and uploads.'
Comment
Editorial
Putting the PR in Press
The increasing professionalisation or outright outsourcing of PR departments in art galleries has led to a shift in power between the public-image controllers and the critical press, with access carefully gated for friendly media. But won't this short-termist thinking simply undermine faith in the cultural discussion that is art's lifeblood?
'The rot probably set in when, in the wake of savage cuts to the arts under Margaret Thatcher, publicly funded galleries were urged, as now, to forge new "relationships" with the private sector: enter the PR pandars.'
Letters
Michael Hampton wonders whether the curating behind Venice's 'The Encyclopedic Palace' exhibition signals a new world order.
Artnotes
Tate chairman and the UK's fracker-in-chief Lord Browne uses an Art Fund speech on philanthropy to outline an end to taxation as a wealth redistributor and the death of museums' arm's-length independence; local-government arts budgets are cut even as wider spending increases; The Public in West Bromwich finally meets an inglorious end; BMW abandons a high-profile Guggenheim sponsorship; the ICA launches an art rival to Twitter; galleries open, move and expand; the latest news on events, appointments, prizes and more.
Walter De Maria 1935-2013
Allan Sekula 1951-2013
Submissions: Send news items to artnotes@artmonthly.co.uk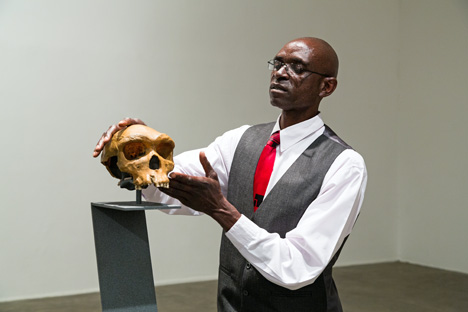 Profile
Pratchaya Phinthong
Eliza Williams on the Bangkok-based artist
Pratchaya Phinthong's seemingly straightforward interventions – displacing museum artefacts from one country to another, eschewing an art residency to work alongside migrant labourers – reveal a complex set of border-driven power relations and interdependencies.
'Politics runs through all of these pieces, yet Phinthong avoids dogma or didacticism in his work, instead choosing to raise questions and invite comment. Also uniting the works is their emphasis on collaboration, with Phinthong at times taking the role of encourager and persuader rather than of autonomous artist, and inviting others to become active participants in the shaping of his art.'
Reviews
Exhibitions
IAIN BAXTER& and Adam Chodzko
Raven Row, London
Martin Herbert
Haroon Mirza
The Hepworth, Wakefield
Andrew Hunt
Misdirect Movies
Standpoint, London
Christopher Townsend
Omer Fast: 5,000 Feet is the Best
Imperial War Museum, London
Sophie J Williamson
Haris Epaminonda: Chapters
Modern Art Oxford
Paul Carey-Kent
John Newling: Ecologies of Value
The Exchange, Penzance
David Lillington
Roxy Walsh and Sally Underwood: Dependent Rational Animals
Towner, Eastbourne
George Vasey
Manchester International Festival: do it 20 13
various venues
Bob Dickinson
Yorgos Sapountzis and Ian Hamilton Finlay
Arnolfini, Bristol
If Not Always Permanently, Memorably
Spike Island, Bristol
Martin Holman
Dublin Round-up
Temple Bar Gallery • Dublin City Gallery The Hugh Lane • Douglas Hyde Gallery • Irish Museum of Modern Art
Chris Clarke
Reviews
Books
This is Not Art: Activism and Other 'Not-Art'
John Douglas Millar on a provocation to the London art world
'If any single debate defines current discourse around contemporary art it is the question of art's relationship with the category of "the political" and the scree of sub-questions produced in its wake: is art able to contribute to social change? Should art aim to make direct interventions? Can art mimic or demonstrate utopian social relations? How can art and activism meld and should they?'
Polemic
Archives
Digital v Paper
Mark Wilsher argues against digital archives
'The migration from paper to digital archives has a negative side, especially in the case of education in the visual and creative arts where a qualitative mode of reading is required rather than simple information gathering. In fact I would say that electronic journal storage is actively bad for art education.'
Report
Art Syndicate
V22
Sophia Phoca looks at a shared-ownership model for art organisations
'The V22 plc shared ownership art organisation is constituted with the collection, while shareholders, made up mainly of 430 participating artists, can sell and buy shares in the publicly quoted company and steer and curate the collection and exhibitions. At the same time, V22 aims to increase shareholder value through growing the size and value of the collection.'
Listings
Events
London Art Calendar
Art Monthly's London event calendar can also be viewed online.
Submissions: Send event info to calendar@artmonthly.co.uk
Exhibitions
Exhibition Listings
Art Monthly's exhibition listings can also be viewed online.
Submissions: Send listings to listings@artmonthly.co.uk