September 2017
September Issue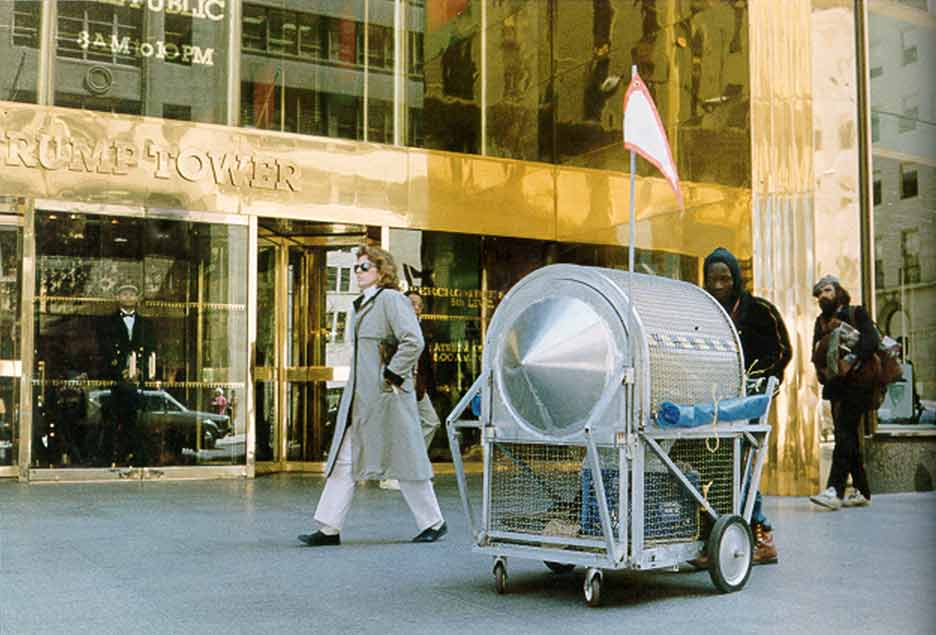 Interview
Projecting the Future
Krzysztof Wodiczko interviewed by Dave Beech
The New York-based Polish artist discusses projection and his use of monuments of the past to see into the future.
From silence to animation, the participant must become a speaking monument testifying in public and demanding larger change. This makes such a person psychologically healthier and socially useful for others while making the monument feel better and more useful as well.

Feature
Viral Landscapes
Francis Frascina on the political significance of Helen Chadwick's landscapes
In her lifetime, Helen Chadwick's seminal series of photographs of the Pembrokeshire coast were understood in the context of 1980s fears over Aids, but doesn't this interpretation overlook the political and historical significance of the specific sites that she chose to depict?
These fortified refuges or defended settlements are metaphorically consistent with her viral theme: both in relation to cells as defences from attack and the invasive military function of ancient earthworks and 20th-century firing ranges on the landscape.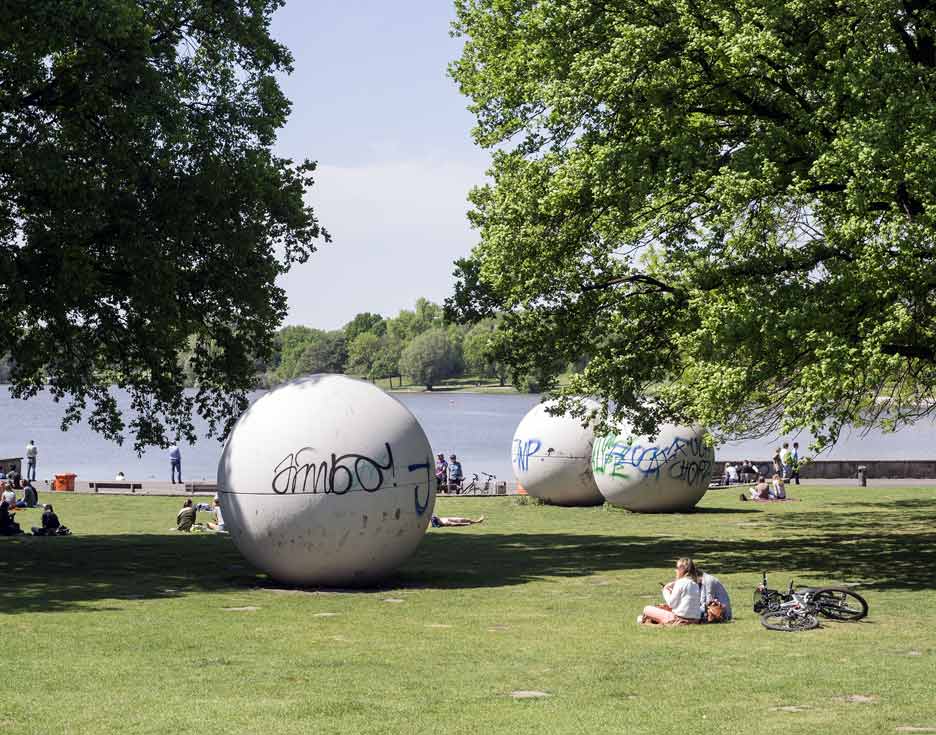 Feature
Public? Sculpture?
Public sculpture is everywhere yet it is in crisis argues Lisa Le Feuvre
If this year's edition of Münster Sculpture Projects questioned the very concept of sculpture as object, as well as what is meant by 'public', does public sculpture have a future and, if so, is it a permanent one?
Suzanne Lacy pointed out that one should never assume that public space is democratic or, for that matter, public. The 'public' of public art involves many private interests – all art in public space is institutional in some way and all public space is controlled.
---
From the Back Catalogue
Public Art Attack Andrew Hunt on the importance of antagonism in public art
Comment
Editorial
Rich Man, Poor Man ...
Inequality between the super rich 1% and the rest of the population continues to grow, bringing social division in its wake. As artists' studios are cleared for gentrification projects and former workhouses redeveloped into luxury flats, the government has abandoned any efforts to restrain the corrosive effects of unchecked capital.
To isolate the super rich from possible contamination from the residents of the cheaper flats, a separate entrance is planned for them down a side alley – already dubbed the 'poor door'.
Letters
Valley of its Making
Paul Carey-Kent is not satisfied with Peter Suchin's previous reply over the aestheticisation of war in art, and Suchin replies again.
This Exhibition is Cancelled
Kati Kärki questions the narrow focus of Lauren Velvick's review of Marlie Mul's show, 'This Exhibition is Cancelled' at GoMA, and Velvick replies.
Artnotes
Club 18-22
ACE announces its National Portfolio Organisations for 2018-22, expanding the portfolio but dropping funding for some established galleries (full list on p45); the DCMS rebrands but stays the same; violence flairs at neo-Nazi rallies triggered by the removal of monuments celebrating Confederate soldiers in the US, with President Trump's weak response leading to condemnation from artists; UK public sculpture is to be documented by Art UK; MoMA is selling off 400 photographs by established greats of the discipline; plus the latest news on galleries, appointments, prizes and more.
Announcement
Art Writing Award
Michael O'Pray Prize
The Michael O'Pray Prize is a Film and Video Umbrella initiative launched in 2017 in partnership with Art Monthly which seeks new writing on innovation and experimentation in moving-image art. Read the winning texts online via the links below.
2017 Winners
Lauren Houlton Heat Sensitive?
Dan Ward A Long Shot
40th Anniversary
The Missing Issue

To celebrate 40 years of continuous publication, Art Monthly recently invited readers to help create a virtual issue for April 1978 to complete the set.
Download the Missing Issue: www.artmonthly.co.uk/missing-issue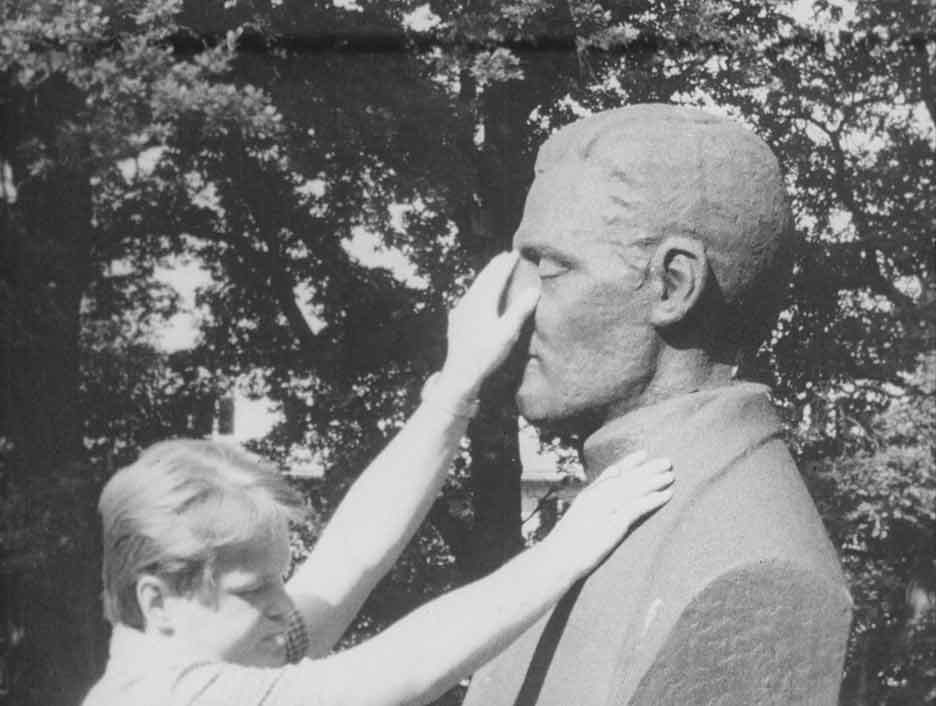 Profile
Emanuel Almborg
Alex Fletcher on a Swedish artist who explores the nature of our interaction with objects through the lens of alternative educational spaces and their histories.
Almborg conducted a series of workshops at the Mayflower Primary School in east London in which children aged eight to ten years old interrogated their relations with everyday technologies such as smartphones and tablets, considering the processes of production behind these glassy screens and how they might be said to inform and delimit our imaginative faculties and modes of attention.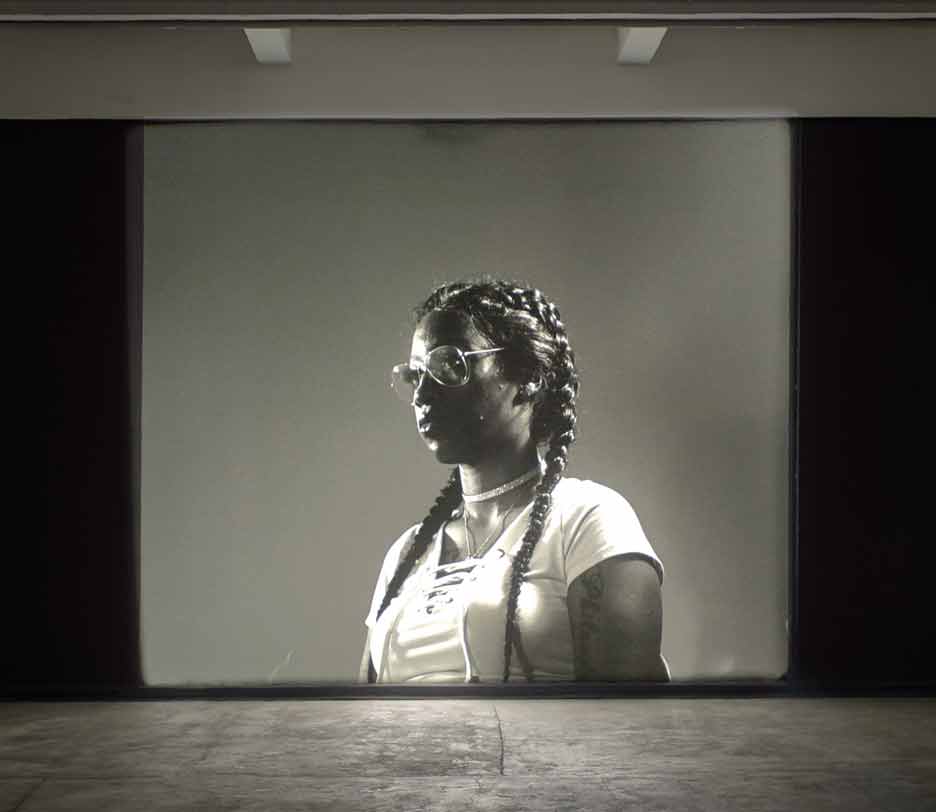 Exhibitions
Jiro Takamatsu: The Temperature of Sculpture
Henry Moore Institute, Leeds
Duncan Wooldridge
Synthetic Landscapes
Weston Park • Shrewsbury Museum and Art Gallery
Stephen Lee
Rose Finn-Kelcey: Life, Belief and Beyond
Modern Art Oxford
Isabella Maidment
In Case There's a Reason: The Theatre of Mistakes
Raven Row, London
Neil Zakiewicz
The House that Heals the Soul
CCA, Glasgow
Catherine Spencer
Calla Henkel & Max Pitegoff: Machine 2
Cabinet, London
Joseph Constable
Kate Davis: Nudes Never Wear Glasses
Stills, Edinburgh
Kathryn Lloyd
London Round-up
Lisson Gallery • Chisenhale Gallery • Barbican
Peter Suchin
East England Round-up
Sainsbury Centre • Firstsite • The Minories Galleries
Matthew Bowman
Edinburgh Round-up
The Fruitmarket Gallery • Talbot Rice Gallery • Collective
Tom Emery
Frankfurt Round-up
Schirn Kunsthalle • Portikus • Städel Museum
Paul Carey-Kent
Reviews
Artists' Books
Helen Dawn Henderson: Being, In a State of Erasure
Helen Cammock: Moveable Bridge
Elinor Morgan
This dispersal into some of the UK City of Culture's threatened cultural and educational spaces serves as a gentle reminder of the importance of inserting works into existing structures, of supporting learning and of bringing new perspectives to local contexts.
Crash!: Britlins
Barry Lewis: Butlins
Michael Hampton
Written by Matthew Worley and with artwork by Scott King, the publication rests on the speculative, indeed absurdist proposition that Brexit is a golden opportunity to launch a new version of Britain, ie Britain 2.0; to remake the geopolitical entity overridden by 40 years' membership of the EU.
Reports
Floating Cinema
Harry Meadley: On the Bench
Jamie Sutcliffe
Taking the form of brief, candid and warmly humoured interviews with cultural practitioners located at each of the eight stops the touring boat was due to visit, this sequence of conversations reanimated something of JB Priestley's sociological ambition.
32nd Ljubljana Biennial of Graphic Arts
Birth as Criterion
Lynton Talbot
The title 'Birth as Criterion' is taken from Slovenian poet Jure Detela's work of the same title. The insertion of the poem – an existential showdown with life, death and God, but also with meaning and perception – opens up questions of authorship, narrative, structure and translation.
Reports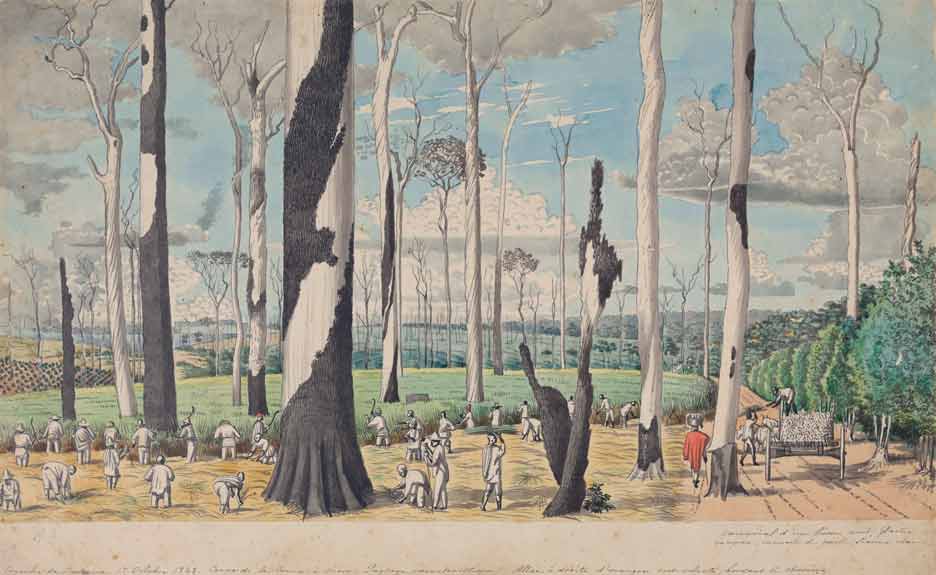 Letter from Monaco
Marina City
David Barrett
One commercial gallery, Sem-Art, seemed to have got the hang of the local scene a few years back when it featured a bar where the reception desk would more usually be found and piped europop through its Wim Delvoye show, but even that gallery has now closed.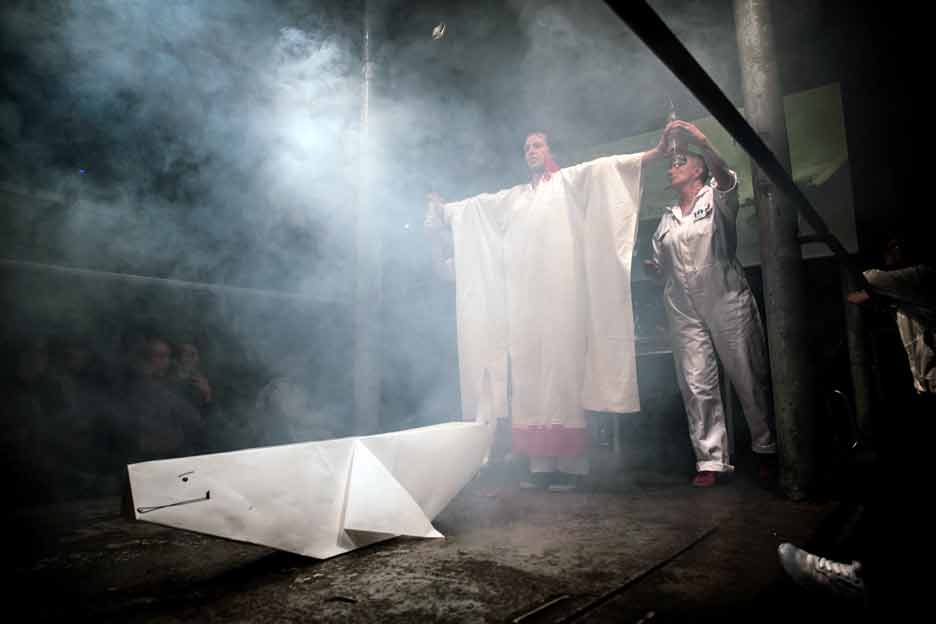 Letter from Hamburg
Harbour City
Grace Harrison
Below deck in the Cruiseology section, we sat surrounded by video documentation of civil resistance to the cruise ship industry which threatens and demeans venetian life.
Artlaw
Money
Art? Pension? Trust?
Henry Lydiate
Some artists are considering pulling out of the original consignment agreement; others anticipate destroying works they cannot afford to store; and many have used social media to encourage a united collective response to oppose the contractual change.
ACE
National Portfolio 2018-22
Visual Arts Organisations
A table of all visual arts organisations selected for National Portfolio funding 2018-22, showing the amount each organisation will receive in 2018/19 and the percentage change compared with their NPO funding for 2017/18.
Listings
Events
Calendar
This month's highlights include:
Annual music festival: Opaque Poetics Wysing Arts Centre 1.00pm Sat 2 Sep
Yohko Watanabe lecture on Jiro Takamatsu The Henry Moore Institute 6.00pm Wed 27 Sep
Thomas Ruff in conversation with Iwona Blazwick Whitechapel Gallery 7.00pm Thu 28 Sep
The updated events and exhibitions calendar can be viewed online.
Exhibitions
Exhibition Listings
Art Monthly's exhibition listings can be viewed online.
Audio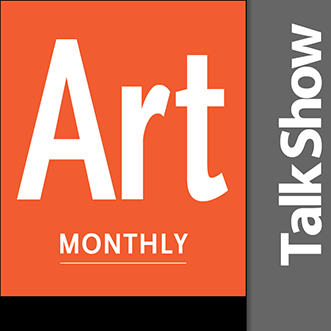 Art Monthly Audio
On the Radio
Art Monthly hosts a talk show to discuss the current issue at 8pm on the second Monday of each month on Resonance 104.4 FM.
Next broadcast: 8pm Monday 11 September

On iTunes
The Art Monthly Talk Show is available as a podcast on iTunes – subscribe for free automatic downloads.
Online
Audio recordings are available in the Events section of the Art Monthly website: www.artmonthly.co.uk/events
Recent additions:
Opportunities
Opportunities
Jobs
Engagement Curator
Yorkshire Sculpture Triangle | 4 Sep
www.hepworthwakefield.org
Events Technician
Goethe-Institute, London | 10 Sep
www.goethe.de
Programme Manager
Gulbenkian, University of Kent | 10 Sep
www.thegulbenkian.co.uk
Head of Painting and Printmaking
Glasgow School of Art | 13 Sep
www.gsa.co.uk
Lecturer/Senior Lecturer in Contemporary Art and Illustration
University of Huddersfield | 14 Sep
www.vacancies.hud.ac.uk
Development Assistant (Maternity Cover)
Kettle's Yard, Cambridge | 15 Sep
www.jobs.cam.ac.uk
Technician
White Cube, London | 15 Sep
[email protected]
Curatorial Administrator
White Cube, London | 15 Sep
[email protected]
Public Art Commissions
Imago, Wigan Council | 19 Sep
www.imagowigan.com
---
Competitions/Commissions
Daiwa Foundation Art Prize 2017/18: Call for Entries
The Daiwa Foundation Art Prize offers a British visual artist a first solo show in Japan, along with a participation fee of £5,000.
The Daiwa Foundation | 5pm 2 Oct
https://daiwa.artopps.co.uk
ArtePrize 2017
Delfina Foundation, London | 1 Oct
www.arteprize.org
The Visual Ibero-American Arts Prize
Embassy of Brazil to the UK with ACALASP, People's Palace Projects and Itaú | 16 Oct
www.viaartsprize.org
Write for Artquest's Art Worlds programme
Artquest | Rolling
www.artquest.org.uk
---
Residencies/Fellowships
Post-Graduate Residency
South London Gallery | 11 Sep
www.southlondongallery.org
50 Artists-in-Residence
Austrian Federal Chancellery and KultureKontact | 18 Sep
www.artists-in-residence-austria.at
Princeton Arts Fellowships
Princeton University, New Jersey, USA | 19 Sep
www.arts.princeton.edu
The Hodder Fellowship
Princeton University, New Jersey, USA | 19 Sep
www.arts.princeton.edu
Stuart Hall Library Artist's Residency
Stuart Hall Foundation and Iniva, London | 25 Sep
www.stuarthallfoundation.org
The Flamin Fellowship
Film London, ACE and Fenton Arts Trust, London | 25 Sep
www.flamin.filmlondon.org.uk
Archisle International Photographer in Residence
Jersey, Channel Islands | 29 Sep
www.archisle.org.je
Corridor8 Art Writing Residency
Humber Street Gallery, Hull | 30 Sep
www.corridor8.co.uk
Arts Catalyst and S-AIR Fully Funded Residency
Sapporo, Japan | 1 Oct
www.artscatalyst.org
---
Scholarships/Grants
Partnership Funding
Arts Council Ireland | 7 Sep
www.artscouncil.ie
The Elephant Trust Grants
The Elephant Trust, London | 9 Oct
www.elephanttrust.org.uk
---
Exhibiting
OUTPOST Members' Show 2017: Selected by Andy Holden
OUTPOST members are invited to submit documentation of their work to the members' archive, from which the Members' Show will be selected.
OUTPOST | 7 Oct
www.norwichoutpost.org
The CryptoDetectorist – Coins, Trades & Hoards
Furtherfield, London & NEoN, Dundee | 4 Sep
www.furtherfield.org
Call for Works and Papers
Large Objects Moving Air, LCC, London | 15 Sep
www.crisap.org
British Seaside Photography Open Call
Turner Contemporary, Margate | 15 Sep
www.turnercontemporary.org
The Lightbox Photographic Open
The Lightbox, Woking | 18 Sep
www.thelightbox.org.uk
'Fake' Exhibition Open Call
Science Gallery, Dublin | 19 Sep
www.sciencegallery.com
Open Call: Proposals for a New Work
Whitstable Biennale | 2 Oct
www.whitstablebiennale.com
Open Call for Interfaces Monthly
Barbican & The Trampery, London | Rolling
www.barbican.org.uk
Submissions: Send opportunities to [email protected]
Subscribe
Get Art Monthly
Free sample back issue available online.
Subscribe Now
UK Direct Debit Special Offer: up to 25% off
UK Individual annual subscription: £36 print / £46 print + digital
UK Student annual subscription: £32 print / £42 print + digital
www.artmonthly.co.uk/buy
Standard annual subscription rates:
UK Individual: £48 print / £58 print + digital
UK Student: £36 print / £46 print + digital
UK Institution: £57 print / £180 print + digital

Europe Individual: £60 print / £70 print + digital
Europe Student: £44 print / £54 print + digital
Europe Institution: £69 print / £180 print + digital

North America Individual: $79 print / $89 print + digital
North America Student: $60 print / $70 print + digital
North America Institution: $82 print / £180 print + digital

Rest of World Individual: £71 print / £81 print + digital
Rest of World Student: £55 print / £65 print + digital
Rest of World Institution: £81 print / £180 print + digital
Digital-only subscription:
Individual, all regions – 3 months: £9
Individual, all regions – Annual: £36
Institutional, all regions – Annual: £150
Digital-only subscriptions are available through Exact Editions.
Subscribe online: www.artmonthly.co.uk/buy
By email: [email protected]
Call: +44 (0)20 7240 0389
Advertise
Reach Art Monthly's Audience
Advertise in this newsletter, on the website and in the magazine.
Rates start at only £150.
More info: www.artmonthly.co.uk/advertise
Contact: Matt Hale or Mark Lewis
E: [email protected]
T: +44 (0)20 7240 0418 / 0389
About this Newsletter