Report
Letter from Zurich
Aoife Rosenmeyer is peeved by the art market's framing of older female artists as Cinderellas waiting gratefully to be discovered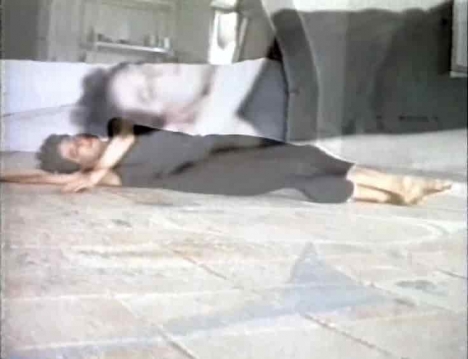 Anna Winteler's exhibition at the Kunsthaus Baselland, on the fringes of Basel, is drawing to a close. Winteler, born in 1954, started employing video in the late 1970s and was amongst a group of artists that pioneered video and performance practice in the 1980s. She is a trained dancer but an autodidact artist, and her career in the art arena is impressive, including a solo exhibition at the Kunsthalle Basel in 1988, participation in group exhibitions at the Louisiana Museum, the Messepalast in Vienna and Museum Wiesbaden, not to mention the Swiss pavilion at the World Exhibition in Seville in 1992, curated by Harald Szeemann. In 1991, however, she made her final work, Geriatrics 1A – Song of Songs, filmed in the hospital where she was studying to be a physiotherapist.
In the manner of Charlotte Posenenske and other drop-out artists considered by Martin Herbert in Tell Them I Said No (Books AM407), and indeed Winteler's collaborator Christine Brodbeck, Winteler decided that she found more fulfilment working with bodies outside the art system. As she said baldly in an interview in 2004, 'art is no longer the best tool with which to position my values in society'. Nonetheless, the current revival of interest in Winteler's work has been enthusiastically met, both by her peers and by new audiences.
Among those peers from the Basel melting pot are Pipilotti Rist (Interview AM350), Rut Himmelsbach, Vivian Suter and Miriam Cahn, to mention just a few. Cahn was born five years before Winteler, and her own survey exhibition at the Kunstmuseum Bern will continue until mid June. Cahn's yowling, visceral painting – and her uncompromising stance – have long been beloved by many, but her work really gained international traction thanks to the prominent inclusion of a large number of canvases in Adam Szymczyk's Documenta in Kassel in 2017 (Reviews AM407). And the current Bern exhibition is one of a string of European showings in her 70th birthday year, at the Kunsthaus Bregenz, Madrid's Reina Sofía, Munich's Haus der Kunst and the Museum of Modern Art in Warsaw, giving her work a visibility and stature that firmly positions it in the contemporary canon.
At the Kunsthalle Bern, meanwhile, an exhibition by Isa Genzken (b1948) has just drawn to a close, as has Ida Applebroog's (b1929) exhibition at the Kunstmuseum Thun – the show was surprisingly (given that she is represented by Hauser & Wirth) her first solo exhibition in Switzerland. The Museum Langmatt, a historic house in Baden with a collection of predominantly Impressionist works that occasionally stages contemporary interventions, has just hosted a show of works by Margot Bergman (b1934), some of them now on view at the Museum Folkwang in Essen. Female artists beyond customary retirement age have thus become salonfähig, or socially acceptable. Where once Louise Bourgeois cut a relatively lone figure, audiences are now, happily, spoiled for choice.
To what do we owe the pleasure? Curators are championing these artists: Szymczyk notably exhibited not only Cahn but also, when at the Kunsthalle Basel, re-staged a key 1981 exhibition that included Cahn, Winteler, Suter and Himmelsbach in 2011. At the Kunsthaus Baselland, Ines Goldbach has offered not only Winteler a platform, but also staged one of Marcia Hafif's (1929-2018) last exhibitions in 2017, with a survey of Simone Forti's (b1935) performance being a main attraction this summer. Yet institutions do not operate in a vacuum but within an art system that enables some exhibition projects and offers scant support for others. The fact that galleries, and the market, now find this generation and gender combination not just palatable but even profitable must, unfortunately, have a role to play. Applebroog, for example, only started working with Hauser & Wirth in 2010. The death of Basel artist Marianne Eigenheer (1945-2018) came as a bolt from the blue for most people who had encountered her in recent years; it had seemed as though she would be stomping merrily up to her garret studio for decades to come. Von Bartha gallery in Basel showed her work this spring; she had joined the gallery not long prior, though she herself voiced reservations about how her endeavours fitted within an otherwise predominantly macho, male artist roster. On the whole these artists have been working consistently, yet the narrative – or the promotional spiel – of several such exhibitions is the discovery of a previously little-known yet mature practice. (Of those mentioned, Genzken has, of course, maintained a high-profile practice for a number of years.) Women who have managed to survive into old age while maintaining a practice that we contemporary viewers can read without straining ourselves too much are not only agreeable but even in short supply – a win-win for the market.
What is perhaps most peeving about this market-driven framing is how the artist is viewed like Cinderella in rags, waiting gratefully to be discovered. It is a retrograde fairy-tale ending that robs these artists of agency over their own careers and does little to upset the predominant model of the male hero artist who is under pressure to remain visible throughout their development. (We might also consider the relative prominence and respect for artists who teach, with Phyllida Barlow, say – Interview AM335 – an outlier for her visibility.) Look beyond birth years, sales and CVs, and few of these women artists make and exhibit work that manifests gratitude or obedience. Sadly this in turn underlines another double bind in play: quotidian female life – in which maternity may well feature – is underrepresented and rarely regarded as suitable subject matter in contemporary art. (Paternity is scarcely a popular theme either, though it is traditionally less inconvenient.) When a female artist is plucked from obscurity in old age she transcends that commonplace and can be an extraordinary exception, a sage elder.
Maybe this is why one painting by Margot Bergman haunts me: like most works in the show, Lee, 2001, is a rough, rude portrait painted over a found canvas. Lee Miller is unmistakeable. The bright red mouth signals that she is striking and model-beautiful, made for the camera. The right side of her face, however, is in shadow; a piercing gaze returns ours. The shadow and the landscape that simmers below it are saturated with an active inner life that the red smear would obscure.
Aoife Rosenmeyer is a critic and translator based in Zurich.
First published in Art Monthly 427: June 2019.