Review
Steve McQueen
Adam Hines-Green finds that the Oscar-winning artist is liberated by the limitations of video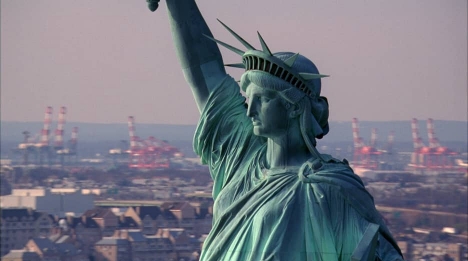 In an interview with Steve McQueen in Art Monthly from December 1996, the artist describes how he left art school wanting to make feature films. Subsequently disappointed by film school in New York, he reported, 'what I wanted to do was throw a camera up in the air and catch it but no one was letting me do that'. In the interview, conducted by AM editor Patricia Bickers, we witness the gradual birth of McQueen considering an expansion of his early, silent, black-and-white repertoire. He is asked how he would handle sound, in particular dialogue. 'That's difficult,' McQueen replies. And colour? 'I think "Yes, I'll get there",' he responds, 'but with the right project.' Soon after, in 1999, he won the Turner Prize. McQueen's exhibition at Tate Modern focuses on his video work in the period between the Turner Prize and the present, which has seen him win the Academy Award for Best Picture for 12 Years a Slave, 2013, alongside plaudits for Hunger, 2008, Shame, 2011, and, most recently, Widows, 2018. I can't help but think his video work has benefited from not being required to absorb more than that humble expansion into sound, dialogue and colour that he was considering in 1996. It has allowed him to retain a seeming simplicity of gesture that allows his thematic preoccupations to amplify, often grotesquely, in the viewer, and not to fall prey to what he called, in 1996, a 'popcorn mentality' – namely the acceptance of a passive spectator.
Darkness is the norm in the exhibition, the primary sources of light being the videos themselves. On entry, the space seems to exist as the black box of the cinema, with smaller viewing rooms gradually revealed, budding off from the main body to contain individual works. Entrance and exit to the show are the same, the viewer looping back through their recent discoveries. First heard, and then seen, is Static, 2009, which consists of jittering footage taken from a helicopter encircling the Statue of Liberty projected on both sides of a hanging screen. Able to wander around the entirety of the work and see it from all angles, the viewer parallels the helicopter's movement, such that Lady Liberty becomes reconstituted as an entrapped image-object, subjected to forensic analysis and found wanting. Her surface is corroded, decades of water running down her face have stained her with tattooed tears, her seams appear clumsy and there's a bird's nest in her armpit. The degraded image of Liberty appears regularly in apocalyptic visions of the future in cinema (most famously, perhaps, in the climactic ending to 1968's Planet of the Apes). Here, McQueen reveals its failures as very much a feature of the present.
Branching off from this first area, in opposite corners, are two rooms. Western Deep, 2002, is a Super 8 film transferred to video documenting workers in the TauTona mine in South Africa, the world's deepest gold mine. Gold itself – the prize – is never visualised; rather, the bodies of the men whose job it is to extract it, nameless and often barely detectable in the darkness, are the focus. In Illuminer, 2001, we see McQueen lying in a bed, visible only by the light emitted from a programme documenting a US Army unit preparing for combat in Afghanistan on the TV he is watching. The camera itself is perched on top of the TV, pointed at McQueen. It struggles to autofocus in the dim conditions, continuously attempting to resolve the artist's abstracted body depending on the wash of colours that reflect off him. The bodies in both these works exist at the threshold of visibility, appearing often only as abstract flashes of luminescence, like the effect of wandering in the sun with your eyes closed, or pressing your eyeball until it starts to look like light.
A series of rooms emanate from the second region of the show to contain works that tether narrative monologues to visualisations of the black male body. Ashes, 2002–15, offers a single hanging screen with projected videos on each side. One shows a young man, Ashes, topless on the prow of a boat in the Grenada sun; the other shows the construction of the young man's tomb. A voice-over of how Ashes came to die – murdered for stealing a stash of drugs – can be heard throughout the room, but his life and death cannot be simultaneously viewed, and, it seems, logically resolved; they cohere only as two sides of a piece of material upon which light can be projected. 7th Nov., 2001, presents a large single backlit 35mm slide of the top of McQueen's cousin Marcus's head – as if a film still, or a still film – while in the 23-minute voice-over Marcus describes how he accidentally shot and killed his brother. As in cinema, and Western Deep, the work is constructed to be watched from start to finish, and viewers are permitted entry only at certain times. Waiting in line to see these works feels hideous once their individual or collective traumas are revealed, while stumbling into those works which endlessly loop regardless of the viewer's presence resonate as intrusions into narratives that continue whether you're willing to hear them or not.
Between these two areas of the exhibition are two 16mm films, silent but for the whirring of their projectors. Cold Breath, 1999, is a close-up of McQueen's nipple which seems to stare back at the viewer – a nipple which he by turns tugs, squeezes and caresses. In Charlotte, 2004, extreme proximity is again the mechanism of choice. Bathed in a warm red, it documents, in shallow focus, McQueen probing the delicate skin around the actress Charlotte Rampling's eye. At one point his finger approaches until it touches her cornea. Chosen partly because 'she represented a particular kind of cinema', where touching her 'was a way to go beyond the screen I was accustomed to seeing her on', this work strikes me as a tender challenge to the ways of looking that Rampling's usual medium of cinema represents. Here, Rampling is unscreened as Charlotte: personalised, prodded and provoked. Considered in reference to Bruce Nauman fingering the lower part of his face and neck in Pinchneck, 1968, for example, or Vito Acconci attempting to prise open Kathy Dillon's scrunched-up eyes in Pryings, 1971, we see Rampling re-revealed under the terms and conditions of video art. McQueen is a master storyteller of bodies under pressure. Charlotte juxtaposed with Cold Breath speaks to a practice in video that is brutal and tender – both in its attitudes towards the bodies that it presents and the history of the mediums of cinema and video it extrapolates from.
'Steve McQueen' was due to run at Tate Modern in London from 13 February to 11 May 2020 but the exhibition was interrupted by the Covid-19 pandemic lockdown.
Adam Hines-Green is an artist and writer based in London.
First published in Art Monthly 436: May 2020.