Review
Array Collective: The Druthaib's Ball
Joanne Laws decodes the Irish symbolism in Array's anti-imperialist artwork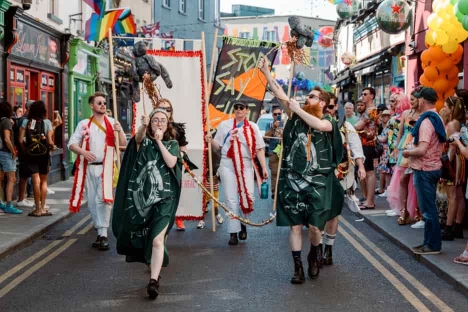 Imagine a soundless vignette of rolling waves. An anonymous and horizonless expanse of grey-blue water. For many, the ocean exists conceptually as some kind of frontier – the site of empire, borders or countless perilous journeys. Indeed, no greater metaphor exists for British-Irish relations than the Irish Sea, a body of water historically traversed by those – including pregnant women, gay men and emigrant labourers – forced by legislative or socio-economic deficits to 'take the boat to England'.
It seems fitting, then, that an anti-imperialist artwork, originally developed by Belfast-based artists for a British context, would include footage of the sea as one of the many thinly veiled codes that reference Northern Ireland as a political enclave. Such symbolism went largely unnoticed by the English press but now it reverberates unambiguously in the Irish context. Importantly, Array collective's Turner Prize-winning artwork The Druthaib's Ball, 2021, was first staged at the Herbert Art Gallery & Museum amid seemingly endless debate on the Northern Ireland Protocol, signed as part of the Brexit withdrawal agreement to avoid the reinstatement of a hard border.
Where Druthaib translates loosely as 'buffoon', I prefer to imagine the more complex figure of the Shakespearean fool, who cleverly used play and humour to outwit the ruling classes. Occupying the slippery space between reality and fiction, Shakespeare's fool spoke truth directly to audiences through the carnivalesque inversion of troubling or divisive social issues.
Comprising many architectural, cultural and anecdotal features of a traditional Irish pub, Array's síbín (or illicit bar) has been restaged in Nun's Island Theatre in Galway, where its civic potential is activated through a lively programme of talks, performances, workshops, music and storytelling. The exhibition catalogue and associated material are printed in English and Irish – a bilingual gesture that echoes Array's jubilant and historic Turner Prize acceptance speech, delivered partially in Gaeilge while holding aloft a stick reminiscent of a bata scóir, historically used under colonial rule to deter Irish schoolchildren from speaking their native language.
The Druthaib's Ball contains numerous satirical elements that scrutinise aspects of Northern Irish identity. They include a film of the same name, which documents an event held in Belfast in July 2021 described as 'an evening of performances and craic to mourn and mark the centenary'. The ceiling of the síbín is covered with banners recently made by the collective for protest rallies, while the ephemera of pageantry is presented concurrently in Galway Arts Centre, alongside a curated series of films chronicling their involvement in social justice campaigns. Several handcrafted banners were carried by Array members during the Galway Pride Parade, directly preceding the exhibition launch. From pickets and protests to funerary rites and pilgrimages, the processional formation is deeply engrained in the Irish vernacular, perceived as an apparatus for activating forms of community power through public spectacle.
Also exhibited is a quilt made in 1990 as part of The Irish Names Project, which includes a patch fabricated in Galway. One of more than 20 created by family members in remembrance of loved ones who died from AIDS, the tender handsewn quilt resonates with Array's textiles, which in turn also channel suffragette and trade union material histories of banner-making.
In the 2019 film As Others See Us, we follow mythological characters around a city taking part in demonstrations and traditional Irish music sessions. A contemporary newsclip explains that 40 women each week travel from Northern Ireland to the UK, paying £2,000 for an abortion. Despite being legalised in Northern Ireland in 2019, the region's power-sharing executive at Stormont has patently failed to commission the relevant healthcare services.
If the context of Array's original installation in Coventry was a winter of contagion during the global pandemic, then its second iteration unfolded during a summer in which the US supreme court overturned Roe v Wade, reminding us that any country is only ever a few elections away from fundamentalism. The issue of women being forced to seek reproductive healthcare in other jurisdictions is highlighted by the presence of a Stena Line ferry mop and bucket (kept behind the bar) and a Waterboys song playing in the background: 'Flag, rags, ferry boats ... wide oceans full of tears.' The space is soothingly presided over by a placard of Sheela na gig, the pagan deity of childbirth.
Other objects in the síbín include packets of Tayto crisps strewn on tabletops and ceramic cigarette butts stubbed out in Red Hand of Ulster ashtrays. In a brazen queering of the infamous paramilitary headgear, a rainbow balaclava is proudly mounted on the wall. Meanwhile, archival footage of Irish landscapes plays on an old TV monitor, rumoured to have originated from a British police station where the Birmingham Six were interrogated in 1974. Locally brewed beer has been repackaged both as bottles of Black Pig's Dyke (referencing Iron Age earthworks located along the border counties) and cans of Southern Guilt, alluding to the enduring turmoil of the colonial partition of Ireland in 1921. This is the legacy The Druthaib's Ball vividly commemorates – explicitly so, now that it has been re-sited on the Republic's Atlantic coast.
Array Collective, 'The Druthaib's Ball', Galway Arts Centre, 13 August to 1 October 2022
Joanne Laws is a writer and editor based in the west of Ireland.
First published in Art Monthly 460: October 2022.