Report
Letter from Cairo: The Way Back
Maxa Zoller on Egypt's post-revolution art scene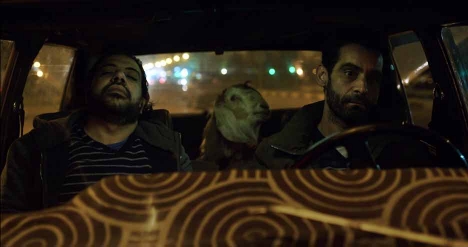 Since I last wrote a 'Letter from Cairo' in 2012, something that can only be described as a national depression has descended on Egypt. High inflation of over 30%, continuous social injustice, restricted freedom of expression and a return of police brutality cut into everyday life in drastic and direct ways. While the government is working on national security and foreign affairs in order to secure international relationships, social and cultural life inside the country has steadily declined to an all-time low. How long will it take for the demands of the revolution to take root?
Anyway, we don't like to think too much about the revolution these days, let alone commemorate it. It is too painful. No other artwork than Maha Maamoun's short film Dear Animal, 2017, transmits the feeling of post-traumatic shock better. Taken from Egyptian surrealism, Dear Animal tells the story of a drug dealer named Taha who has been transformed into a zebra-goat: 'Anything, anything but this!', exclaims his Mafioso boss at the sight of the strange creature, his ex-henchman. Ditto: anything but this! Like an inverse tsunami, the tide of people, ideas, energy and affect has reversed after the waves called soura (revolution) that had swept over Tahrir Square and the rest of the country. Communal communication has been replaced by singular, private relations, and the contemporary art scene is no exception. 'Now the discussions do not take place around a big dinner table but they happen one-on-one,' says Aleya Hamza, a curator-cum-gallery director. Hamza's Gypsum Gallery was the first Egyptian gallery ever to be admitted to the Art Basel fair where she presented the photographic installation The Subduer by Maha Maamoun last June. The documentary photographs of Egyptian administrative offices examine what Michel Foucault has described as the 'administrative grotesque'; the biopolitical impact of the executive tentacles of state power are tangible to everyone. Indeed, the bureaucratic apparatus seems to have become a recurrent motif in Egyptian art. The physical carrier of administration, paper, is examined in Ash Moniz's exhibition at an old factory building across the street of the former Townhouse Gallery building, where the relationship between the paper industry, international loans and national status is played out in a haunting performance of a visa application interview. In one of Taha Belal's quirky sculptures from the 2016 'Paper Weights' series, materials found in office environments, such as concrete, plaster, marble, the fluff of a blanket and a pen bead chain, are pressed into the shape of a small block-head whose base, a large sharp piece of a broken mirror, rests precariously on a wooden frame. In these works, the surrealist reference is less art historical than somatic; Kafkaesque Verwandlungen (transformations) only happen when outside pressures cannot be sublimated internally but seek bodily channels of release.
Writing about current and recent exhibitions in Cairo, one cannot ignore the fact that art graduates are being given solo exhibition opportunities by major art institutions such as Townhouse and Cairo Image Collective. AUC graduate and student of the unflagging Shady El-Noshokaty, Malak Yacout, showed her intriguing calligraphic cement sculptures at Townhouse last year, while Cairo Image Collective presented the first solo exhibition, 'I Will Defend Myself', of photographer and video artist Nadia Mounir. In her intricate photographic collages and prints, whose flat cut-out aesthetic and cold, eerie mood reminds me of the late work of Richard Hamilton, Mounir builds a bridge between politics and pop. Using found magazine images, personal photographs and their negative inversions, the central question of the exhibition – how to defend oneself against the body politics of conservative Islam? – splinters into a formal investigation which produces a visual pleasure that contrasts with the fearsome subject matter. The sustained curatorial quality of CIC is the result of the work of Andrea Thal, who has been acting as artistic director since 2015. Preferring to engage with long-term projects, the Swiss curator has presented over the past two years a four-part exhibition series about imprisonment, 'If not for this Wall', which has produced an interdisciplinary communication platform that is hard to find elsewhere in this regressive climate – in the light of the erosion of the Habermasian 'public sphere', artists' examination of public space has become rare. 'Act 1: The Roof', 2016, a series of staged photographs in the (semi-)public space of roof tops by the female artists collective Cairo Bats, and Heba Amin's Walking a Watermelon in Cairo, 2016, are, however, notable examples of collective work in and for collective space. Returning to the question of why there are currently so many postgraduates' solo exhibitions in Cairo, a look at Egypt's demographics helps: three-quarters of its population are under the age of 25. But still, one wonders where the mature work of established artists is? Hassan Khan, one of the few of his generation who chose not to emigrate, recently celebrated his winning of the Venice Biennale Silver Lion with an intimate gathering at his flat in Heliopolis. The Lion was parked in a small flower pot on the balcony – this is not the time for splashy, show-off parties. The phenomenon of young artists' solo shows speaks also of the need for institutional support in the face of a missing private sector. The art scenes in Cairo and Alexandria are much less developed compared with, say, Beirut, where a network of private donors and collectors helps keep alive the local art industry. An exception is the young Alexandrian collector and art patron Mai Eldib, whose generous efforts to sustain contemporary art production at the level of education is worth pointing out. Her support for the independent studio and study programme of MASS Alexandria, a private initiative in the Mediterranean city's eastern neighbourhood of Miami, is bearing fruit. Under the tutelage of its programme director, German curator Berit Schuck, 2016's programme produced and supported some promising artists, such as the above-mentioned Mounir and Moniz and others, including Assem A Hendawi, Asmaa Barakat and Marianne Fahmy.
The presence of young artists' exhibitions is also undeniably a symptom of the country's class discrepancies: post-conceptual art primarily belongs to the small elite which is often more connected to the global art class than to the 71 million people currently using the government's subsidy cards to buy essential food. Since its beginnings in the 1910s, the making of Egyptian modern art has always been a privilege of the upper classes, who were as much at home in Cairo and Alexandria as in Europe, especially Paris, Rome and Athens. The Egyptian surrealist art movement, which has received much renewed attention in the past year, is understood as a brave anti-fascist gesture in the line of Bretonian Surrealism. This is at least the argument forwarded by the 'Art and Liberty' exhibition curated by Sam Bardaouil and Till Fellrath of Art Reoriented, currently on show at Tate Liverpool. The presentation of major art works by Georges Henein, Ramses Younane, Samir Rafi, Rateb Seddik, Mahmoud Said, Mayo, Injy Efflatoun and, last but not least, Lee Miller is based on a five-year research project which aims to introduce European audiences to this particular history. It is fruitful to compare this exhibition with 'When Art Becomes Liberty', another Egyptian Surrealism exhibition which took place at the Modern Art Museum in Cairo in 2016. It is important to point out that the exhibitions 'Art and Liberty' and 'When Art Becomes Liberty' were initially conceived as a single communal project convened by solid-as-a-rock team of curators Salah M Hassan, Sharjah Art Foundation Director Hoor Al Qasimi and the curators of Art Reoriented. For unknown reasons that have led many to speculate, this affiliation broke off with the result that the two exhibitions opened only a week or so apart – 'When Art Becomes Liberty' at the Cairo Museum of Modern Art and 'Art and Liberty' at the Centre Pompidou – in autumn 2016.
The Cairo exhibition favoured Surrealism's connection to folklore, and to superstitious and semi-religious cultures. Many paintings depicted family scenes of the urban and rural poor, in which the theme of motherhood (symbolising nation-building) was central. Whereas this exhibition suggested continuity with the past, and included a section dedicated to more recent artworks, the touring European show suggested rupture, presenting Egyptian Surrealism as a unique moment before and during the Second World War. The latter categorised the works within different topics, such as gender and art history, which placed the exhibition within a European school of thought. While this show is undeniably an admirable attempt at bringing together important works of art that have rarely been shown collectively, I cannot ignore the thought that the institutionalised post-colonial concept of 'multiple modernities' has become the public face of political correctness behind which hides the arguably much deeper problem of class. The radicalness of surrealist art would quickly be thrown into doubt if we were to assume that 'radicalness' means socio-political commitment. While the first generation of surrealists such as Henein and other sons of privileged landowners, ministers and diplomats were not able to deconstruct their own class identity (Younane might be one of the few exceptions), other organisations such as the Contemporary Art Group of Husain Youssef Amin were in that sense more political; their desire and connection was not primarily directed towards the Mediterranean but towards the banks of the Nile. It is hence telling that the connection between Surrealism and folk art was much more pronounced in the Cairo exhibition.
The comparison between these two exhibitions demonstrates that reading the class politics in Egyptian modern art would allow us to fundamentally reconstitute the notion of 'Other modernities'. Further, opening up the debate on class in relation to contemporary art in Egypt would enable us to ground aesthetic questions and find our way back to politics in these make-or-break times.
Maxa Zoller is a film lecturer at the American University, Cairo.
First published in Art Monthly 413: February 2018.