May 2019
May Issue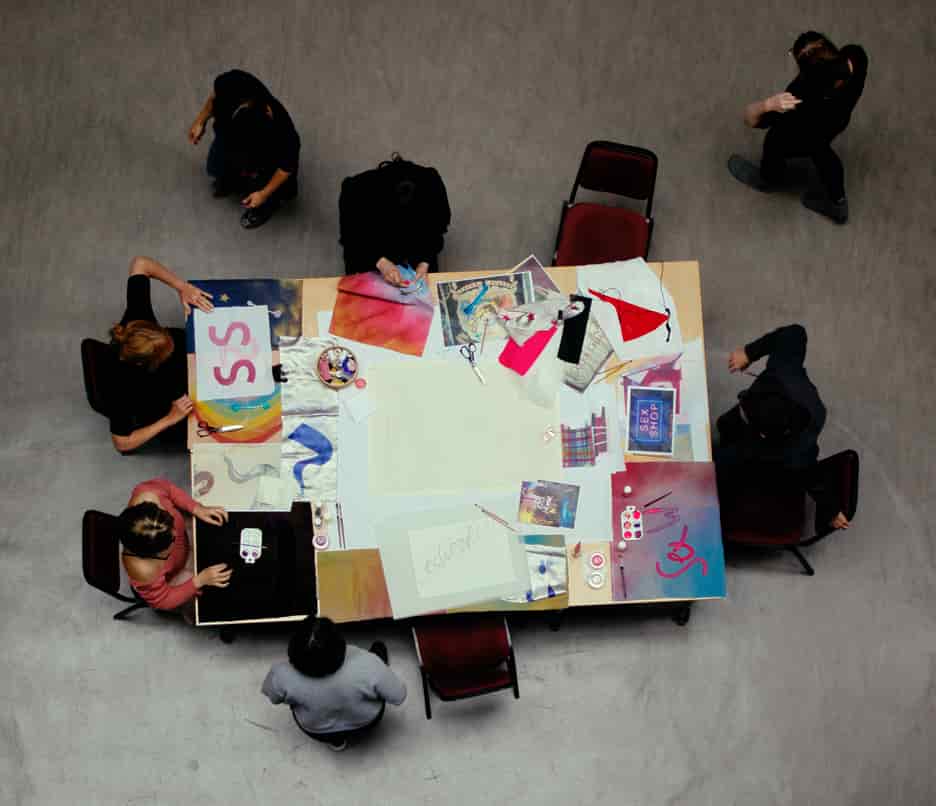 Interview
Sisters/Workers
Petra Bauer and Molly Smith of Scot-Pep interviewed by Lauren Houlton
The Swedish artist and Scottish collective representative discuss collaboration, sex as work and the impacts of criminalisation.
For SCOT-PEP sex work is work. It is a material matter. It's what sex workers do to survive. So we decided to make a film that made working conditions central without question. Sex work is work. Let's begin there.
---
May Day Special Offer
FREE DIGITAL SUBSCRIPTION
All individual print subscriptions taken out before 14 May 2018 will also receive a free digital subscription with full online access to the entire Art Monthly back catalogue of more than 400 issues going back to 1976.
To take up the offer, simply purchase a print subscription (Direct Debit or PayPal) and your order will be automatically upgraded to a combined print + digital subscription.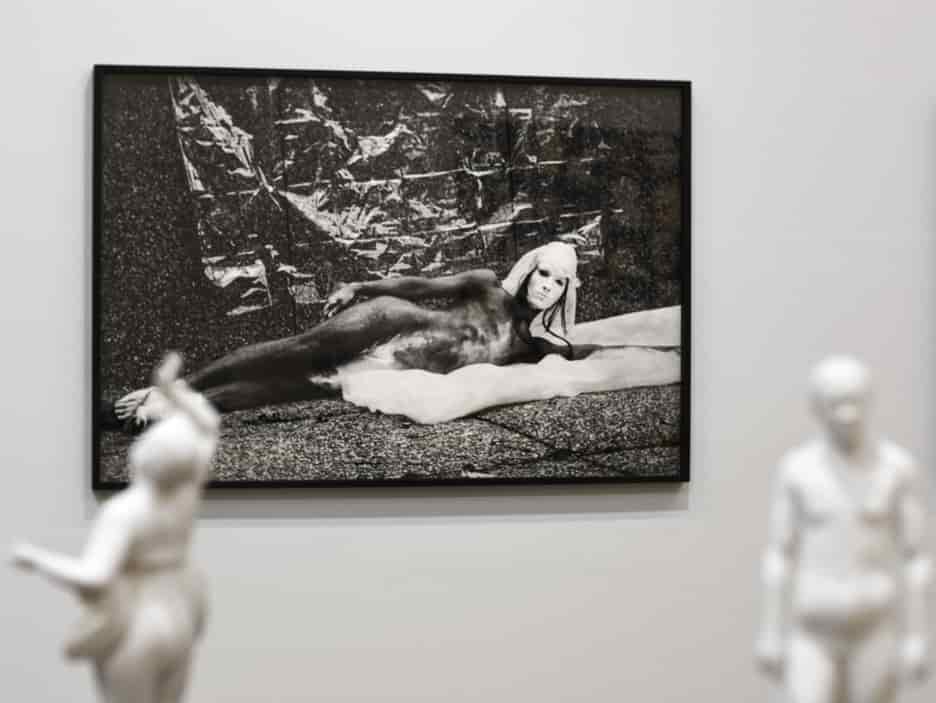 Feature
Performance Anxiety
Can performance art still be transgressive asks Bryony White
A range of new studies revisiting the history of performance art seek to define the limits of the art form, but perhaps its lack of definition is its strength.
On Instagram, Catherine Wood, Tate curator of international performance and contemporary art, had her post of Carolee Schneemann deleted from the Facebook-owned network. From heralded feminist icon to a contravention of decency, such a marked difference in reception reminds us of the troubled legibility of performance art's visibility, and that radicality and extremity are always susceptible to circumstance.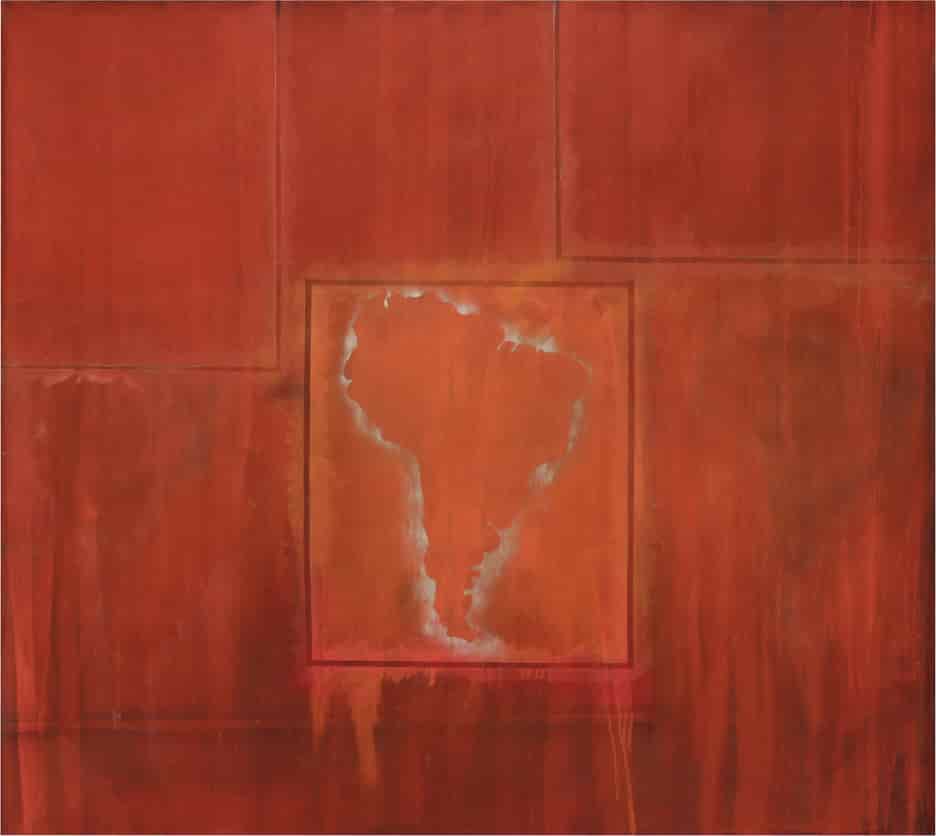 Feature
Decolonising the Curriculum
Art history lags behind other disciplines in incorporating art by black and ethnic minorities argues Richard Hylton
Museums, curators, critics and theorists have done much to address the imbalance of representation in the art world but this is not yet reflected in the teaching of art history.
Post-colonial discourse in its many forms, though equally important, remains largely marginalised if non-existent across the course offerings of many art history departments in the UK.
Comment
Call & Response
Cryptic Obliquity
Morgan Quaintance takes issue with the political claims made in Stephanie Bailey's article 'Athens: Future Past'.
From the Other Side
Stephanie Bailey responds
---
From the Back Catalogue
The Art Right Larne Abse Gogarty charts the rise of the right in art
Comment
Editorial
Fire and Brimstone
What is it about fundamentalism that gives rise to astonishing double standards, such as Brunei's recent pleading for the UN's tolerance over the Asian state's decision to stone to death those it finds 'guilty' of gay or adulterous sex?
Jeremy Hunt met with Erywan Yusof, Brunei's second minister of foreign affairs, and was assured that prosecutions for gay sex were 'unlikely' and would not be made against 'non-muslims'. So that's all right then.
Artnotes
Prosperity and Austerity
The arts and culture sector has overtaken agriculture in its contributions to the UK economy, returning more than twice as much to the Treasury than it receives in funding; more major cultural institutions turn their backs on the Sackler Trust over its links with the opiate industry; the British Museum continues to accept funds from the tobacco industry; MoMA PS1 settles with a curator after it withdrew an job offer once it discovered she had had a baby; plus the latest news on galleries, appointments, prizes and more.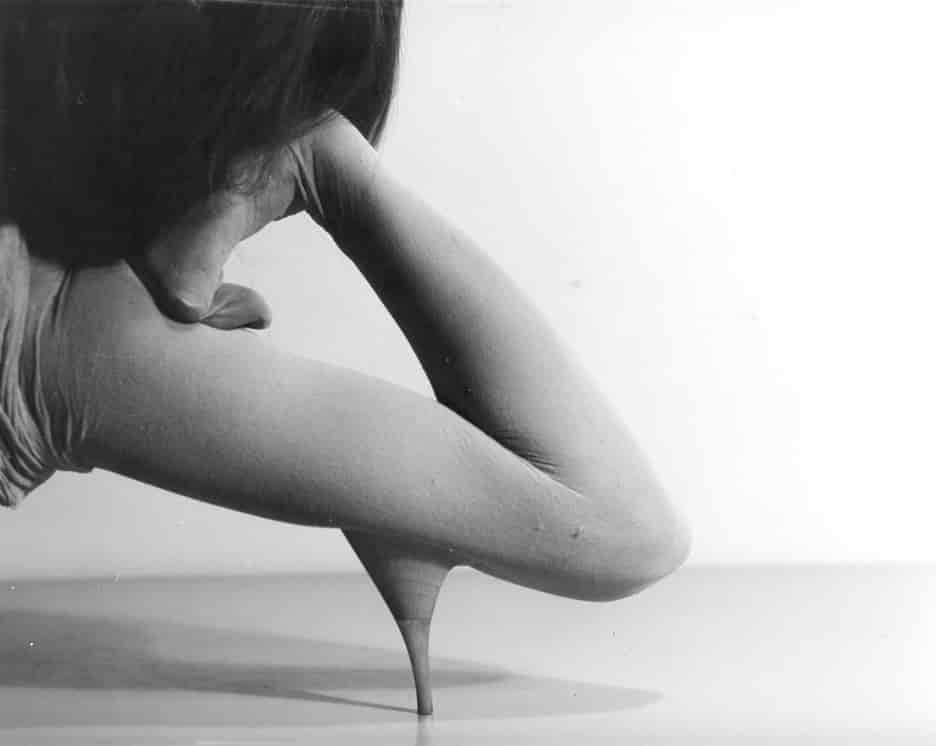 Exhibitions
Sharjah Biennial 14: Leaving the Echo Chamber
Sharjah
John Parton
The Lie of the Land
MK Gallery, Milton Keynes
David Trigg
Workforce
The NewBridge Project : Gateshead
Adam Heardman
Mike Nelson: The Asset Strippers
Tate Britain, London
Richard Grayson
Allan Sekula: Photography, A Wonderfully Inadequate Medium
Marian Goodman Gallery, London
Mark Prince
Barby Asante: Declaration of Independence
Baltic, Gateshead
Ella S Mills
Haegue Yang: Tracing Movement
South London Gallery
Marcus Verhagen
Frith Street Gallery, London
Deborah Schultz
Dominic Johnson
How Chicago! Imagists 1960s & 70s
Goldsmiths CCA, London
Alex Bennett
Birgit Jürgenssen: I am
GAMeC, Bergamo
Martin Holman
Reviews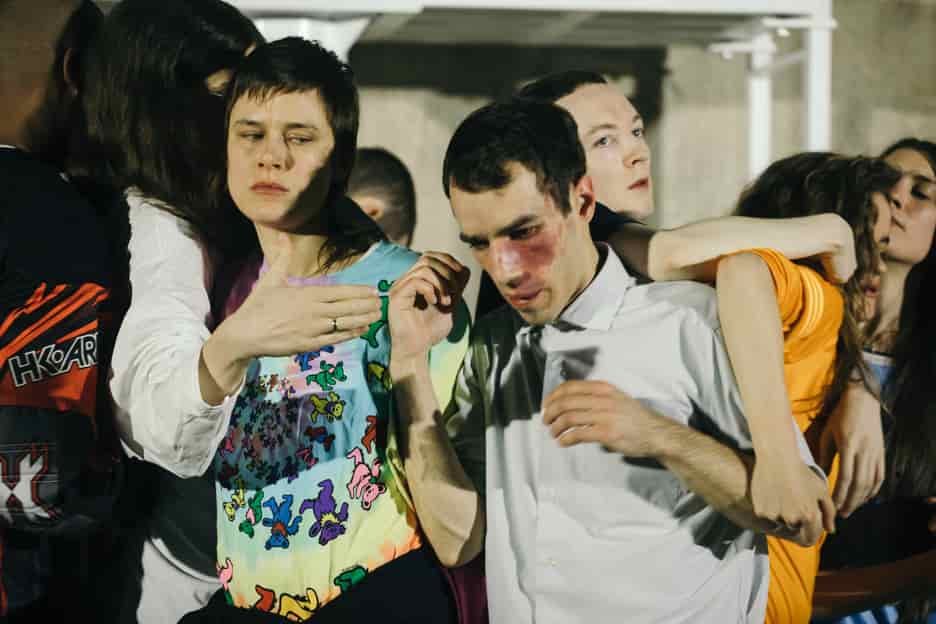 Performance
Anne Imhof: Sex
Larne Abse Gogarty
The problem with Sex and I guess this is what the sugar attempts to acknowledge, is that once inside the Tate, techno, whips, drug paraphernalia and headbanging lose any minute vestige of subversion they may still have.
Reviews
Books
Danielle Child: Working Aesthetics – Labour, Art and Capitalism
Laura Harris
Danielle Child's book resonates most compellingly when it moves to analyse the nature of art work (that is, the labour of art) in the contemporary moment.
Reviews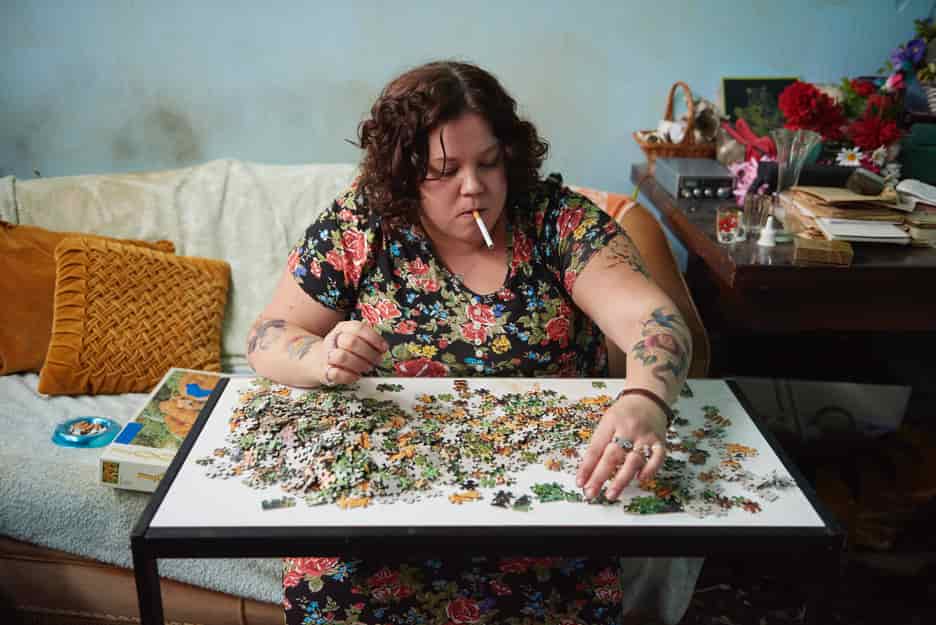 Film
Richard Billingham: Ray & Liz
Adam Hines-Green
Wisely, Richard Billingham and cinematographer Daniel Landin have regenerated Billingham's memories in an entirely different aesthetic to Ray's a Laugh.
Reports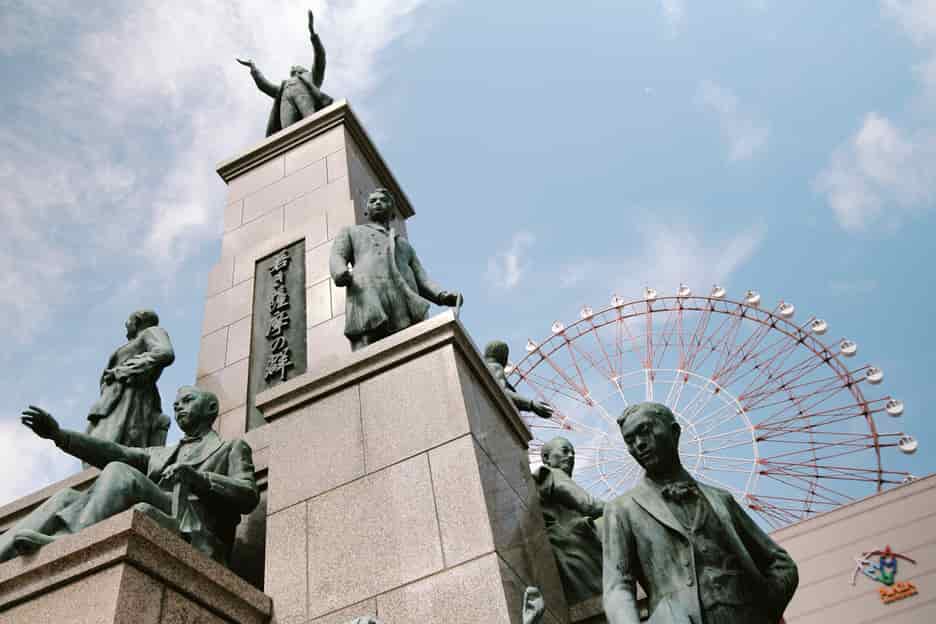 Letter from Singapore
PAP and Feng Shui
Chris McCormack
If Singapore is a country that is vying to be the polished westernised nexus to Southeast Asian arts and culture, it is one that often feels at cross-purposes with the controlling gahmen – Singaporean slang for government.
Reports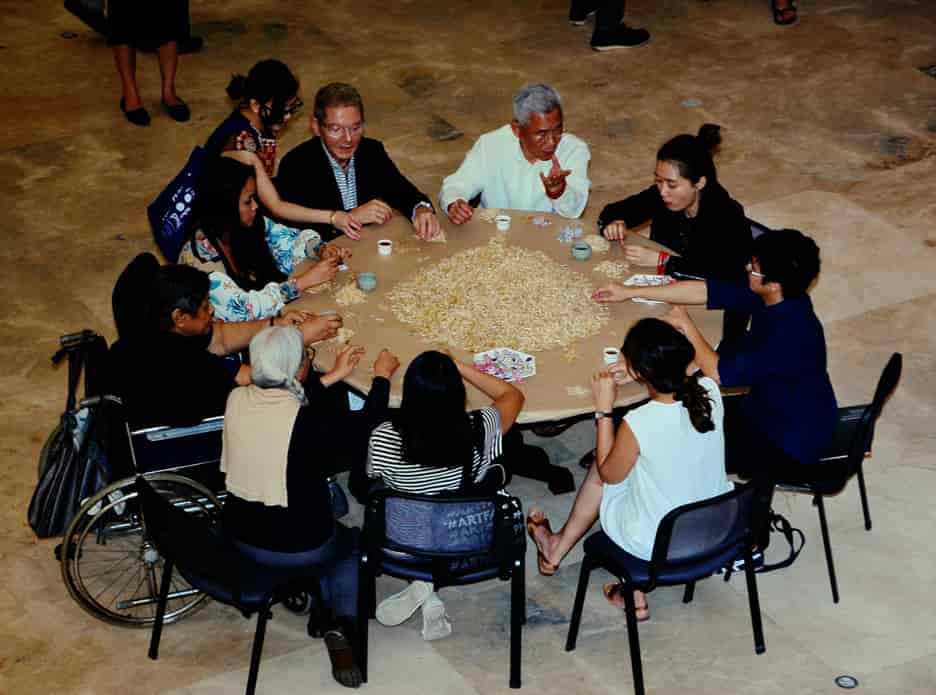 Letter from Manila
Transversality
Carlos Quijon Jr
To think about regions is to invoke a vaster world that unsettles inveterate nationalisms, opening up the national to often errant identifications with the Southeast Asian, the colonial, the modern or postmodern.
Artlaw
Copyright
Afterlife of Photographs
Henry Lydiate
Beyond the market, photographs can be important resources for artists, publishers, archivists and historians, film and programme makers, website designers and owners, museum and gallery curators and exhibition organisers. Legitimate use of such images can be fraught with difficulties for those who are not owners of copyright in them.
Listings
Events
Calendar
This month's highlights include:
Art Curation or Art Censorship: Who chooses what we see and how we see it? The Levinsky Gallery 6.00pm Fri 3 May
Lines of Sight: WG Sebald's East Anglia curator tour Norwich Castle Museum & Art Gallery 2.30pm Tue 14 May
Haegue Yang talk with curator Yung Ma South London Gallery 7.00pm Wed 15 May
The updated events and exhibitions calendar can be viewed online.
Exhibitions
Exhibition Listings
Art Monthly's exhibition listings can be viewed online.
Events
The Producers Part II
New Positions on Curating
Tuesday 29 October 5.15pm
Katerina Gregos, curator of the inaugural Riga Biennale
Mirjam Varinidis, curator at Zurich Kunsthalle

This series of public discussions devised by Newcastle University and Art Monthly brings together curators, writers and artists to examine how current exhibition-making strategies have responded to significant changes in the art world. The talks will address issues such as: the fallout of an increasingly globalised art world; the growing significance of the role of collectors; the reshaping of public-sector art economies and the ways in which the development of new technologies has redefined how artworks are made, understood and disseminated.
Venue: Fine Art Lecture Theatre, Newcastle University
Price: Free entry
Audio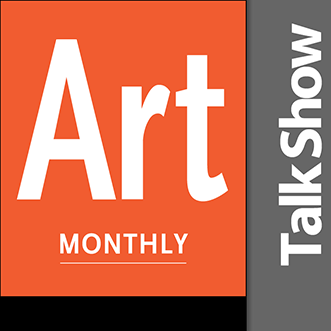 Art Monthly Audio
On the Radio
Art Monthly hosts a talk show to discuss the current issue at 8pm on the second Monday of each month on Resonance 104.4 FM.
Next broadcast: 8pm Monday 13 May

On iTunes
The Art Monthly Talk Show is available as a podcast on iTunes – subscribe for free automatic downloads.
Online
Audio recordings are available in the Events section of the Art Monthly website: www.artmonthly.co.uk/events
Recent additions:
Opportunities
Opportunities
Jobs
Professorial Fellows
University for the Creative Arts, Canterbury, Epsom, Farnham, Rochester | 3 May
www.jobs.ucreative.ac.uk
Learning Manager: Schools and Projects
The Hepworth Wakefield | 7 May
www.hepworthwakefield.org
Freelance Artist
Baltic Centre for Contemporary Art, Gateshead | 7 May
www.submittable.com
Freelance Gallery Technician
De La Warr Pavilion | 10 May
[email protected]
Assistant Manager, Development
Contemporary Art Society, London | 10 May
www.contemporaryartsociety.org
Producer
Eden Arts, Penrith | 12 May
www.edenarts.co.uk
Deputy Director
Forma Arts, London | 15 May
www.forma.org.uk
Deputy Director
Iniva, London | 19 May
www.iniva.org
Community Producer
Friction Arts, Birmingham | 31 May
www.frictionarts.com
---
Competitions/Commissions
Call for artists: Young Masters Art Prize 2019
Contemporary artists working in any medium and from anywhere in the world are invited to apply for this major international art prize.
The Cynthia Corbett Gallery | 31 May
www.young-masters.co.uk
The Lumen Prize for art & technology
Lumen Art Projects, Brecon, Wales | 3 May
www.lumenprize.com
John Ruskin Prize
The Big Draw, London | 12 May
www.ruskinprize.co.uk
WAC Awards
Wells Art Contemporary | 15 May
www.wac.artopps.co.uk
Sunny Art Prize
Sunny Art Centre, London | 30 Jun
www.sunnyartcentre.co.uk
Trinity Buoy Wharf Drawing Prize
Trinity Buoy Wharf, London | 26 Jun
www.tbwdrawingprize.artopps.co.uk
Culture Seeds
Mayor of London's Culture for all Londoners | 1 Mar 2020
www.london.gov.uk
Write for Art Worlds
Art Quest | Rolling
www.artquest.org.uk
---
Residencies/Fellowships
Peer Forum
Photographer's Gallery, London | 7 May
www.artquest.org.uk
City Fellows Artist Fellowship
Arnolfini Gallery, Bristol | 26 May
www.arnolfini.org.uk
Pacitti Company Think Tank Residencies
The Think Tank, Pacitti Company, Ipswich | Jul 16 2020
www.pacitticompany.com
ARC Getaways
Stockton Arts Centre | Rolling
www.arconline.co.uk
---
Workshops
Assembly Documentary Development Lab
University College London | 3 May
www.opencitylondon.com
---
Studios
Artists' Collecting Society Studio Prize
Artists' Collecting Society | 3 May
www.acsstudioprize.com
---
Scholarships/Grants
UK-China Connections through Culture
British Council | 5 May
www.britishcouncil.cn
The Hopper Prize
The Hopper Prize | 21 May
www.hopperprize.org
Jerwood New Work Fund
Jerwood Arts | 3 Jun
www.jerwoodarts.org
Development Programme Fund
Jerwood Arts | 3 Jun
www.jerwoodarts.org
Time to Stare Bursary
B&R Productions | 7 Jun
www.bandrproductions.co.uk
Small Grants Scheme: In the Making
Mayor of London, Old Oak & Park Royal | 1 Dec 2020
www.london.gov.uk
Step Beyond Travel Grants
European Cultural Foundation | Rolling
www.culturalfoundation.eu
Pollock-Krasner Foundation Grants
Pollock-Krasner Foundation | Rolling
www.pkf.org
---
Exhibiting
Open Call for OUTPOST Members' Show 2019
All OUTPOST members are entitled to submit details and documentation of their practice to the OUTPOST Members' Archive. This year, to celebrate 15 years of OUTPOST, the Members' Show selector is past exhibiting artist, Jessica Warboys.
OUTPOST, Norwich | 2 Jun
www.norwichoutpost.org
Open Call for Photography Based Projects
UnderExposed, Brighton | 6 May
www.underexposed.space
Tactical Magic Open Call
TULCA Festival of Visual Arts, Galway, Ireland | 6 May
www.tulca.ie
Art Licks Weekend: Interdependence
Art Licks, London | 13 May
www.artlicks.com
Made/Unmade Open Call
Derby Quad | 19 May
www.derbyquad.co.uk
Submissions: Send opportunities to [email protected]
Subscribe

Get Art Monthly
Free sample back issue available online.
Subscribe Now
UK Direct Debit Special Offer: save £10
UK Individual annual subscription: £39 print / £49 print + digital
UK Concession annual subscription: £33 print / £43 print + digital
www.artmonthly.co.uk/buy
Standard annual subscription rates:
UK Individual: £49 print / £59 print + digital
UK Concession: £39 print / £49 print + digital
UK Institution: £59 print

Europe Individual: £62 print / £72 print + digital
Europe Concession: £49 print / £59 print + digital
Europe Institution: £79 print

North America Individual: $89 print / $99 print + digital
North America Concession: $79 print / $89 print + digital
North America Institution: $109 print

Rest of World Individual: £79 print / £89 print + digital
Rest of World Student: £69 print / £79 print + digital
Rest of World Institution: £89 print
Digital-only subscription:
Individual, all regions – 3 months: £8.99
Individual, all regions – Annual: £35.99
Institutional, all regions – Annual: from £150
Digital-only subscriptions are available through Exact Editions.
Subscribe online: www.artmonthly.co.uk/buy
By email: [email protected]
Call: +44 (0)20 7240 0389
Advertise
Reach Art Monthly's Audience
Advertise in this newsletter, on the website and in the magazine.
Rates start at only £150.
More info: www.artmonthly.co.uk/advertise
Contact: Matt Hale or Mark Lewis
E: [email protected]
T: +44 (0)20 7240 0389
About this Newsletter