Salerooms
Evening Sale London
11 February 2014
Christie's Arte Povera
Colin Gleadell sees Arte Povera become blue chip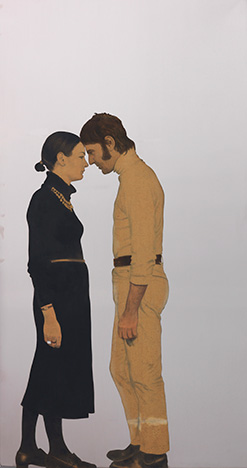 Christie's hunch that now was a good time to sell a collection of postwar Italian art centred around the Arte Povera movement (if it can be called a movement) paid off last night as 86 out of 109 lots of varying quality sold for £38.4m, including commission charges, against a £25-£36m estimate. Thirteen artists' records were broken.
The collection was formed over 25 years by Nerio and Marina Fossati, who live near Lake Como. They didn't buy from artists but from galleries like the prime Arte Povera gallery, Christian Stein in Milan, and one of the main secondary market dealers for this material, Studio Casoli in Milan. Arte Povera itself is not easy to define, being essentially an umbrella term coined by Germano Celant (who was at the auction, watching) to cover about 13 artists in the mid-to-late 1960s who worked with cheap natural and industrial materials, and who steered clear of the corrupting forces of the art market. The work was primarily conceptual and, as Carolyn Christov-Bakargiev pointed out in an essay commissioned for the catalogue, can be seen as the beginnings of installation art.
Not surprisingly, it has been difficult to sell; but the signs have been that the market is growing. According to Artnet, the number of works by Arte Povera artists sold at auction has grown from 35 in 1997, when the average price was £11,000, to nearly 300 last year, when the average was over £50,000. Christie's £27m sale of 20th-century Italian art last year was a record in that category. The Fossattis, who had watched values going up and had been toying with the idea of selling for some time, were then persuaded that now was the right time. Having agreed estimates, which were certainly not tame, they also agreed that Christie's would mount an exhibition (in the old Haunch of Venison space) and produce a catalogue that featured not a single price estimate but rather essays by name-brand curators Christov-Bakargiev and Hans-Ulrich Obrist. I don't think any critics have reviewed the exhibition – perhaps because it is an auction – but Christie's is keeping the exhibition up until Friday in case anyone wants to.
Meanwhile, Christie's also hosted a dinner for the sale where there was a panel discussion chaired by Elena Geuna (formerly of Sotheby's and latterly a curator working for Francois Pinault, among others) in which Jon Thompson, curator of the Hayward's seminal 'Gravity and Grace' exhibition, shared some personal and entertaining thoughts on Arte Povera, and Christov-Bakargiev held forth, studiously avoiding any questions that interrupted her train of thought.
The auction can be treated in the parts that constituted the collection: precursors, participants and successors who carried on the tradition.
The precursors produced the top lot of the evening – a burned plastic 'combustione' by Albert Burri, 1960-61, which was hotly contested by Italian TV producer Pietro Velsecchi and billionaire art dealer David Nahmad. Estimated at £1.7m, bidding see-sawed back and forth with dramatic interludes until Velsecchi, wearing a black cap and surrounded by a glamorous female entourage including his wife and business partner Camilla Nesbitt, finally raised his hand at £4.1m to acknowledge defeat, saying 'enough, enough'. The cost to Nahamd was £4.7m, comfortably more than the previous Burri record of £3.2m for another burned plastic work. Velsecchi got a Burri later. On his way out of the saleroom heading for dinner and having bought three Alighiero Boetti works for about £5m, he left bidding instructions with Christie's on an unburned black-and-white Burri on cellotex. This time, while bidding over the phone, he had competition from dealer Alma Luxembourg and Elena Geuna, who were both in the room, but secured the work for £1.4m – nearly three times the estimate.
Another precursor was Lucio Fontana, who had a mixed evening as two small bronze 'natura' sculptures went unsold. But similar, unique terracotta versions did well. One, bought in 2001 for £210,000 now sold to New York dealer Neal Meltzer for £806,500. The other, bought in 2001 for £240,000, made a record for a Fontana terracotta sculpture selling for £1m.
The heart of the action, though, was around the Arte Povera artists themselves. A 1968 Jannis Kounellis using jute instead of canvas, metal bed frames instead of wooden stretchers, and incised with a woollen strip (in reference to Burri, Fontana and Piero Manzoni) was a rare early work which soared over a £400,000 estimate to sell for £1.3m. Later Kounellis work was, however, less sought after. A 1968 mirror painting by Michelangelo Pistoletto, meanwhile, which depicted the artist and his wife, was estimated at £600,000 and sought after by Italian dealer Nicolo Cardi, but was eventually sold to an Asian buyer over the telephone for a record £2m.
Giulio Paolini's two reverse stretched canvases, Antologia, 1974, had a big £200,000 estimate but still sold well for a record £338,500 – one of several works bought for clients by Christie's Milan representative, Giulio Sanguliano, who used to work for the Prada Foundation.
Mario Merz had a mixed evening as a large igloo sculpture with a £600,000 estimate was considered too complex to move and re-install and was not sold. But a smaller neon and stone work, The Guardian from 1979, sold for a mid estimate £140,500 to Nicolo Cardi. A spiral painting by Merz from 1976 also sold. The buyer, this time at a low estimate £158,500, was Matthew Stephenson of Pace gallery. Best price for Merz was an above-estimate £1m for a neon and taxidermied deer head sculpture from 1982 that was pursued by Camilla Nesbitt before falling to one of Sangiuliano's clients. Not to be left out of the action, the first sculptures to be offered at auction by Marisa Merz (now represented by Barbara Gladstone) performed satisfactorily with an untitled sculpture of an electric violin in water selling for £206,500.
The star role, however, was played by Boetti as Velsecchi fought off all competitors to buy Addition and Subtraction, a unique pair of embroidered works from 1974 estimated at £300,000 each, for £1.7m and £1.5m. The only question was why anyone who hadn't managed to buy the first would want to bid so high on the second. Another Velsecchi buy was the red plastic diptych, Rosso Gilera 60 1232 - Rosso Guzzi 60 1305, a play on Italian motorcycle advertising rivalries, which he bought for a triple-estimate £1.7m.
Of the Arte Povera influenced artists that brought up the rear of the sale, some successful results were realised for Thomas Schütte, Rosemarie Trockel and a 1975 Robert Rauschenberg collage snapped up by Ben Brown within estimate for £80,500. But some works gave the distinct impression that they were simply in the wrong sale – an early Tony Cragg, for instance, that went unsold at £15,000.
Colin Gleadell is an independent writer on the art markets.