Salerooms
Evening Sale London
10 February 2014
Phillips Contemporary Art
Colin Gleadell watches as Phillips gets things moving – but only just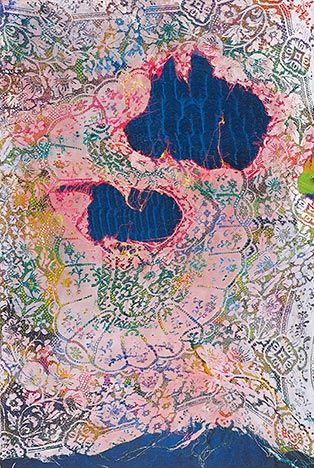 After a stunning week of Impressionist and Modern art auctions which saw a record £414m for any series of sales in London change hands, Phillips started a week of contemporary art sales on Monday evening with a short, slightly less bullish auction in which 25 out of 32 lots were sold, bringing in £10.4m including commission, which was probably just below the pre-sale estimate, which excludes commission charges, of £9.3m.
For those confused by this, all the art auctioneers charge a commission on the hammer price which operates on a sliding scale, depending how much is bid, starting at 25% up to and including £50,000, and diminishing to 12% on anything over £1m. The estimates do not include these commissions, or any additional charges to buyers like VAT or droit de suite, so they are essentially misleading. Even seasoned buyers get a shock when they receive their bills after they have bid, say, £1m, but have to pay an additional £200,000 or more. The auctioneers then proudly declare how much was sold within or above estimate without explaining that the prices include extra charges, while the estimates do not. This sleight-of-hand really should be changed by law. So, in the case of the Phillips sale, the total looks as though it is above the lower pre-sale estimate, but in reality is not.
Phillips has a tricky role as the number-three auctioneer because sellers tend to go to Sotheby's or Christie's for preference. As a result, they generally have to quote high to get the goods in, which means that they risk overpricing and not selling things. But, because they have created a reputation for breaking ground with new artists at auction, they do attract attention. On Monday the room was fairly full, with a large posse of journalists eager to see how some of the young, hot auction stars would perform.
Dealing with the top lots first, most were by established artists – Gerhard Richter, Christopher Wool, Andy Warhol – and sold to phone bidders with the exception of Warhol's One Multicoloured Marilyn (Reversal Series), 1979/86, which sold to dealer Marco Voena for £1m – 'a bargain' said his business partner, Edmondo di Robillant. Voena then had a crack at Michelangelo Pistoletto's painted tissue paper on steel of a man talking on a telephone from 1971, but was outgunned by a phone bidder who paid well over estimate at £614,500. The Pistoletto market is under scrutiny this week as further works by the arte povera artist are coming up at Christie's tonight in the sale of the collection of Nero and Marina Fossati, which has been billed as 'the largest and most important collection of Arte Povera ever to be shown in the UK'. The cover lot by Pistoletto is estimated at £600,000 to £800,000 and is tipped by dealers to do well.
Another strong bidder at the Phillips sale was Olivia Kwok, a dealer and art adviser from Hong Kong, who has been operating in London for several years. Sitting with a client she underbid the top lot, a small abstract painting by Richter, which sold for £1.9m, as well as a 2007 painting from Yayoi Kusama's 'Infinity Nets' series, which sold for £458,500, but was successful in buying Sterling Ruby's spray painted SP56, 2008, just below estimate for £494,500.
Of the younger artists whose work is being speculated in, a spray painting on wooden slats from his 'Garden' series by Norwegian artist, Fredrik Vaerslev, only his third work at auction, raised the bar for him as it sold above estimates for £48,750. Among the bidders was Inigo Philbrick, who runs White Cube's secondary market gallery, Modern Collections. Recent US art-school graduate Lucien Smith made news last October when a painting that would have cost less than $12,000 from his first show in 2012 sold for $389,000 in New York. On Monday, one of his 'rain' paintings sprayed with a fire extinguisher left the £30,000 estimate standing, selling to a phone bidder for £194,500 ($319,135). Some collector/dealers watching the action expressed disappointment as they thought/hoped it would go for more – presumably because they bought Smith's work before the price hike.
Auction prices for US artist Mark Flood, who shows with Peres Projects in Berlin and Zach Feuer in New York, have been creeping up since his paintings first appeared at auction in 2006, though there have been only twelve. But Monday saw a significant leap as Pink Summers Day, 2009, estimated at £20,000 to £30,000, the highest estimate for the artist yet, sold for £80,500, which is double the previous high of £40,000 set last December in London. The record has been set just ten days before Flood's first UK show opens at Stuart Shave Modern Art in London.
Other artists whose prices spiralled recently on a wave of speculation, were beginning to look less hot. Recent graduate, Oscar Murillo, whose graffiti and dust action paintings began to appear at auction last May and rose to $400,000 by September before the artist was signed up by David Zwirner, here saw a sizeable work Untitled from 2011, estimated at £60/80,000, cling to its upper estimate and rise no further, selling for £94,500 including commission.
Similarly, a silver painting by Jacob Kassay, who hit the market like a hurricane in 2011 when it was rumoured that he was signing with Pace gallery, with prices rising to over $300,000, was sold without much bidding, within estimate for £86,500. To his credit, Kassay has not played the market game and just gets on with his work.
To these could be added a couple of warning signs as a couple of hot artists of yesteryear who were taken on by Gagosian, Mark Grotjahn and Dan Colen, both had work unsold. Whether some of the negative results will play out at Sotheby's and Christie's later in the week remains to be seen. Most are expecting fireworks.
Phillips, meanwhile, is getting ready to move from its smart but off-the-beat building in London's Victoria into its swanky new building in Berkeley Square, right in the heart of the Mayfair art market. Will it be there by the next sales in June? 'I hope so', said CEO Michel McGinnis.
Colin Gleadell is an independent writer on the art markets.