Salerooms
Evening Sale London
13 February 2014
Christies Postwar & Contemporary Art
Colin Gleadell sees records tumble as Christie's cracks it again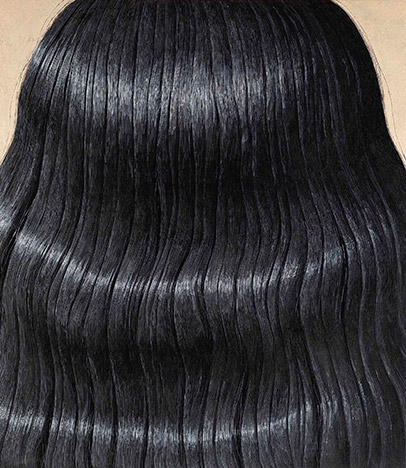 Christie's took a better than expected £124m at its opening postwar and contemporary art sale last night. That means the three London auction rooms have together taken £283m so far this week, which beats the record £261m for a series of contemporary art sales in London set in June of 2008, just before the credit crunch hit. So maybe London has replicated New York last November after all, if on a smaller scale. And there is still Christie's part 2 sale going on this afternoon.
The evening got off to a surreal start when Camila Batmanghelidjh of the charity Kids Company addressed the wealthy looking crowd to encourage them to bid for Damien Hirst's Disneyesque spot painting based on a Mickey Mouse image which he had donated. For the duration, the assembled ranks of Christie's staff donned Mickey Mouse ears, and kept them on while bidding proceeded to £850,000. Then, as telephone bidders appeared to withdraw their bids one by one, the price went back to £800,000 and then again to £750,000, where it settled for the hammer to come down. Adding to the strangeness of the event, not one bid came from people in the room. I guess they thought the painting was just too gimmicky.
Then the real fun started. Like Phillips and Sotheby's, Christie's opened with hot young artists – at least, two of the same hot young artists. Another Lucien Smith 'rain' painting on unprimed canvas was chased way over estimates to sell for £158,500 and another Oscar Murillo graffitied dirt painting did the same, selling for £194,500 after some global competition between German dealer Paul Schonewald and Asian telephone bidders.
From there, the focus shifted to British artists once collected by Charles Saatchi. Rebecca Warren's Twins, 2004, more than doubled estimates to sell for £266,500 to an Asian buyer. This was followed by a group of works that were shown at Saatchi's 'Sensation' exhibition in 1997 and were subsequently bought by US commodities trader Frank Gallipoli. Jenny Saville's massive canvas Plan, 1993, sold for a record £2.1m to the same Asian buyer while Gary Hume's Vicious, 1994, sold for a record £410,500 – both above estimates. However, after a tough week when some good examples of his work had not sold, Chris Ofili's Popcorn Tits, 1996, sold to London dealer Hugh Gibson below estimate for £386,500. For some reason the Ofili market has gone off the boil, but is likely to come back to life after his forthcoming exhibition at the New Museum in New York. Other works from Gallipoli's collection that were not shown at 'Sensation' included Tracey Emin's appliqué blanket Super Drunk Bitch, 2005, which sold for £362,500 to White Cube (bidding for a client), which is a record for Emin in that medium and, in the day sale, a pair of Emin's neon sculptures, Is Legal Sex Anal? and Is Anal Sex Legal?, both 1998, may have benefited from the exposure her neon work has received from the Miami museum show this winter as they sold far above estimates for £74,500 and £62,500 respectively. Ten years ago this pair, in a different colour, sold at auction for about £15,000 each.
Other yBa's from the Gallipoli collection in the day sale struggled. A bronze seesaw-like sculpture by the Chapman brothers, I Put the 'Fun' Back in Funeral Machine, 2007, sold for half its estimate, as did a Gavin Turk bronze sleeping bag. The Hirst market also looks wobbly still as two bulls' heads in formaldehyde, Adam and Eve, from the Gallipoli collection, were not sold with a £500,000 estimate, and a painted plastic skull, bought from Hirst's 'Beautiful' sale at Sotheby's in 2008 for £79,200, now only brought £40,000 from an internet buyer.
Hirst's big moment came as a seller – not of the Mickey Mouse painting, but of Jeff Koons's big steel Cracked Egg (Magenta), 1994-2006. Bought from Gagosian in 2006 when the price of this edition was nearer $3.5m, the egg sold within estimate for £14.1m pounds or $23.4m. The buyer was bidding through Christie's chairman, David Linley, on the phone. So is the egg destined for Qatar where Hirst has just had an exhibition stage-managed by Linley's former colleagues at Christie's, Ed Dolman and Jean-Paul Engelin, art advisers to the Qataris? Earlier in the evening, Linley had been in action on the night's star lot, Francis Bacon's museum-quality Portrait of George Dyer Talking, 1966. This was last sold at auction 14 years ago in New York for $6.6m to a collector in Brazil, a record price at the time. Since then it has changed hands and was now reportedly being sold by Mexican financier David Martinez. Carrying a £35m estimate and a guarantee (so it was bound to sell), it sold for £42.2m– breaking all kinds of records, needless to say. The buyer was American and a great poker player, said Brett Gorvey of Christie's who fielded the bid on his phone – a reference perhaps to either casino owner Steve Wynn or hedge-funder Steve Cohen. But who was the underbidder, relaying bids to Linley over the phone and driving the price up? Christie's said other bidders had come from Russia, Asia and the Middle East – the latter again being the most-likely candidate.
Other big Bacon collectors in the room, Mercedes Stoutzker and Giancarlo Giametti (for designer Valentino Gavarino), watched, presumably to just feel the tempo, though when a second, much smaller Bacon head came up, Giametti was glued to his mobile phone – perhaps relaying bids to a Christie's staffer. The smaller painting, Study for Portrait, 1978, was being sold by US collector Donald Bryant, who bought it 18 months ago for $4.2m – but he didn't see any profit last night as it sold for £2.7m or $4.4m.
Overall it was a great night for British art as further records fell for Gerald Laing, whose 1960s portrait of Brigitte Bardot sold for £902,500, and Bridget Riley, whose Chant 2, 1967, sold to dealer Pilar Ordovas for £2.9m. The painting had sold for £2.6m in 2008, so there wasn't any profit there for the seller either.
Finally, the Italians had one more crack of the whip after their big night at Tuesday's Arte Povera sale. On offer was a rare work, Black Hair, 1969, by the difficult-to-pigeonhole 1960s artist Domenico Gnoli, whose idiosyncratic paintings have been climbing in value. Estimated at £1.2m, it was pursued by London-based Italian dealer/collector Guya Bertoni on her mobile phone and by Xin Li, Christie's deputy chairman of Asia, also bidding for a client. Neither wanted to back down until Bertoni finally won out at £7m – three times the previous record for Gnoli.
I made a note of all the works I thought had sold to Asian buyers and, apart from those mentioned above, there were works by Cy Twombly and Gordon Matta-Clark, and records for Pierre Soulages and Thomas Ruff. Perhaps most significantly, a large Richter abstract from 1989 sold for £19.6m, a record for a Richter abstract, via Li. So when Christie's say the market is going global, they mean it.
Colin Gleadell is an independent writer on the art markets.